Skip to content
Camden undaunted on Amazon headquarters bid, as N.J. backs Newark
New Jersey plans to offer Amazon a package of incentives that include $7 billion in potential tax credits.
Camden County officials say they plan to press forward with their bid to host Amazon's second headquarters campus, even after the State of New Jersey announced that it would throw its weight — and offers of tax breaks — behind rival Newark's efforts to lure the e-commerce giant.
The office of Gov. Christie said in a release Monday that officials had determined that the North Jersey city would be an ideal location for Amazon.com Inc.'s planned headquarters expansion beyond its native Seattle, thanks to its location in New York's economic orbit, its burgeoning technological prowess, and fast internet speeds.
New Jersey plans to offer the company a package of incentives that include $7 billion in potential tax credits, mainly based on the headquarters' ability to create an expected 50,000 jobs, the governor's office said.
Camden County Freeholder Director Louis Cappelli Jr. said his government still believes it can make a convincing case for Camden in a bid that highlights the city's ample land that can be  developed  on the Delaware River, its transit links, and its availability of housing for the company's growing staff.
Amazon has said it will invest about $5 billion to develop millions of square feet of office space for what it has nicknamed HQ2.
"We believe that Camden possesses the best mix of assets, amenities and geography best suited for Amazon's HQ2 headquarters and its 50,000 future employees," Cappelli said. "If the city does move forward in the process and Newark does not, we know the State of New Jersey will be supportive of our efforts to lure a transformative tech giant to the county."
Local Bids for Amazon's HQ2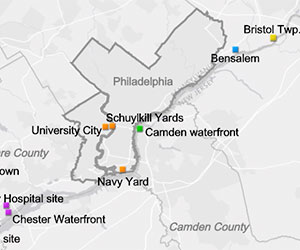 Click here
 for an interactive map of places in the region that have bid for Amazon's proposed second headquarters.
Also on Monday, Atlantic City Mayor Don Guardian said he, too, was moving forward with plans to propose sites near the city's rail terminal.
Before Monday's announcement New Jersey had been said to be considering a multi-city approach involving Newark, along with Camden, Jersey City and New Brunswick.
In his remarks backing Newark, Christie said the city "features an ecosystem that boasts unparalleled talent, connectivity, world-class higher education, vast transportation options and unique cultural amenities."
The deadline for municipalities to submit headquarters proposals is Thursday. Bids are also expected from Philadelphia, Delaware, Delaware County and Bensalem Township in Bucks County, officials have said.
Elected officials from the 11 counties represented by the Chamber of Commerce of Greater Philadelphia, which include Camden and Atlantic Counties, have vowed that if Amazon chooses a site within the region, all will back that decision, said Matt Cabrey, executive director of the chamber's business-retention program.
Staff writer Amy S. Rosenberg contributed to this article.