Skip to content
Villanova University surpasses fundraising goal by more than $150 million
Villanova University can't say how much the success of its basketball team impacted the success of its recently completed $759 million fundraising campaign, but it sure didn't hurt.
Villanova University, home of the national championship Wildcats men's basketball team, raised $759 million in its recently completed capital campaign — more than $150 million over its goal, the school announced.
Called "For the Greater Great: The Villanova Campaign to Ignite Change," the campaign was launched in October 2013 and surpassed its $600 million goal 18 months early, the school said. Fundraising continued and concluded this month.
The campaign funded new endowed faculty positions and scholarships; the launch of 10 new centers and interdisciplinary institutes; and the naming of two colleges and 40 new or renovated academic and athletic facilities. It also helped the university more than double its endowment, which now stands just over $700 million.
More than 77,500 alumni, parents, and others contributed to the campaign, more than half of them first-time donors, according to the university. Thirty percent of undergraduate alumni, nearly double the percentage of a decade ago, gave to the campaign this year, the university said.
"Our remarkable success is a credit to the countless Villanovans who contributed to the campaign," said the Rev. Peter M. Donohue, university president.
The campaign was underway in a stretch where Villanova won national men's basketball titles in 2016 and this year. Just how much of the fundraising success can be attributed to those accomplishments is unknown.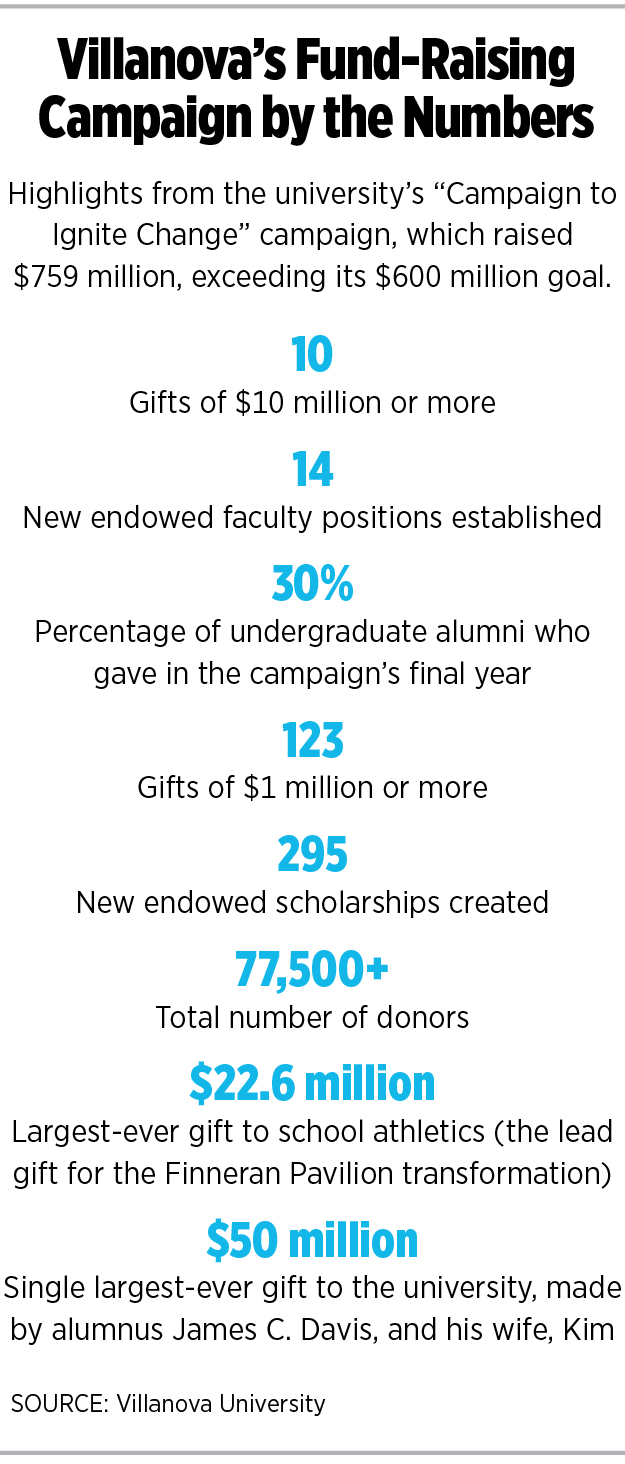 "I would say that the national championship was one lever and yet another indicator that the university was moving in an extremely positive, confident direction," Mike O'Neill, senior vice president for university advancement, said after the championship in April. "People like to back a winner, and Villanova is very much a winner, on and off the court."
The campaign included Villanova's largest gift, $50 million from alumnus and campaign co-chair James C. Davis and his wife, Kim. In addition, the school received 10 more gifts of $10 million or more and 123 gifts in excess of $1 million. Other major gifts included $25 million from Charles Widger — which led to the  naming of the law school after him — and $22.6 million from William B. Finneran to help with a $60 million renovation of the Pavilion, the school's basketball arena, which will reopen this fall.
The university, which enrolls more than 10,000 undergraduate, graduate, and law students, also is building a performing arts center, funded through contributions. That center is due to open in 2020.