While many celebrities often gripe about how their privacy is breached, these celebrities decided to air their dirty laundry out on the most public forum possible: Twitter. Let's take a look back at the best celebrity Twitter feuds of 2012:

1. Don Lemon vs Jonah Hill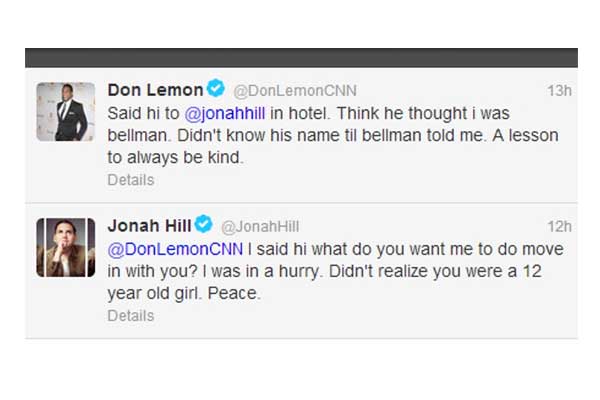 In perhaps the most humorous celebrity Twitter feud of this year, Don Lemon and Jonah Hill fought over the fact that the 28-year-old "Superbad" star (Hill) didn't say "hi" back to the 46-year-old CNN host (Lemon) when they ran into each other at a hotel.  The tweet war ended with Lemon saying, "The bellman and I laughed at how self-important you were. Just being honest. Be nice. Stardom is fleeting." Hilarious.
2. Steven Tyler vs. Nicki Minaj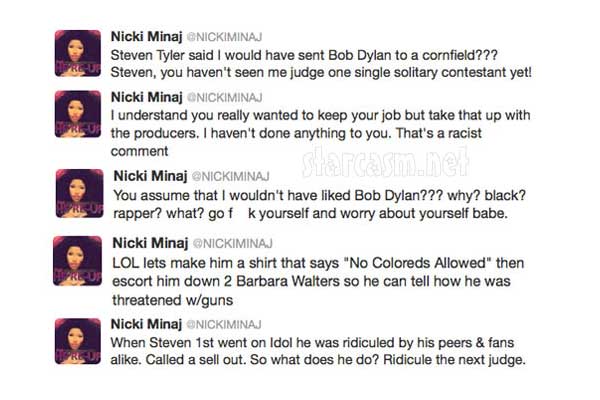 Nicki Minaj caused quite the stir this year as she took on the roll of a judge on American Idol. After Steven Tyler insisted that the judges should be doing a better job at picking the talent, Minaj fired back at him on Twitter, calling him a racist. What?
3. Anderson Cooper vs. MIA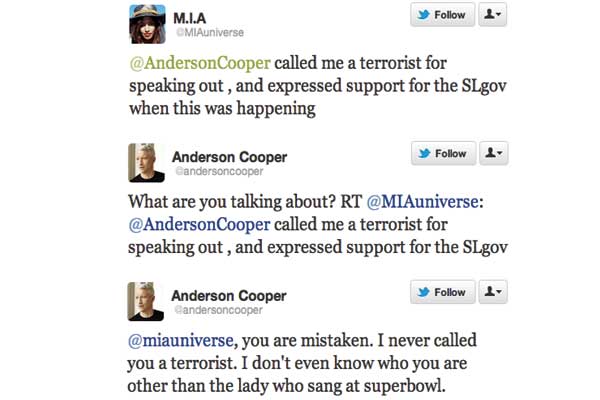 After flipping the bird at the Super Bowl in January, M.I.A. involved herself in a whole new controversy with Anderson Cooper. The Sri Lankan singer tweeted a very confused Anderson Cooper about him calling her a terrorist, Cooper replied telling her he had no idea what she was talking about. Some speculate that MIA provoked the Twitter war to draw attention to the British documentary Sri Lanka's Killing Fields.
Either way, the dispute ended on an appeasing note with Cooper tweeting that Sri Lanka's civil war has not received the attention that it deserves in the United States. Sounds like a smart publicity stunt to me.
4. Rihanna vs.  Piers Morgan

In September of this year, after the closing ceremony of the Paralympic Games, Piers Morgan tweeted," I think @Rihanna needs to grow her hair back. Fast." Rihanna then tweeted back, "grow a d**k back…FAST!!!" The fight ended with Morgan asking Rihanna if it's too late for an interview, and Rihanna responding with a respectful, "haaa! Only if it doesn't involve cosmetics..." That girl always knows how to keep it classy.
5. John Hamm vs. Kim K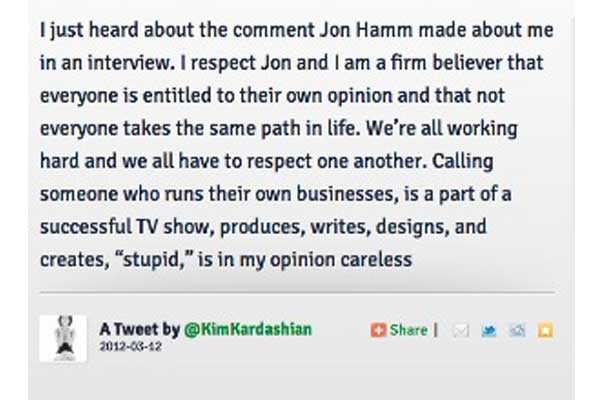 Speaking of classy women; Kim Kardashian had some words for Jon Hamm this past March after he openly stated, "Whether it's Kim Kardashian or Paris Hilton or whoever, stupidity is certainly celebrated." Kardashian, of course, took to Twitter to respond:
"I just heard about the comment Jon Hamm made about me in an interview. I respect Jon and I am a firm believer that everyone is entitled to their own opinion and that not everyone takes the same path in life. We're all working hard and we all have to respect one another. Calling someone who runs their own businesses, is a part of a successful TV show, produces, writes, designs, and creates, "stupid," is in my opinion careless."
6. Rob Kardashian vs. Rita Ora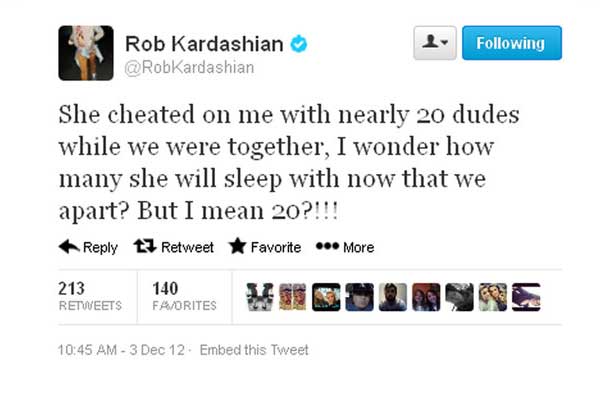 After dating for a few months, Rob Kardashian and Rita Ora called it quits. While Ora remained silent about the details, Kardashian went public with it via Twitter, accusing Ora of cheating on him with nearly "20 dudes". Rob Kardashian, stick with your weird sock business.
7. Chris Brown vs. Jenny Johnson
Chris Brown is obviously no stranger to controversary. However, his most recent, and now infamous, Twitter feud was between him and comedian Jenny Johnson, who was heckling/harassing Brown about his past behaviors. As per usual, Chris Brown exploded on Twitter, attacking Johnson with vulgar, and grammatically incorrect retorts.  The feud got so bad that Brown, or should I say Brown's representatives, deleted his account. Johnson later received multiple death threats from fans, and Brown apologized for his actions (shocking, right?).