Inquirer reporter Darran Simon is out covering the race live. Here are some updates from the field:
Carolyn Stellatella was running for Seth Grumet, a friend and father of three who is battling
Hodgkin's lymphoma. 
She carried "Seth Head," a picture of 42 year-old Seth Grumet's face on a stick. 
Grumet's sister donated her bone marrow, and he was recently released from the hospital. 
"We're crossing the finish line," Stellatella, 47, of Point Pleasant, said before the race started.
She finished a marathon in Madrid in April with her "Seth Head" and one in Miami last year.
"Do you see this smile," she said. "He had that smile the whole time."
His kids called the disease "the monster under the floor boards."
A Marlboro, N.J. resident, he started a nonprofit called "Stomp the Monster" 
"He's going to be healthy," she said. 
 He was.
---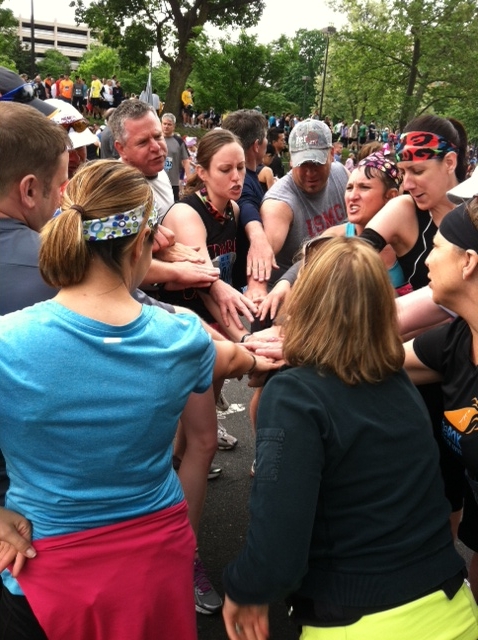 Aaron Oberst, a chiropractor and director of a boot camp, led one group in a 10-count stretch in a circle while they waited for 8:30. 
They twisted their bodies in the asphalt. They closed in the circle and yelled: "Broad street run, let's have fun."
They meet 3 days a week at 5.30 am. 
"This is early for us," said Mary Palmer, aka "nightmare." 
---
Runners are milling around Broad and Einstein stretching on the asphalt, massaging cald muscles, a few with their arms tucked in shirts to stay warm. 
---
Brianna Hearn went through her pre-race routine at home: a pep talk from her twin sister, Kaelin, a "pre stretch shake" to The Safety Dance, an 80s tune.
Her sister told her: "Forget the crowd. And I better not take too long."
Hearn, 25, of Philadelphia was on her second Broad Street Run.
Her friend and running partner, Bridget Golden, was on her 5th. 
"I had a bachelorette party one year, so I didn't make it the next day," Golden said, standing on a packed car on the Broad street line. 
She had "broad street nightmare" last night.
" I had a dream I was still running at 8.30 at night," she said. "Hopefully, that doesn't  become a reality."
Her mother will have a cow bell at the finish. Her nephews will blow bubbles her way and her sister will have a clapper.  
Hearn's sister will have a sign. "She always comes up with something creative."