Skip to content
The 10 things you must see at Philly Flower Show's 'Holland'
There are tulips, of course — tens of thousands of them — at the 188th annual Philadelphia Flower Show, which opens Friday to Pennsylvania Horticultural Society members and Saturday to the general public with the theme, "Holland: Flowering the World."
But there are plenty more wonders, large and small, scattered across the 10-acre main hall of the Convention Center. Here's a checklist of sights you won't want to miss at the biggest indoor flower show in the world:
Amazing bicycle art. Quite a few bicycles were injured in the making of this show. Some exhibitors welded bike wheels together into sculptures, and others left bikes artfully arranged around their landscapes. But most ambitious was Ardmore landscaper Hunter Hayes, who built a stylish fence out of bicycle frames that arcs over a pond that includes a handlebar fountain that pours into bicycle waterwheels surrounded by more bike wheels meant to call to mind lily pads.
A human-size bird's nest. Nico Wissing, a top landscape architect who came from the Netherlands for the event, created a show-stopping installation using a hand-woven willow-branch pergola that loops overhead, then swoops downward, to form, variously, a bench, a hammock, a canopy, and even a bird's nest big enough to curl up in.
Floating flower fields. PHS's entrance garden this year has a show-stopping feature: a floating "field" of freeze-dried flowers hanging from 16 miles of colored string, each piece precisely eight inches apart. At the end of each string is a ball of dyed moss and a bouquet of flowers — roses, hydrangeas, yarrows — that together form a gradient from violet to orange to gold, meant to call to mind the Netherlands' colorful fields of tulips.
Tunnel of orchids. For an orchid plant to have as many as a dozen stems standing two feet tall, it has to be pretty old —perhaps 15 or 20 years, according to workers at Waldor Orchids in Linwood, N.J. The company has been involved in the Flower Show since 1936, and this year has an orchid-lined hoop house with, among other plants, huge and very fragrant yellow cymbidiums and striking blue-purple zygonaria. Walking through it is a multisensory experience.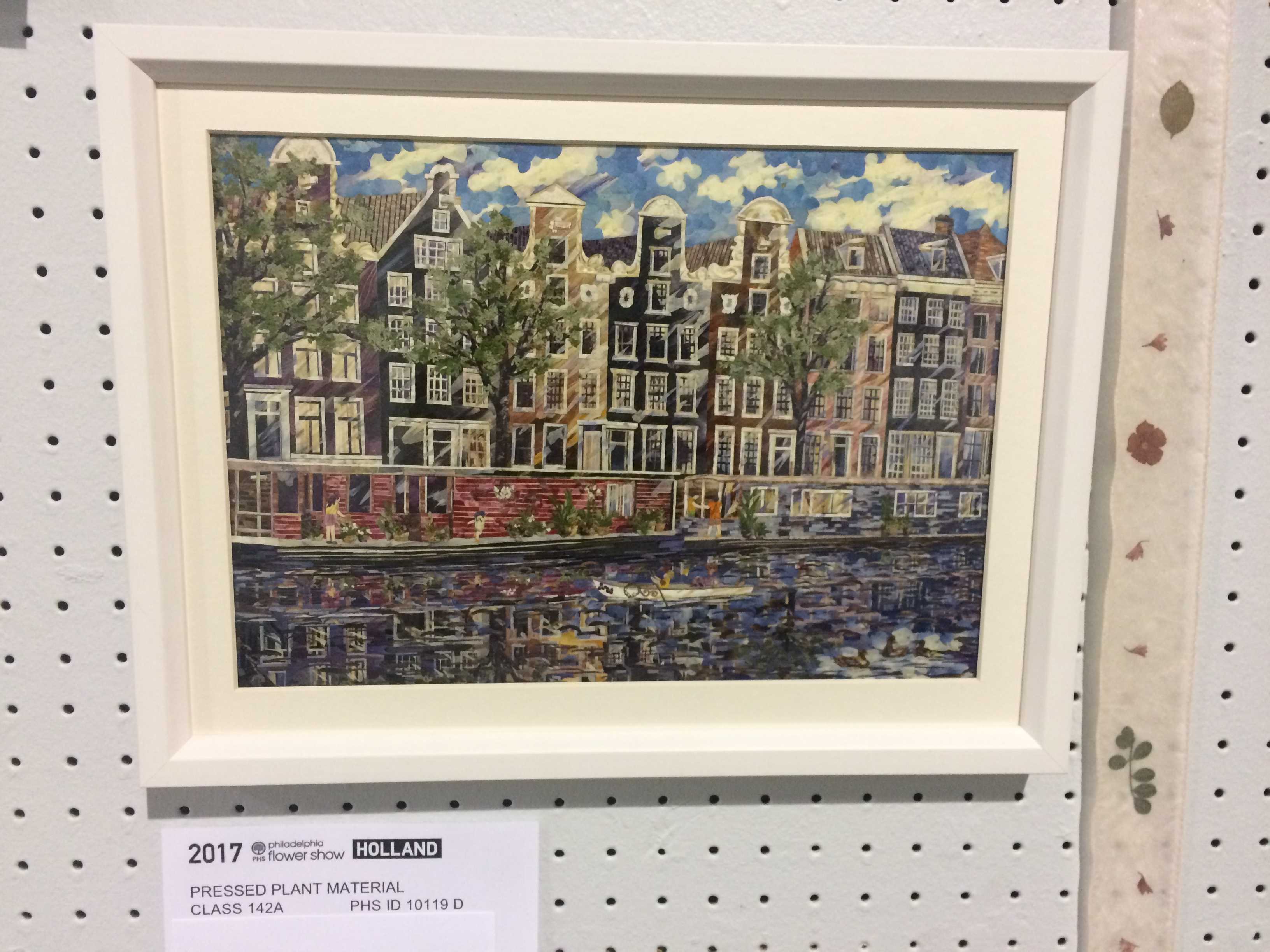 Pressed-plant landscapes. Like tiny paintings, but made out of pressed flowers, the framed artworks that show Amsterdam canal scenes or the Dutch countryside are remarkable and worthy of close examination.
Lace fence. This Dutch product, used in an exhibit by American expatriate designer Carrie Preston, looks as if a chain-link fence got busy with a doily. The result is both adorable and practical.
Salvaged chic. The curvilinear wooden borders around Mark Cook's exhibition look modern, stylish, and possibly expensive. Actually, they're repurposed from something landscapers might normally throw away: wood strapping used to contain poured concrete.
Self-contained habitats. Making a terrarium is easy — but, as many of us can attest, keeping it alive is the hard part. Marvel at examples of perfect, self-contained tropical ecosystems in the Horticourt, the plant competition area.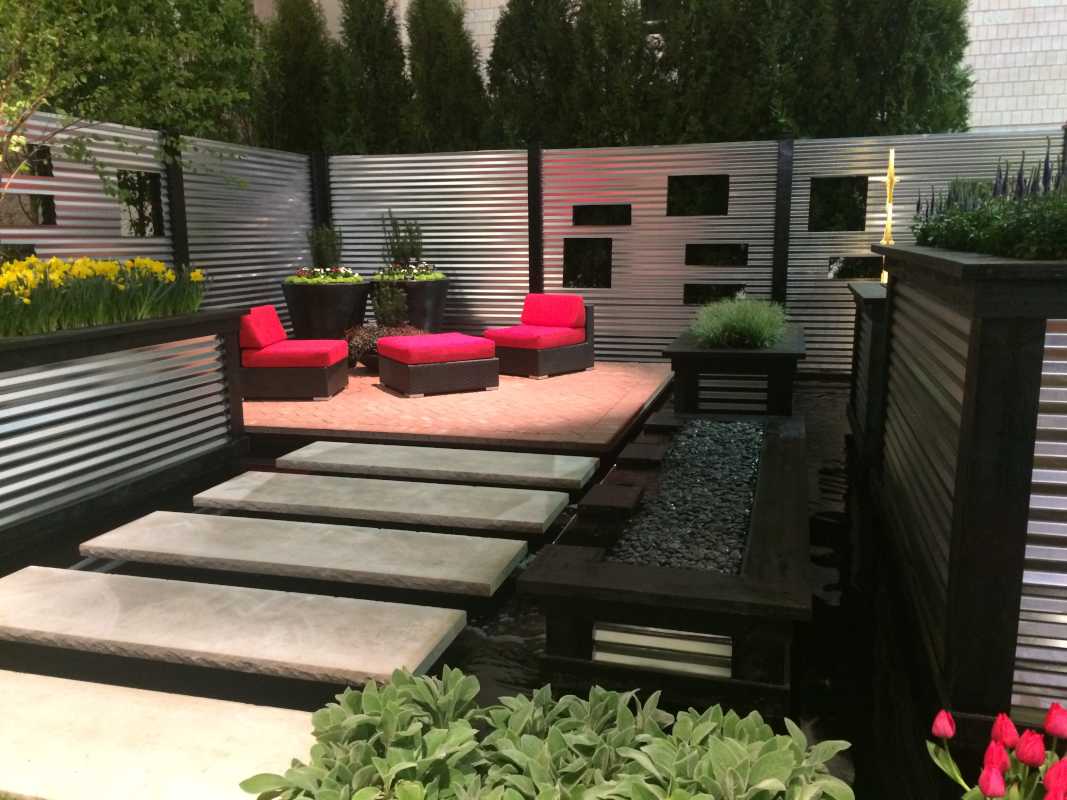 Mondrian everything. There is no shortage of tributes to Dutch artist Piet Mondrian, known for his modernist grid canvases. J. Downend Landscaping of Crum Lynne created a patio of crisp rectangles above a rectilinear water feature, backed by corrugated metal fencing with rectangular holes punched out. Michael Petrie of Swarthmore created a painted, Mondrian-inspired patio for a punch of color in his green backyard landscape. There's Mondrian floral jewelry, and a floating Mondrian-type grid filled with dried and dyed lotus blossoms.
Floral fascinators. The American Institute of Floral Designers brought together nearly two dozen designers from the United States, Canada, and England for a display that includes spectacular fresh- and dried-flower headpieces made of ferns, lilies, daisies, and more.