Skip to content
Shell shocked: Stress lingers for cops who fired guns
Police grappling with post-traumatic stress after shootings have found solace and healing in peer-support groups.
TWO DECADES later, Andy Callaghan, a 25-year veteran police sergeant, still can't forget the sound of the bullet whizzing by his ear.
It was winter 1995. As he had done dozens - maybe even hundreds - of times, he geared up to serve a warrant, this time in Southwest Philadelphia. He knew that facing gunfire and having to shoot back to stay alive was always a possibility. But he didn't anticipate it that night.
"It was a Thursday. I was exhausted from court and work," Callaghan, 48, recalled recently in his office at the Livengrin Foundation for Addiction Recovery campus in Bensalem, where he serves as director of the First Responders Addiction Treatment Program. "I remember suiting up for the warrant, saying, 'I don't feel like doing this tonight. I want to go home and go to sleep.' "
That night, he and a fellow officer found themselves staring down death as bullets from a suspect's gun flew their way.
"The bullet whistled past my head. I could hear it whistle," Callaghan recalled. "I'll never forget the sound that it made, ever."
He and his partner returned fire and neither, luckily, was injured in the close call.
"Like most police shootings, it was over quick," Callaghan said.
The shooting ended in seconds. But the mark it left on Callaghan would dog him for several weeks before he learned that he was suffering from post-traumatic stress disorder and received the help he needed.
Callaghan's battle with the debilitating disorder made him realize that there was no real support network for cops grappling with trauma and the problems it can cause, from PTSD to alcohol and drug abuse.
In recent years, Callaghan - who is certified in crisis intervention and employee assistance - and several other officers, along with the Philadelphia Police union, have fought to change that.
'A safe place'
In 2007, when John McNesby took the reins of Philadelphia's Fraternal Order of Police Lodge No. 5, he asked a few longtime members to look at the behavioral-health services offered and "tear them up," recalled Capt. Lou Campione, one of the men charged with the task.
When Campione and the others began their survey, they found an overwhelming consensus among the rank-and-file: More needed to be done for officers involved in shootings.
"It became a small-group exercise: sitting down with people new to shootings, saying, 'This is what you're going through,' and walking them down to a safe place," Campione, 57, told the Daily News recently at South Philadelphia's 1st District, where he's the commanding officer.
"We're not medical professionals, not counselors, not certified," he said. "We're interventionists: If someone is suffering, we explain what's going on, what will go on, and get them to the necessary resources."
There's no shortage of support available: Campione has cast a wide net for the program, amassing a list of 1,100 psychiatrists, psychologists and counselors willing to help officers in need.
Any police officer involved in a shooting - whether he or she fired a gun or was there when shots were fired - is eligible to attend the program's peer-support meetings, held at 7 p.m. every Monday at Lodge 5 headquarters in Northeast Philadelphia.
Every shooting, and every officer, is unique, Campione said. But in the seven years the program has been active, there have been some constants.
When the crime-scene tape is cleared and the interviews conducted, reality sets in for the officers forced to pull the trigger.
Frustration, anger and depression are common as they replay the events in their minds, their "whole world turned upside down," Campione said.
In the line of fire
Although violence against police in Philadelphia decreased steadily from 2010 to 2013 - the most recent full year for which official Police Department statistics are available - officers in the city are at a high risk of finding themselves in positions similar to Callaghan's, coming face-to-face with a suspect who has no plans to go down without a fight.
In 2013, police in Philadelphia were assaulted, on average, 15 times per week - more than twice a day, according to department statistics. Of those assaults, an average of four per week involved suspects with weapons.
In 2010, police faced an average of 26 assaults weekly - more than three a day. That year, six assaults against police per week, on average, involved weapons.
Despite the regularity with which Philadelphia police officers face assault on the job, from 2010 to 2013, only one year - 2012 - averaged more than one police-involved shooting per week, according to department statistics.
Police-involved shootings, along with their fatality rates, have declined: In 2013, police fired on suspects 43 times, compared with 50 police-involved shootings in 2010 - a reduction of 14 percent.
Last year saw the lowest number of police-involved shootings in recent years, according to an analysis by the Daily News of officer-involved shooting data and descriptions released after Police Commissioner Charles Ramsey asked the U.S. Department of Justice in 2013 to review Philadelphia police's use of deadly force.
In 2014, there were 26 on-duty shootings by police officers (not including shootings of dogs or other animals), 18 of which involved suspects with weapons, compared with 40 on-duty shootings in 2013, 29 of which involved suspects with weapons.
Shootings by city cops on duty dropped 35 percent from 2013 to last year. In 2014, four suspects were fatally shot by police, a 67 percent decrease from 2013, when 12 were fatally wounded. In comparison, 15 people were fatally shot by police in on-duty shootings in 2012, 12 in 2011 and seven in 2010.
As for the regularity with which cops involved in shootings over the past five years faced potentially deadly weapons, the People Paper's analysis showed that police were threatened with guns, knives or other weapons in 73 percent of incidents in which they opened fire on a suspect. The weapons in that count include only suspect-wielded weapons that were recovered by officers at police-shooting scenes - not instances in which spent shell casings, but not guns, were recovered, or in which officers reported being assaulted by suspects who used their hands or vehicles.
For the same time period, suspects were wounded or killed in 78 percent of police shootings.
'I just want to get fixed'
Callaghan can attest to the fact that facing serious violence and trauma on the job can, in some cases, alter an officer's life.
"After the shooting . . . I couldn't sleep for three days. Pure adrenaline," he said.
"I lost 50 pounds in three months, couldn't eat, couldn't sleep, and I thought I was cracking up. There was nobody there to tell me, 'You have post-traumatic stress disorder,' " he continued. "I remember saying to my lieutenant at the time, 'I don't know what's wrong. I just want to get fixed and go back to work.' "
Once he began treatment for PTSD, things started to return to normal, Callaghan said. He realized quickly that he wasn't the only cop suffering - so, bolstered by the FOP and a number of fellow officers, Callaghan got to work on helping to set up several peer-support groups for cops and other first responders, one of which included the shooter group that Campione helps to oversee.
"We wanted to put together this shooter-support group . . . because all of us felt like we were alone when we went through our shooting," Callaghan said. "We were trying to put a stop to that. No cop should ever have to walk alone through any of that stuff when other cops have walked that path before."
Callaghan also had a hand in establishing the First Responders Addiction Treatment Program, which began holding group sessions at the FOP and Livengrin, a facility that offers inpatient and outpatient services, along with continuing support for patients.
Callaghan said it's particularly important after a traumatic incident like a police-involved shooting to give cops an outlet where they feel secure talking about what happened and realize that others have been through the same thing.
"There was a time when people just had to sit with their feelings in this business. . . . Now we're trying to make it more normal to actually talk about it," he said.
"The public doesn't realize what we go through," Callaghan added. "I've never met a cop who said, 'I'm really glad I shot that guy.' "
Neither has Campione.
"I've never met a police officer who says he wants to harm somebody," Campione said. "It doesn't happen.
"They're there, they're put into a situation and have to respond to that situation," he said.
He agrees with the philosophy that the best way to get the officers who are hurting to open up is to bring in other cops who have gone through the same process.
"Why? Because it's not some abstract, theoretical textbook talking; it's the reality of the situation," he said. "It's guys saying, 'This is what you'll experience, and if you are experiencing it, it doesn't mean you're crazy.' "
A prime example of that is Jim Tsafos, a retired officer with one hell of a story to share with his troubled colleagues.
A life forever changed
A balmy night in July changed Cpl. Jim Tsafos' life forever.
It was 1983, and Tsafos was working the midnight-to-8 a.m. shift - "last out," as it's known among cops - at the 1st District at 24th and Wolf streets, manning the desk in the operations room.
At 5:30 a.m., a suspect wanted in a shooting came to the district with violence on his mind and a gun in his pocket.
After trying unsuccessfully to gain entry to South Detectives' office upstairs - he was looking for the detectives who had left business cards at his house earlier - the gunman went downstairs, where he saw Tsafos at his desk.
Without warning, the man pulled out his gun and fired two shots, both hitting Tsafos in his neck.
Tsafos, who completed a tour in Qui Nhon during the Vietnam War without a scratch, was hospitalized in intensive care for several weeks. Ultimately, he would lose half his vision and become prone to seizures. He survived, but was cast under a dark cloud during what he calls a "troubling time."
That changed after a visit from a gregarious sergeant sent on behalf of the FOP, a man who would become Tsafos' lifelong friend.
Lou Campione.
"Lou was a catalyst to bringing me back," Tsafos, 66, said recently.
Back then, Campione was working with a prototype version of the current program and helped connect Tsafos with counselors and other medical professionals during his recovery.
Ultimately, Tsafos left the force, but thanks to the coaching from his supporters at the FOP, he found a second career: He got his doctorate, and now he's manager and associate professor of Drexel University's construction-management program.
When he's not helping students, Tsafos is meeting with officers involved in shootings and talking to them about his own experience.
"For me, it was helpful to have that sounding board at the FOP, and I think that's true for most guys," Tsafos said.
"When I talk to these guys, I find that they want to get things off their chest, and that once you get them started, it's hard to get them to stop."
GRAPH: BY THE NUMBERS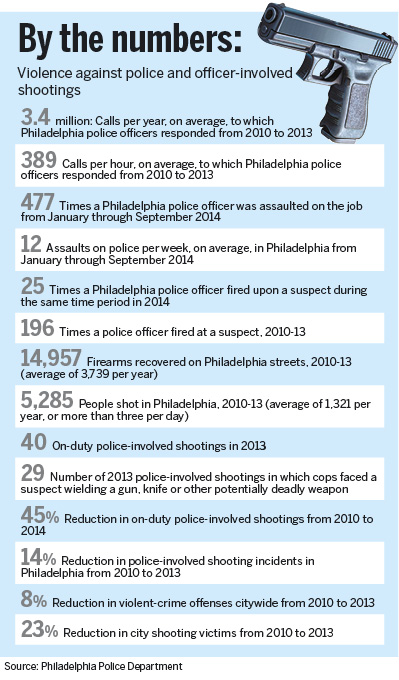 Blog: PhillyConfidential.com