Skip to content
NBC10 WEATHER: Dreaming of a wet Christmas?
COLD MOVES OUT, TEMPERATURES RISE
A powerful cold front rushed through the region Sunday, bringing a blast of cold temperatures to the area. As a result, Monday morning temperatures were more than 20 degrees cooler than Sunday morning and feels like temperatures fell to the low teens throughout the morning. Take a look at this temperature anomaly map for the region Monday morning. Colder air overtakes the map.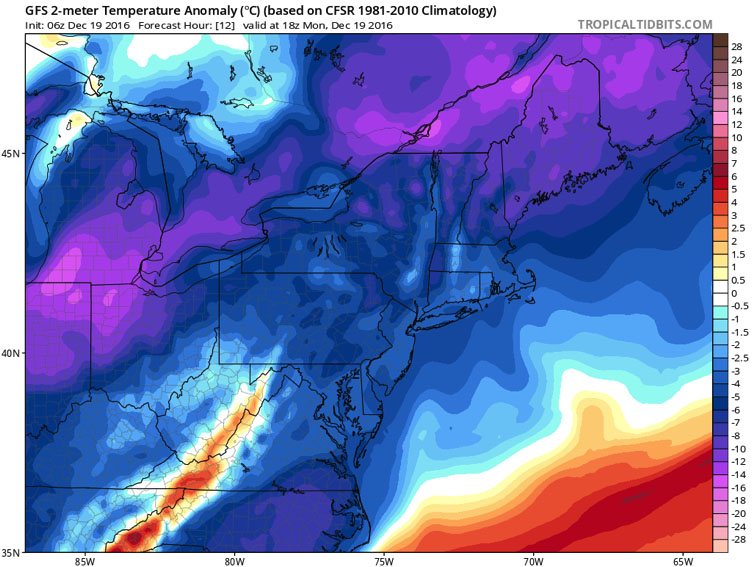 Cold conditions aren't expected to last long, though. Compare that map to the temperature anomalies by Christmas Day.
High pressure begins to build into the region through the next several days, which will allow temperatures to rise to the low 40s in Philadelphia Tuesday, and the mid-40s by Wednesday.  Both days will remain dry.
The average high temperature Monday is 44 degrees in Philadelphia. By Christmas Day, the average is 42 degrees. So, temperatures will gradually climb above average.
The high pressure center will slip to the south Thursday as a small system passes and brings the chance of rain showers. However, temperatures remain in the mid-upper 40s and high pressure rebuilds throughout the area through the end of the week. That keeps temperatures warmer than average into the holiday weekend.
WARMER, NOT-SO-WHITE CHRISTMAS
When clouds build, they act as a blanket—keeping temperatures up overnight. The heat of the day cannot release into the atmosphere (clouds slow that process down), and overnight lows aren't as chilly.  That's what's expected to happen by the holiday weekend.
The next system will near us on Saturday, and clouds thicken. As the system moves through Sunday into Monday, enough moisture will pass to give the region slight chances of precipitation. Because temperatures will be warmer, mid 40s to low 50s in the Tristate area, we're expecting primarily rain.  At this point, it also doesn't appear to be a washout. Instead, some passing showers are possible. Models are not in complete agreement with the rain potential, and it's still nearly a week out. But, here's one model projection for Christmas:
So, the rain forecast will need to be monitored as we get closer to the holiday weekend. But for now, it's looking to be a warmer than-average, not-white-but-wet Christmas.
Krystal Klei
NBC10 Philadelphia