Skip to content
More than 2 years on, ex-Montco family loving life in Israel
The Somers family pulled up roots from a comparatively safe and predictable existence in the Philadelphia suburbs and emigrated to Israel in 2015 in search of a more spiritually fulfilling life - a move chronicled in a July 2015 Daily News cover story that also appeared on philly.com. More than two years later, how have they adjusted?
RAMAT BEIT SHEMESH, Israel — On a third-floor balcony last month, as a cool breeze heralded the arrival of the Jewish harvest festival of Sukkoth, Ira and Lauren Somers and their six children sat inside their sukkah enjoying homemade spelt-dough pizza. Lights and crafts made in school and at home decorated the white-draped walls.
In Israel during Sukkoth, you can find a sukkah anywhere — in the community synagogues, parks, cafes and restaurants, even on balconies. Each temporary three-walled structure, with a roof made of tree branches and enough cracks to see the stars at night, represents the dwellings in which Jews slept after they were freed from slavery in Egypt.
"We had one in our front yard in Philadelphia, but we didn't sleep in it because of safety," said Ira, 46. "One Sukkoth, someone was driving down our street at like 2 in the morning, and would wait till they got to the sukkahs and beep their horn. So it's not worth it, we didn't sleep in there."
The Somers family was not freed from slavery. They pulled up roots from a comparatively safe and predictable existence in the Philadelphia suburbs and immigrated here in 2015 in search of a more spiritually fulfilling life — a move chronicled in a July 2015 Daily News cover story that also appeared on Philly.com.
More than two years later, how have they adjusted?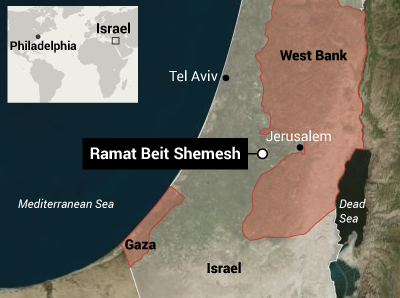 To be sure, Ramat Beit Shemesh is not Lower Merion Township. Because this town is not in the West Bank, it's not part of the conversation surrounding Israel's controversial settlement policy. But an influx of ultra-Orthodox haredim has introduced tensions of its own. In January 2012, ultra-religious Jews in Ramat Beit Shemesh violently attacked a 27-year-old woman in her car because she was not dressed modestly enough for them.
These tensions have persisted. In May, the Jerusalem Post reported that spitting, rock-throwing, and other harassment of women by ultra-Orthodox residents had become "a matter of course" in one section of town. And in June, the Jerusalem District Court ruled that Beit Shemesh and its mayor would be in contempt of court if they did not remove signs warning women to dress modestly and to not linger in certain areas.
The Somerses have tried to steer clear of such controversies. They are religious, but they say they don't wish to demonize Jews who aren't. And on Sukkoth in this suburb of the ancient community of Beit Shemesh (literally House of the Sun) about 15 miles west of Jerusalem, they can even have a slumber party of sorts.
"We get to leave all our things in the house and live in the sukkah," said daughter Riva, 9. "Sleeping inside the sukkah is my favorite part. I get to stay up late."
'I feel generally safer here'
It was in the summer of 2014, during the 50-day Israel-Gaza conflict, that Ira and Lauren began to notice a rise in anti-Semitism worldwide and decided to move their family to Israel.
"We watched the world turn against Israel and riots breaking out in Europe," said Ira. "She turned to me one day after watching a news clip of such a riot, and said, 'We should just go.'" Two weeks later, they began to plan their move. They have not looked back.
The Somerses were among 27,820 people who immigrated to Israel in 2015. That number declined by about 7 percent to 25,977 last year. Within a few months of arrival, Ira found a job writing content for a blog and Lauren found work managing a retail store that sells conservative garments for Orthodox women worldwide.
That first summer, the children made friends who are now classmates. Riva takes dance lessons. Brother Asher, 7, plays soccer. Yoel, 4, swims like a fish in his weekly lessons. The oldest child, Moshe, 10, excitedly finished his most recent school term with high enough marks to receive a kitten, whom they've named Nalah. Baby Ezra was born in April. Overall, the challenges for the family of eight have been overshadowed by joys and successes, the parents said.
"I feel generally safer here," Ira said, reflecting in the sukkah on the family's move. "I think everything we do in Israel is more exciting, almost more meaningful. To do it here is to do it at the source."
Lauren, 37, scanned their sukkah and spoke of what it meant to celebrate the holiday in the Holy Land. "It's like the mitzvah is amplified," she said.
But moving to Israel is not without its own set of threats. Aside from the tensions between haredim and secular Jews, the Somerses have witnessed an uptick in lone wolf stabbings and car ramming attacks by Palestinians against Israelis. The attacks are often random, and that lingers in their minds. Most of the laborers working in their neighborhood are Palestinians, and Ira passes them often.
"We need to be more aware and more wary of where we go, but we cannot hide indoors," Ira said. "We can't stop our lives."
For Ira, the situation differs from what he experienced in Philadelphia.
"I worked in 'bad' neighborhoods in Philly, and it's a different feeling," he said. "I don't remember ever feeling threatened. If I did feel threatened because, say, somebody approached me with evil intentions, odds are pretty great that mugging was their evil motive.
"Here, if one of our cousins [Arabs] approaches, there is always the chance that he or she has evil intentions, and it's not mugging — it's murder. We have to be mindful of that, and it stinks, because I don't like to look at or think about people that way. That being said, so far all my of interactions with Arabs have been positive."
Ira recalled the time he was trying to speak Hebrew at an auto mechanic's shop. When he made a comment about how he needs to learn more so he can communicate better, the mechanic quipped: "'You should learn Arabic.'"
"It wasn't until he said that that I realized these guys were Arab," he said. "They are friendly, nice guys. They're coming here doing a job and going back home and living their lives."
Another memorable experience was at Hadassah Medical Center in Jerusalem, where Lauren took son Yoel in 2016 when they thought he had appendicitis. All around them the nurses and doctors buzzed, speaking Hebrew, English, Arabic. "I was just astounded, [a nurse] would look at me and speak English, turn to a doctor and speak Hebrew, then turn to someone else and speak Arabic," Lauren said. "I often can't tell the difference between a secular Israeli and an Arab."
Statistics show that while terrorism has declined worldwide, people can be victimized in more countries than ever. According to the Global Terrorism Index released Nov. 15, at least one fatal attack took place in 77 countries in 2016, a larger number than at any time in the 17-year history of the Global Terrorism Database. The report, produced by Australia's Institute for Economics and Peace, found 25,673 deaths last year due to terror attacks — down 22 percent from a 2014 peak.
A growing family in a growing town
Everything a growing family might need is found here: shopping areas, post offices, groceries, banks, schools, and a great many synagogues. Just about the only thing missing is a hospital, but that's sure to change: Beit Shemesh's population of 104,000 is expected to double by 2030, which would make it one of Israel's largest cities.
Most residents are English speakers, and religious Jews are in the majority, both elements that drew Ira and Lauren Somers to this community in the first place. They have faced struggles here, but they had low expectations and a high desire for a life in Israel, factors to which they attribute their successful transition.
After landing in June 2015, the Somerses soon were resettled in their three-bedroom apartment here with a playroom for the kids and a modest backyard, at the bottom of one of many long, winding hills.
On his way to work each day, Ira stops to admire the view from the top of the street and thanks God for his family's home. "Almost out of obligation, I make sure to look at that view every time I go by," he said.
His wife shares that awe. "Everywhere you look, it's just a whole other level [of beauty]. Our regular daily surroundings are just so gorgeous," said Lauren. "I mean, we have fruit trees in our backyard, we eat from them. It's amazing!"
But it hasn't been all scenic views and fruit trees. In April, some Hasidic men in Beit Shemesh clashed violently with police and soldiers over Israel's mandatory army conscription. The Somerses are religious, but oppose violence.  Accommodating for religious Jews in Israel is a topic of much discussion throughout the country. Recently, one son came home with a dilemma. At school, when the national siren rang out in remembrance of fallen soldiers on Yom Hazikaron, Israeli Memorial Day, his teacher said the students could either stand or sit.
"Things like that, I'm not prepared for," Ira said. "If I'm in a public place with nonreligious Jews, I'm going to stand. … Do I believe that when the siren goes off, learning Torah for that minute or two minutes will do more for the soldiers? One hundred percent. So I said, 'If you're in the middle of learning, stand up and continue learning.' "
Of course, the Somerses also have had to learn a new language and alphabet. Nefesh B'Nefesh, the organization that helped them immigrate under the Israeli government's Law of Return, also helped with citizenship applications, discounts on home appliances, and, maybe most important, the ulpan, or Hebrew language school. Ira studied Hebrew in an ulpan for almost five months before accepting a job. Lauren was unable to attend, opting instead to nurture their son Uriel, who was only 6 months old when they arrived.
Lauren now feels more confident in her spoken Hebrew. "We feel very comfortable here, but at the same time, you can't understand what the lady at the supermarket is saying to you," she said. "Google Translate is a big gift."
Living in a predominantly English-speaking town has also impeded the couple's ability to become fluent in Hebrew. The kids, meanwhile, are fluent in their new language, having adapted within the first year. They receive their education in Hebrew in single-gender schools that mix secular studies with a heavy dose of religious education. Moshe said learning Hebrew was simple. "The only words left to learn are the big, long ones," he said.
Riva, who is finishing the third grade, mingles easily with her classmates, seamlessly switching from English to Hebrew and back as the conversation dictates. "If I had just met [Riva] now and I see all the girls in the class, I cannot say she is from America or not," said her teacher, Sara Fruchthendler.
For the oldest kids, Moshe, Riva, and Asher, leaving behind their friends and schools was the hardest part.
"I didn't want to leave my friends," said Moshe. "I was scared to move to another country where I didn't know the language or anybody there. Now that I know the language and I've met some people, it's easier, but I still wish I lived in America — half and half."
The kids began to list what is good in Israel: the scenery, the pizza, the ice cream. But the topic soon returned to what they miss, and they agreed that they miss American Sundays most.
Lauren and Ira agreed on that. In Israel, Sunday is a full workday; the Israeli weekend consists of Shabbat (the Sabbath, from Friday sundown to Saturday sundown), which the Somerses observe, meaning they cannot travel or catch up on work during those days.
"No Sundays is a really big deal," said Lauren. "I've been known to say I miss Sundays more than Target. Our need for Target lessens the longer that we live here, but I will never lose my need for Sundays."
So what does the future hold for the family?
"I'm not even sure what tomorrow holds," Lauren said with a laugh.
Emily Cohen is an independent freelance multimedia journalist based in Philadelphia, and is not affiliated with or reimbursed by any organization or agency. She photographed the Somers family in 2015, just before they left Philadelphia, for an article that was published in the Daily News and on Philly.com.