Skip to content
Coast Guard signals popular Shore inlet no longer safe for boaters
Sandbars and shallows in the approaches to the scenic Little Egg Inlet migrate so unpredictably that the Coast Guard has pulled six of its seven navigational aids from the waterway.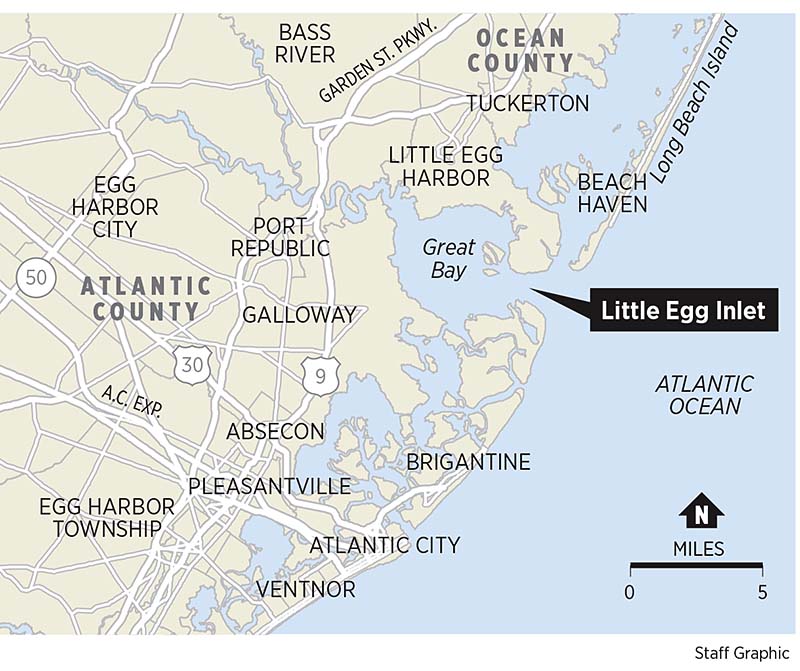 Boaters relying on navigation charts and buoys to traverse Little Egg Inlet on their way to and from the Atlantic Ocean could be in for a rude surprise this year — and maybe a damaged boat.
Sandbars and shallows in the approaches to the scenic inlet migrate so often and unpredictably that the United States Coast Guard earlier this month pulled six of its seven navigational aids from the inlet, and warned boaters they now navigate these popular waters "at their own risk."
"Shoaling in the inlet has increased to the point that it's just dangerous for [buoys] to be left in place," said Petty Officer First Class Seth Johnson, spokesman for the Coast Guard's station in Atlantic City, said Tuesday. Leaving them in place "would be like having street signs pointing in wrong directions."
The snaking, half-mile-long line of seven buoys that for decades had guided boaters along a course at least six feet in depth was steering them through waters as shallow as three and half feet, said Johnson. "When it came to that," he said, the Coast Guard's regional commander "decided it was time to pull the navigation aids."
But help is on the way, says the New Jersey Department of Environmental Protection, which has announced plans to dredge a safe path this summer through this "extremely dynamic" inlet, which cuts between southern Long Beach Island and Brigantine. It is popular with recreational boaters, charter boats, and commercial fishing vessels.
Bob Considine, spokesman for DEP, said Tuesday that its Division of Coastal Engineering is developing permit applications and expects to seek bids on the project in April. The dredging, which will be funded entirely by the state, cannot begin until July 1 because of federal fish migration regulations, according to Considine. It will likely take all summer to complete.
The project, which will require U.S. Army Corps of Engineers permits, calls for creating a channel 25 feet deep. That will entail removing 1 to 1.5 million cubic yards of sand, according to DEP. The sand will be used to replenish beaches on southern Long Beach Island.
Lindsay Fuller, captain of the 41-foot fishing charter boat "Junebug" out of Beach Haven, said he has heard so many unkept promises from DEP about dredging Little Egg Inlet that he "won't believe it until it's done and done right."
Although the superstorm Sandy of 2012 caused much damage to the inlet, said Fuller, the sea approach to it has been shifting here at least since 1983, when he got his captain's license. He recalled five charter boat captains driving up on newly shifted shoals that year "and most of them had to get all new [propellers] and running gear."
Jim Donofrio, a lobbyist with the Recreational Fishing Alliance who works in both Trenton and Washington, said he thought the Coast Guard "did the right thing" by pulling its buoys, since they were giving boaters a false sense of assurance. But he said he was not confident the DEP dredging operation would prove a satisfactory long-term solution to the shoaling. "All we need is another nor'easter next winter and it'll fill back in."
Donofrio said he would like to see state and federal government commit to creating a new inlet north of Little Egg inlet "around the Holgate area."
"Commercial and charter fishermen need a navigable, jettied inlet through here," he said.