Skip to content
Winning ground war is Eagles' best path to victory over Falcons
The Eagles finished third in rushing and first against the run this season. Winning the ground game against the Falcons would make Nick Foles' job a lot easier.
Forget Matt Ryan. Forget Nick Foles. Forget Julio Jones and Alshon Jeffery and slants and posts and 50-50 balls.
Focus on sweeps and dives and draws and counters and off-tackle runs.
Lane Johnson says Saturday's divisional-round playoff game between the Eagles and Falcons will be won or lost not through the air but on the ground.
"What we're going to try to do is run the ball and keep them from running the ball,'' the Eagles' All-Pro right tackle said. "Try to make them one-dimensional. If we do that, we'll win the game.''
The Eagles would appear well-suited to prevail in a ground war at the Linc. They finished third in the league in rushing during the regular season, averaging 132.2 yards. They also had the league's No. 1-ranked run defense, holding opponents to 79.2 yards per game on the ground.
"When you look at the season, in games when we really dominated in the run game, we won easily,'' linebacker Nigel Bradham said. "But in those games where we were kind of lagging in the run game, we lost.
>> READ MORE: Complete coverage previewing the Eagles-Falcons game
"If we can take that ability [to run] away from them and let our offense be able to control the clock, and take control of the game with the run game and be two-dimensional, we're going to be hard to beat.''
The Falcons can be run on. Eagles running back Jay Ajayi put up 130 yards on them in Week 5 when he still was with the Dolphins. The Rams' Todd Gurley rushed for 101 yards on just 14 carries in last week's wild-card loss to Atlanta.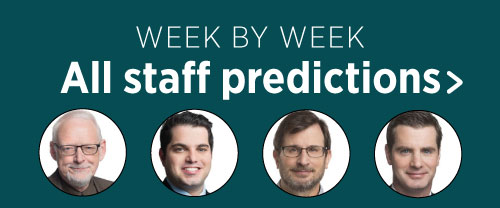 But the Eagles' ground game hasn't been nearly as effective lately as it was during the team's earlier nine-game winning streak.
After averaging 161.9 yards on the ground during the winning streak, they averaged just 98.4 in their last five games.
Ajayi, who averaged 7.0 yards per carry in his first five games with the Eagles after being acquired at the trade deadline, averaged just 3.9 in his last two. Their yards-per-carry average on first down slipped from 5.2 during their win streak to 3.3 in their last five games.
That last number is a major concern for Eagles coach Doug Pederson and offensive coordinator Frank Reich, who have been saying all week that the Eagles need to be more productive on first and second down so they can keep Foles out of third-and-longs.
The Eagles followed the run-and-keep-them-from-running formula to a T in last season's 24-15 win over the Falcons. They rushed for 208 yards and two touchdowns on 38 carries, including 109 by Ryan Mathews and 70 by Wendell Smallwood. The Falcons, meanwhile, had 48 rushing yards on just 13 carries.
"We attacked and were physical and were able to get penetration and get their running backs to stop their feet in the backfield,'' Bradham said.
"You can't let them get going north-south. That's what they do. That's what they're good at. The key for us as a defense is having the ability to attack and make sure we're in the backfield and make those running backs have to adjust their feet and buy time for us to swarm.''
The Eagles this season gave up just 62 rushing first downs, second fewest in the league. They finished third in rushing touchdowns allowed (7) and runs of 10 yards or more allowed (36).
But as with the run game, there was late-season slippage. They allowed 4.2 yards per carry in their last five games after holding opponents to 3.5 per carry in the first 11 games.
But the Falcons' ground game also hasn't been as good lately. They finished eighth in rush average (4.3 per carry). Falcons running backs Devonta Freeman and Tevin Coleman combined for 1,493 yards and 12 rushing touchdowns. But they averaged just 3.7 yards per carry in their last five games, including the playoff win over the Rams.
Bradham is one of three Eagles defensive players, along with tackle Tim Jernigan and cornerback Ronald Darby, who played with the Falcons' Freeman at Florida State. He said this week that their familiarity with him is an advantage in trying to defend him.
"For sure,'' he said. "Knowing your [opposing] personnel, it takes you to another level. Especially when you get to know a guy at a young age and know what his style is and what he likes to do and how he likes to attack. It definitely helps.
"But it kind of helps him, too. He knows how I play. He knows what to expect from me.''
In the Falcons' final two regular-season games – a 23-13 road loss to New Orleans and a 22-10 playoff-clinching win over Carolina – Freeman and Coleman were held to a combined 94 yards on 39 carries. They combined for just 106 yards on 32 carries in last week's win over the Rams.
"They're different backs,'' Jernigan said of the 5-8, 206-pound Freeman and the 5-11, 210-pound Coleman. "Twenty-six [Coleman] is more of an edge guy. Devonta can do a mix of both.
"The way that they use them, though, you never really know what's coming.  Because they both have plays where they're running between the tackles. They both have plays where they'll run those stretch plays. So you never know what you're gonna get when they're in the game. You have to be prepared for everything.''