Skip to content
Staff predictions for Eagles-Falcons
Our four writers give their projections for the divisional playoff game, and it's a split decision.
Our four Eagles beat writers predict the outcome of the divisional playoff matchup Saturday (4:35 p.m., Lincoln Financial Field).
Paul Domowitch
The pressure Saturday won't be on Nick Foles. It will be on his teammates. The Eagles are capable of beating anyone, including the Falcons, with Foles at quarterback. But Nick isn't a hop-on-my-back-and-I'll-carry-you-to-victory guy like Carson Wentz. He can't overcome a poor performance by his offensive line or five drops by his receivers or a bad day at the office by Jay Ajayi.
The other players need to do their jobs. If that happens, if the Eagles can stay out of a bunch of third and longs, if they can stay on the field and Ajayi and the line can get into a ground-and-pound rhythm that will add some teeth to Foles' play-action game, the Eagles can win Saturday.
But that's a lot of ifs.
Prediction: Falcons 24, Eagles 16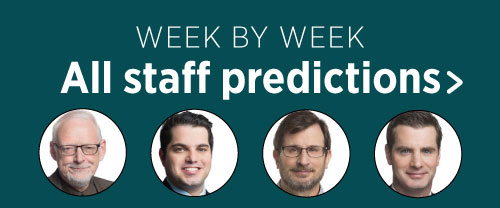 Les Bowen
I intended all week to pick the Falcons to win this game, but I find myself picking the Eagles.
Ever since I walked out of the Los Angeles Memorial Coliseum on Dec. 10, after chronicling Carson Wentz's ride on a cart to the team bus, his left knee heavily braced, I've been pretty sure this wonderful, unexpected, exhilarating ride to the NFC's top playoff seeding was doomed. Nick Foles has done nothing to allay that concern.
But there are a lot of guys in the Eagles' locker room who fought so hard to get here, guys such as Brandon Graham, who remember what it felt like to be 4-12 in 2012. Guys such as Malcolm Jenkins, who won a Super Bowl as a Saints rookie and now knows how precious and rare that opportunity was.
You've read all the matchup stuff, why this or that might happen. I have nothing more to add to that. Matt Ryan vs. Nick Foles is a cruel mismatch, you can't hide your quarterback in the playoffs, but still, here I am, saying the Eagles' defense and o-line will somehow find a way. I dunno. Jake Elliott from 70 for the win?
Prediction: Eagles 16, Falcons 15
>> READ MORE: Complete coverage previewing the Eagles-Falcons game
Jeff McLane
Can the Eagles win? Absolutely. They have a top-five defense, in terms of numbers, and probably to the naked eye. They have an offensive line led by three who have justifiably earned end-of-the-season honors. They have two running backs capable of carrying the load and another with six touchdowns this season. They have a Pro Bowl tight end. They have top-tier special teams. And they're playing at home.
The Falcons, meanwhile, have more flaws. Their offensive line, particularly their guards, is subpar. Their offensive play-caller is suspect. Their defense, while beginning to peak, forced only 16 turnovers during the regular season. (The Eagles, by comparison, had nearly double.) Their special-teams return and cover units are, at best, middling.
>> READ MORE: A playoff primer with TV info, point spreads, referees and more
But Atlanta has a supreme edge at the position that matters most: quarterback. All things being equal – and sometimes even when one team is clearly the lesser — the best quarterback typically wins in the postseason. And Matt Ryan is significantly better than Nick Foles.
Can Jim Schwartz's defense cut into that advantage? Absolutely. And it might. But it's difficult to see Foles doing enough to win, and he will likely have to do more than just manage the game.
Prediction: Falcons 23, Eagles 13.​
Zach Berman
I like the Falcons' roster and they might be peaking at the right time, plus they clearly have the edge at quarterback. In the playoffs, that matters. But they're also playing their 13th consecutive week and the fourth of five games on the road. The Eagles have essentially had three weeks of rest and should be energized for a Saturday home playoff game.
The way this game is played will matter. If it's an ugly, grind-it-out game and Doug Pederson means it when he says the Eagles will rely on their defense and the run, it will work to the Eagles' favor. If Nick Foles needs to go toe-to-toe with Matt Ryan, the season will end Saturday. Foles won't carry them to a win, but he's not always as bad as you saw his last time out. Recenty bias can swing his reputation too far the other way — he's a high-variance quarterback who is capable of playing much better.
If the Eagles win, it's going to be because of Fletcher Cox, Jay Ajayi, and the offensive line. You saw what the Rams' Aaron Donald did against the Falcons last week – I think Cox will be a difference-maker on Saturday. Ajayi rushed for more yards against this Falcons defense than any other running back this season, and the Eagles should commit to riding the "Jay Train." The Falcons are good enough to play into February, and the Matt Ryan-Julio Jones combination along with the fastest defense the Eagles have seen all year makes this a daunting challenge.
If the game is played in the 20s, the Falcons will win. If the game is played in the teens, the Eagles will win. I've been conflicted on this result all week, but I'm predicting a low-scoring game and one more week of football for the Eagles.
Prediction: Eagles 19, Falcons 17