Skip to content
Eagles-Falcons scouting report | Paul Domowitch
The Eagles finished third in the NFL in rushing this season, but their ground game struggled in December. Can it rebound?
When the Eagles run the ball
The Eagles finished third in the league in rushing (132.2 yards per game) and fourth in rush average (4.5 yards per carry). But their ground game sputtered in December. After averaging 161.9 rushing yards per game and 4.7 yards per carry during their nine-game win streak, they averaged just 98.4 and 4.0 in their last five games. Jay Ajayi, who averaged 7.0 yards per carry in his first five games after being acquired at the trade deadline, averaged just 3.9 in his last two games. Ajayi was the only running back to rush for 100 yards against the Falcons during the regular season. He gained 130 yards on 26 carries against them in mid-October, when he still was with the Dolphins. During their nine-game win streak, the Eagles averaged 5.2 yards per carry on first down, including 10.8 by Ajayi (10 carries) and 5.5 by LeGarrette Blount (73 carries). In the last five games, however, they averaged just 3.3 yards on first down. The Falcons are ninth against the run (104.1) but 25th in first-down opponent rush average (4.32).
EDGE: Even
When the Eagles throw the ball
After an impressive performance in his first start, against the Giants in Week 15, when he threw four touchdown passes and no interceptions, Nick Foles struggled in his final five quarters of regular-season work. He completed just 50 percent of his passes and averaged 4.29 yards per attempt against the Raiders, and was 4 for 11 with a bad interception in one quarter of work against the Cowboys in Week 17. He has a 61.6 passer rating on third down, which pales in comparison with Carson Wentz's 123.6. Just five of Foles' 27 third-down pass attempts have resulted in first downs. Wide receivers Alshon Jeffery and Nelson Agholor and tight end Zach Ertz have combined for 25 touchdown catches, 19 of them in the red zone. The Eagles finished first in red zone touchdown percentage (65.5). The Falcons have a fast, aggressive defense but finished 21st in opponent passer rating (91.9) and had just eight interceptions, third fewest in the league. They did a nice job against the Rams' passing game last week, holding Jared Goff to 24 completions in 45 attempts and just one touchdown pass.
EDGE: Falcons
When the Falcons run the ball
Devonta Freeman and Tevin Coleman share the running back duties. The 5-8, 206-pound Freeman has 196 carries; the 5-11, 206-pound Coleman, 156. The pair have combined for 1,493 yards and 12 rushing touchdowns. Freeman is a downhill slasher with good power and balance who is better on the perimeter than between the tackles. Coleman is a fearless, one-cut, between-the-tackles runner with a violent running style. The Falcons averaged 4.54 yards per carry on first down this season, including 4.72 by Freeman. That's the fifth-best average in the league. In the Falcons' final two regular-season games, Freeman and Coleman rushed for just 94 yards on 39 carries (2.4 yards per carry). They were much more productive against the Rams, combining for 106 yards on 32 carries. The Eagles had the league's No. 1-ranked run defense, holding opponents to 79.2 yards per game on the ground. The Eagles held opponents to 3.37 yards per carry on first down, the fourth-best average in the league.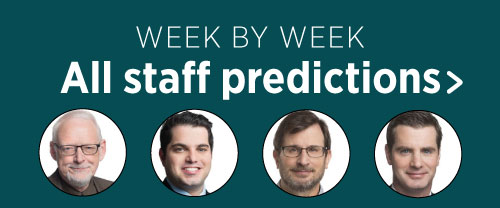 EDGE: Eagles
When the Falcons throw the ball
The Falcons' passing game wasn't nearly as potent this season as it was last year. Matt Ryan's passer rating plummeted nearly 30 points (from 117.1 to 91.4), and his touchdowns-to-interceptions differential dropped from plus-31 a year ago to plus-8. His completion percentage and yards-per-attempt average also took significant drops. He hasn't thrown more than two TD passes in a game this season, and doesn't have more than one in his last seven games, including last week's wild-card win over the Rams. WR Julio Jones had 1,444 receiving yards but just three TD catches, which was the fewest of his career in a season in which he has played more than five games. He had nine catches, including a TD, against the Rams last week. The Eagles have a solid tackling secondary that has kept yards after the catch to a minimum this season. They have allowed just 40 pass plays of 20 or more yards, the fifth fewest in the league. They are fourth in interceptions with 19, including nine on third down. Their pass rush has sputtered down the stretch. They have just nine sacks in the last six games, and their pressure frequency is down.
EDGE: Falcons
Special teams
Eagles PK Jake Elliott has made 26 of 31 field goal attempts, including 24 of his last 27. He is 12 for 14 on field goals of 45 yards or more. The December addition of veteran Bryan Braman seems to have stabilized the Eagles' coverage units, which are ranked 14th in punt coverage and 17th in kickoff coverage. The Eagles are just 24th in opponent average drive start on kickoffs (25.4). Punt returner Kenjon Barner is averaging just 4.1 yards per return in the last six games. He has had just one return longer than 10 yards since Week 7 (17 yards vs. Bears). The Falcons are last in the league in kickoff coverage (26.2). But the Eagles' 18 kickoff returns are the fewest in the league. They were content to start drives at the 25 when Wentz was the quarterback. They might be a little more willing to look for the big return with Foles at QB. Or not. Falcons returner Andre Roberts had two punt returns for TDs with the Lions last year. He's ninth in kick-return average (22.6), but just 18th in punt-return average (7.4).
EDGE: Eagles
Key matchups
Eagles DT Fletcher Cox vs. Falcons C Alex Mack: Cox and Mack are two of the best players in the league at their respective positions. Mack did not give up a quarterback pressure in the loss to the Eagles last year. ADVANTAGE: Falcons
Eagles RT Lane Johnson vs. Falcons OLB Vic Beasley. Beasley, who had 15 ½ sacks last season, has five this year. Johnson, who was a first-team all-pro selection, has done an outstanding job against some of the league's top edge rushers this year. ADVANTAGE: Eagles
Eagles CBs Ronald Darby, Jalen Mills, Patrick Robinson vs. Falcons WR Julio Jones. Jones has 1,444 receiving yards but just three TD catches this season. The focus of Eagles corners will be keeping him in front of them and limiting his yards after the catch. ADVANTAGE: Falcons
Domowitch's prediction
Falcons 24, Eagles 16
Hot and Not
Hot
Eagles: CB Patrick Robinson. Led the Eagles in interceptions with four and had one of the best seasons of his career playing in the slot.
Falcons: LB Deion Jones. Finished first on Falcons with 138 tackles, including 10 for losses. Was third in passes defensed (9).
Not
Eagles: QB Nick Foles. Has a 48.2 passer rating and 46.9 completion percentage in his last five quarters.
Falcons: DE Adrian Clayborn. Has just 1 ½ sacks since his six-sack game against the Cowboys in Week 10.