Skip to content
The mechanics behind Carson Wentz's offseason changes
The Eagles quarterback made subtle changes to his footwork this offseason. Were they noticeable on Wentz's preseason film?
Five years into his NFL playing career, Frank Reich decided to make a drastic change, one considerably more pronounced than the tinkering Carson Wentz did to his mechanics this offseason.
"I did something that most quarterbacks would never think about," said Reich, now the Eagles offensive coordinator. "I changed my grip and it was a pretty significant change in grip."
Reich played for the Bills, and the winds off Lake Erie would often howl. He threw a tight spiral, but not as stiff as the one thrown by the starter, who held the football differently.
"Jim Kelly threw a real tight spiral in the wind in the stadium up there," Reich said of the Hall of Fame quarterback. "And so I'd see his grip and every now and then I'd mess around with it, and I could feel that it felt a little bit better."
When Reich held a football, he would place two fingers on the laces. Kelly had only his ring finger on the second lace and positioned his index finger on the back point of the ball. Reich said he went to work on the new grip almost immediately after the season ended.
"It took me a whole offseason to get ready," Reich said. "By training camp I still wasn't 100 percent used to it. It was a pretty hard adjustment, but I'm glad I did it because I threw a better spiral."
Reich's performance in the greatest comeback in NFL playoff history occurred in Buffalo after the grip alteration. It's impossible to know if there was a direct cause and effect. Reich clearly felt it helped. Ultimately, that is what mattered the most – his confidence after the new grip – and the same could be said of any quarterback who must perform one of the most difficult jobs in all of sport.
Which brings us back to Wentz. Much has been made of the changes the Eagles quarterback underwent during his first full NFL offseason – the guru he trained with for a week, the  modification of his footwork, and the natural maturation that comes simply with time. But Wentz and the Eagles say the sum has been greater than the individual parts.
"I can see it on film. Everything, pocket movements, different things, everything's more subtle," Wentz said. "Everything's quieter from my feet. And it just looks like I'm more comfortable."
Wentz said during an interview just before the final preseason game that he hadn't compared film of himself late last year and this year for visual proof. But Reich and quarterbacks coach John DeFilippo said that the second-year quarterback's more efficient movements within the pocket have stood out on playbacks.
"Without a doubt, you can see what he's been working on," Reich said. "It was always there. He was always doing the right things. It's just getting to do them at a higher percentage and more consistent."
The foundation
Reich and DeFilippo have access to the complete library of Wentz's throws since the start of offseason workouts in April. But even an impartial observer of his practices since May could see the improvement.
Mike Mayock was one of the first national analysts to evaluate Wentz as a first-round talent before the 2016 draft. His appraisal hasn't altered much over the last year. Mayock, who did color commentary for the Eagles' preseason games, said during a recent interview that he considered Wentz "the most promising young quarterback in the game."
During a film review of Wentz's preseason, the NFL Network analyst said that he saw, first and foremost, a quarterback who understood coach Doug Pederson's system better and thus made smarter decisions.
"Which, to me, is Point No. 1. But the rest of it all checks off," Mayock said. "I think his deep ball is going to be fine. I think every once in a while you're going to look at it and go, 'Man, where did that come from?'
"But for the most part, what he does well — pocket awareness, the intelligence, the pre-snap stuff, extending plays — is going to overwhelm the negative."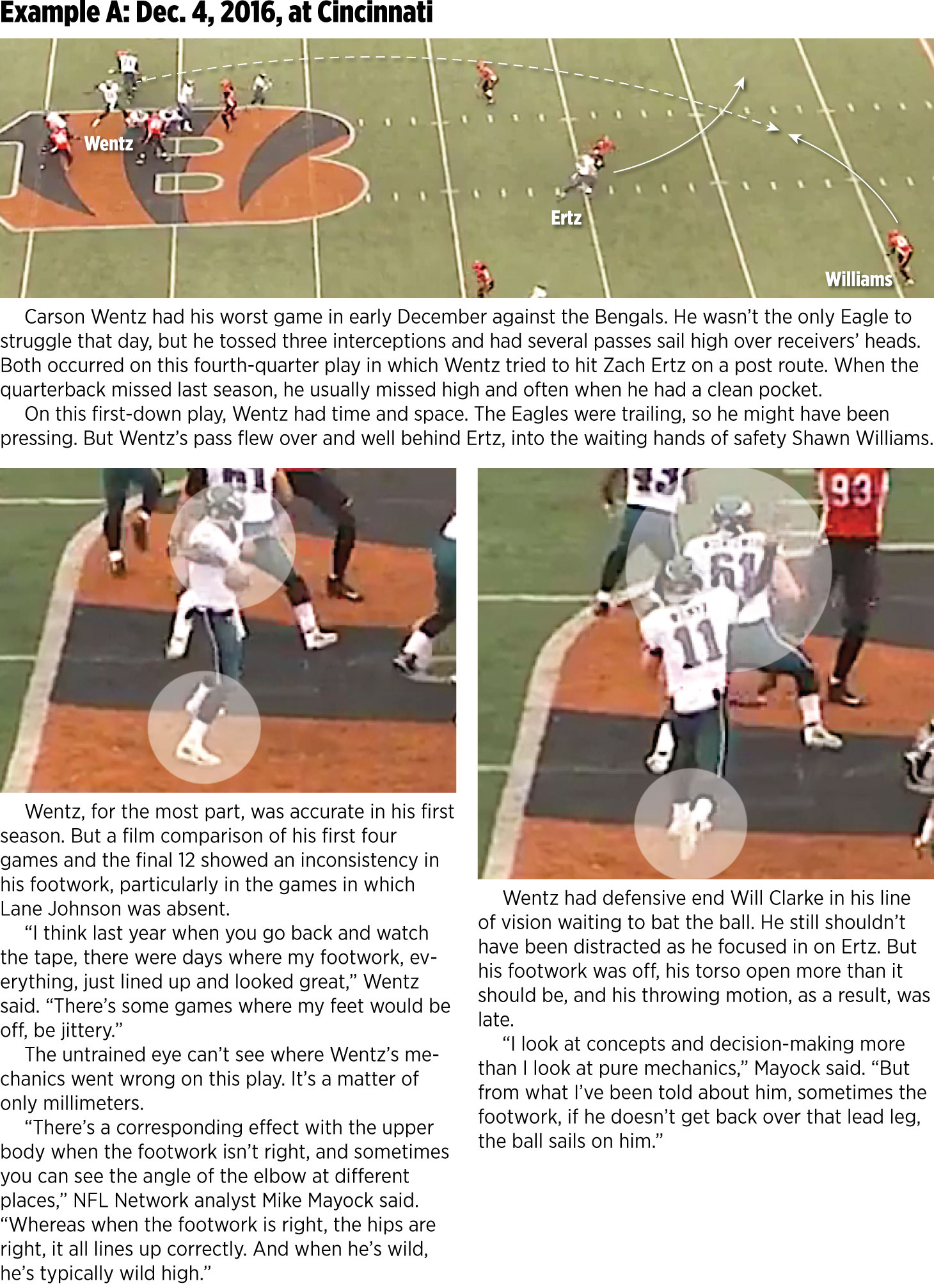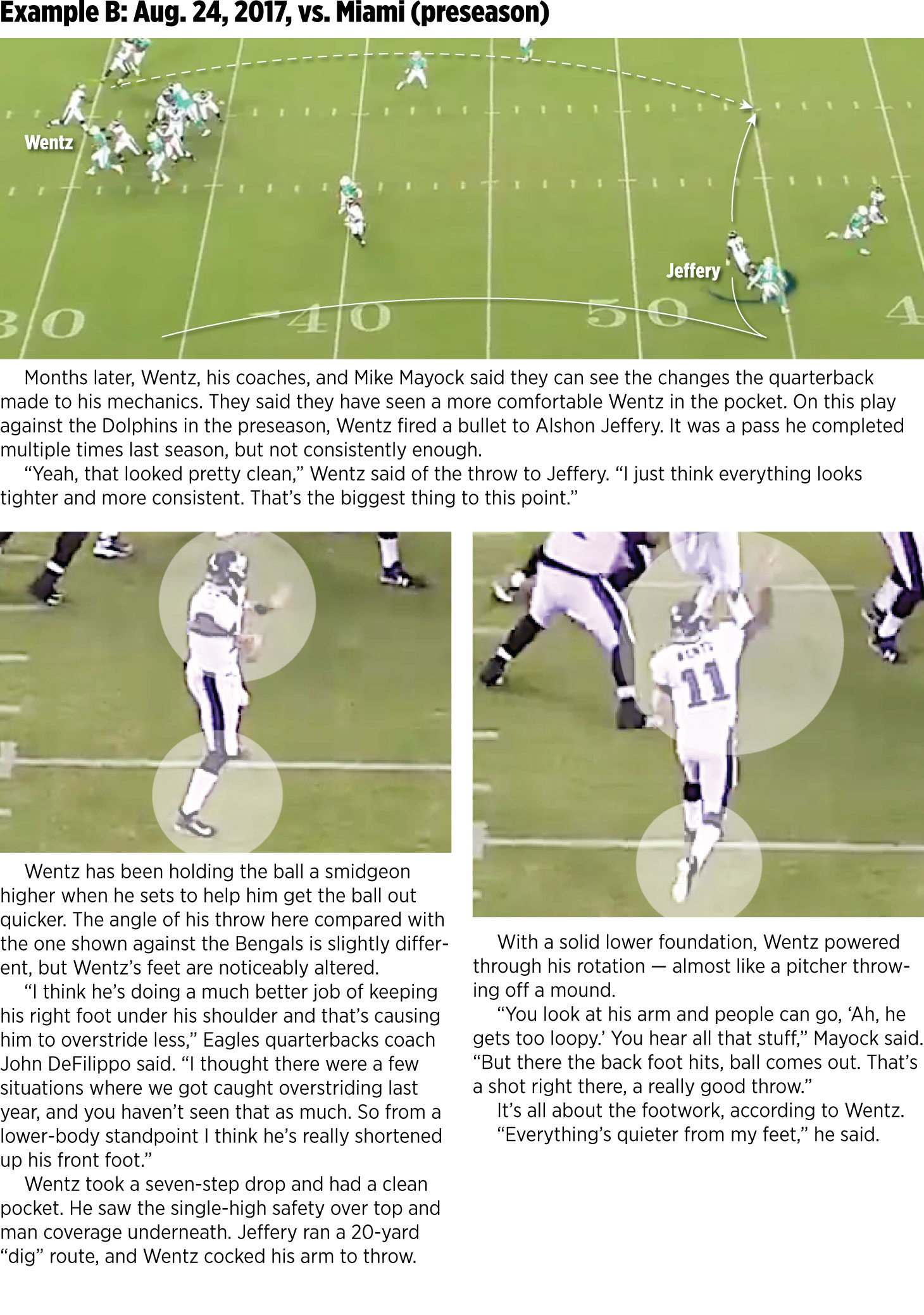 Wentz's rookie year showed great promise, but there was the negative, particularly after a hot four-game start. His accuracy on intermediate-deep throws was inconsistent. He completed just 32.7 percent of his attempts over 20 yards, and his 36.8  rating on deep passes was 25th among 27 qualifying quarterbacks.
The pounding he increasingly took in the pocket during Lane Johnson's 10-game suspension didn't help matters, and neither did the ineffectiveness of his outside receivers. Wentz tossed 10 interceptions over a seven-game span, culminating with a three-pick performance against the Bengals on Dec. 3. His footwork had become erratic.
"There's the famous line of Bill Walsh that he could just watch tape of a quarterback's feet — Joe Montana's feet — and tell you whether or not every throw was a good throw," Mayock said. "So the foundation is built from the ground up, and [Wentz's] footwork was highly inconsistent last year as far as the season went along, getting back over that front foot."
The Eagles had Wentz initially hold the ball higher and widen his base after the draft.
"There were things that you see and you say, 'Boy, I want to change all of that right now,'" Reich said. "But you got to take a mature approach. It takes time."
But the Eagles also didn't want to turn the naturally athletic and instinctive quarterback into a robot.
"There's an art and a science to playing quarterback, and I really try to bring both," Reich said. "I feel very comfortable with my understanding of mechanics and the fundamentals, but because I have experience as a player there's a side of it – the art of it, the feel of it, the instinct of it – I don't ever want [Wentz] to lose."
After the season, DeFilippo gave Wentz a few minor mechanical things to work on before they parted in January. A month later, Wentz enlisted the aid of 3DQB's Adam Dedeaux, who had previously worked with Tom Brady, Drew Brees, Matt Ryan, and many other top quarterbacks.
A former pitcher, Dedeaux uses biomechanics and motion analysis to analyze throwing motion. When Wentz overstrode last year, the ball would sometimes sail high, wide, or both. DeFilippo said he has seen a difference in the footwork.
"I think he's doing a much better job of keeping his right foot under his shoulder, and that's causing him to overstride less," DeFilippo said. "So from a lower-body standpoint I think he's really shortened up his front foot."
More comfortable
The intermediate-deeper throws, at least during training camp, were more accurate. Wentz threw only 26 passes in three preseason games, but he had only one egregious attempt – his first pass against the Bills that sailed over receiver Alshon Jeffery's head.
Wentz's passes down the middle of the field were on point. He hit Jeffery on a 14-yard slant against Buffalo. He roped 14- and 12-yarders to tight end Zach Ertz against the Dolphins. And he connected with Jeffery on a 20-yard dig and a 15-yard touchdown in the same game.
But to DeFilippo and Mayock, the most obvious improvements Wentz has made have been in the subtle movements he has made in the pocket and the overall comfort he has shown when there is pressure. He doesn't panic as much anymore.
The touchdown thrown to Torrey Smith may have seemed easy — the receiver was wide open when the ball landed in his arms 50 yards later – but Wentz had to first hop to his left when Dolphins defensive end Cameron Wake nearly bull-rushed Lane Johndson into him.
"Most young quarterbacks would feel that pressure, their eyes would come down, and they would be looking to get out somehow," Mayock said. "To me, that's the most telling thing you can look at on film. Forget how [the ball] came out. That's what separates quarterbacks with great arms that never make it in the NFL and quarterbacks that thrive."
DeFilippo pointed to two other plays. In the first preseason game, at the Packers, Wentz had to shake off an unblocked Clay Matthews. And against the Bills, Wentz had to check to his third read after Jeffery ran a wrong route.
NFL quarterbacks rarely get to throw from what DeFilippo calls the "perfect position" – a clean pocket in which their arm angle is ideal. So the assistant likes to throw obstacles at his quarterbacks in practice to get them out of perfect position and see how they get back.
"That's what I see more out of Carson right now," DeFilippo said. "His movements are more subtle, even when he has to move to get out of perfect position, he gets back into it quick and sets his target line to the receiver."
Wentz couldn't get back to perfect position after he eluded Matthews. He threw across his body to receiver Mack Hollins, who would run for a touchdown. But that kind of athleticism and instinct can't be taught. It's why many analysts like to compare Wentz to Steelers quarterback Ben Roethlisberger.
"The one Carson likes, when I talk to him, is Aaron Rodgers," Mayock said. "But I think he's a little bit of that combination of size and strength, of bend and athleticism. I don't think he's as big and strong as Ben, or as athletic as Aaron, but he's a nice blend of both."
Wentz would never go as far as to say he is already in the class of Rodgers or Roethlisberger. He is a work in progress, but he feels more relaxed heading into his sophomore season.
"Am I perfect? No. I'll never be perfect," Wentz said. "But I can tell that I do look more comfortable, and I feel that way."
Change, however minor, can sometimes be good.
_________________
Sign up for "Early Birds," our new Eagles newsletter by Zach Berman, at philly.com/earlybirds.