Skip to content
Starbucks' racial blunder shows it's too invested in the 'yoga-pants' set and must diversify culture, PR exec says
"I strongly suspect Starbucks will not see any lasting damage from this incident," a Wharton professor noted. But a Philly PR executive said Starbucks is "way too invested in the yoga-pants demographic" and needs to diversify its culture.
Scholars who study corporate embarrassments said Starbucks was using corporate textbook moves from the social-media playbook to limit damage to the chain's brand and reputation in the wake of police handcuffing and removing two African American men from a Rittenhouse Square-area store last week.
"In the old days they'd jump out quickly and apologize," even without the facts — but now the steps are different, says Americus Reed, professor of marketing at Penn's Wharton School, who advises companies on "brand crises."
To keep loyal users coming back, the first step is to "validate concern" by "recognizing it's not a good situation, it's a horrible thing that's happened" — without necessarily apologizing, because "your information is usually incomplete," Reed said.
"Two, you show action." By telling protesters on Sunday that the chain was taking responsibility, then on Monday that the manager who reported the men to the police had agreed with the company she should leave the store, Starbucks moved fast to show "there are things we are putting in place to make sure it doesn't happen again." And by responding fast and continuously, Starbucks was working to "control the narrative. Get out front with your public relations story before competitors or folks that don't like you."
>>READ MORE: Latest developments on the Starbucks arrests
Mark Zuckerberg's recent reaction to revelations that companies were exploiting Facebook users' data also hit all those "golden standard" points, Reed said, though it took a few days longer. He contrasted the Starbucks and Facebook response to United Airlines' past reaction to viral reports of customers getting kicked off flights: United seemed to blame its customers before shifting its story in reaction to customer pushback.
This kind of thing has happened at Starbucks before, Reed noted: Its 2015 initiative, 'Race Together,' "had the baristas trying to have these very difficult conversations about race, in shops where they were selling $10 coffee. It was a good idea, badly executed."
Reed predicted Starbucks will get passive help from an unlikely source — President Trump: "All Starbucks has to do is show this is a 'one-off' — when you have tens of thousands of employees and sometimes someone makes a bad decision — and everything will be fine. In this 24-hour news cycle there's probably 10 stories on Capitol Hill that will replace this. People don't have time to find out what's going on at Starbucks while entire democratic institutions are in trouble. And that benefits Starbucks."
>>READ MORE: Starbucks manager who called police has left the company
There's no sugar coating what happened. "It's very difficult to see this incident at the Starbucks as anything other than a racial profiling scenario," said Donald J. Tibbs, professor of criminal law and procedure at Drexel University's Kline School of Law.  "People meet at the Starbucks all the time. They wait for other people to arrive. In that moment, they make a purchase. I have done that on numerous occasions. I've been given the key to use the bathroom while I am waiting."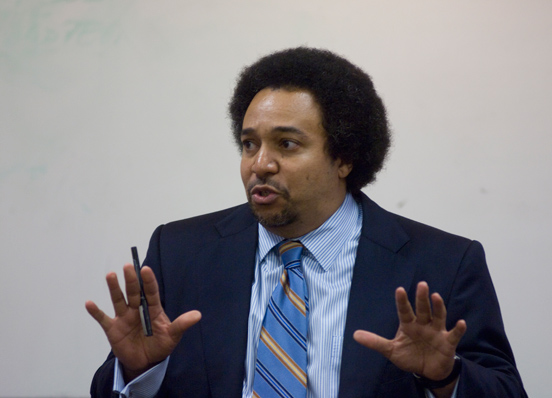 The incident occurred in a wealthy, largely white neighborhood, Tibbs added. "The gentlemen who were handcuffed don't fit that demographic — they are black, they are male, the way they are dressed."
Tibbs said Starbucks' Johnson acted "admirably" in flying to Philadelphia as soon as the arrests blew up on social media, fueled by a video of the incident. "They have to review their policies in terms of asking potential patrons to remove themselves with the establishment."
But Tibbs challenged the chain's initial effort to avoid blaming individual staffers: "Someone on the staff set this in motion. They had to have said they were there to meet someone else prior to the police being called. Not only do you need to change your policies, you need to give your staff training to understand how implicit bias and white privilege works. You have to give responsibility to the management." As to lasting damage, "I know I won't be making purchases at Starbucks for awhile. It is an international incident."
Still, the world has a short attention span. "I strongly suspect Starbucks will not see any lasting damage from this incident," so long as the protests remain local and the company keeps responding, said Kevin Werbach, a legal studies and business ethics professor at Wharton. Starbucks has "created a reservoir of good will" by portraying itself as a socially-responsible company, and "they have responded very aggressively in apologizing and saying they will not let this happen again," he added.
The arrested men's lawyer, Lauren Wimmer, said they went to the store for a business meeting with developer Andrew Yaffe, who had invited them for coffee. Videos of the arrest, which spread to millions on social media last weekend, show the developer arriving on the scene and questioning the arrests, while officers insist on detaining and removing the men, who were released around 12:30 a.m. Friday without charges.
Starbucks chief executive Kevin Johnson flew from the company's Seattle headquarters to Philadelphia Sunday night to apologize for the incident. Philadelphia Police Commissioner Richard Ross on Saturday said a supervisor and a group of police had detained the men after complaints from Starbucks staff. The department sometimes dispatches supervisors when officers have different views on how to handle an incident.
After police announced an Internal Affairs investigation into what happened, but before that investigation was completed, Ross declared that police did "absolutely nothing wrong" and were following the department's usual policy when business owners complain that people won't leave and are trespassing.
Community and racial disputes are a risk for companies that rely on low-paid retail employees to deal with the public, Wharton's Werbach said. Despite cultivating a liberal image to match an urban and college-town clientele, "every company can make mistakes, especially companies that have large numbers of front-line employees. It comes back to culture," Werbach added. Given its pay scale, "Starbucks can't depend on highly compensating employees [to ensure] they are taking appropriate behavior. They have to create a culture where people who work at Starbucks feel proud of working at Starbucks, and feel a personal impetus to protect the brand."
In blaming his company, not staff or police, for the arrest, Johnson admitted Starbucks' culture needs improvement. "Watching the video, it was painful," Johnson told the Inquirer this morning. The result was "reprehensible." He said he's studying what to do.
Werbach noted, for example, that Amazon, the online retailer and distribution giant, had weathered past embarrassments over grueling treatment of thousands of warehouse employees by continually working to improve its "tremendous consumer focus." Uber and other companies known for riding roughshod over critics can have a tougher time when they face scandal and negative news.
Service bias can be costly: Cracker Barrel paid almost $9 million in 2004 to settle allegations that the restaurant chain mistreated black customers and discriminated against black workers. IHOP, run by International House of Pancakes LLC, apologized in March after a waitress asked black teenagers to pay upfront for a meal at an Auburn, Maine IHOP. And Applebee's apologized, fired workers and closed a restaurant in Independence, Missouri, after two black women said they were falsely accused of not paying for meals in February, according to the Associated Press.
Greg Matusky, founder of public relations firm Gregory FCA in Ardmore, said the Starbucks incident points to a demographic challenge for the sweetened-coffee chain:  "Starbucks is way too invested in the yoga-pants demographic," he said. "It has to diversify its culture and approach. Ironically, that opens the door for other brands, such as Philly's urban, authentic La Colombe." (Matusky's firm doesn't represent La Colombe or Starbucks.) "They have the street cred with hipsters in Northern Liberties, and they have a Bryn Mawr store on the Main Line. Starbucks needs to be very careful where they fall on that spectrum." He suggested Starbucks develop "brands with that kind of sensibility and sensitivity and use their connection to better understand the reality of America's diversity. I don't know how long they can depend on Mom in her yoga pants getting out of her Land Rover will be seen as cool and contemporary."
While the P.R. people rush Johnson around to cope with the YouTube cycle, some observers in the African American community are considering longer-term pocketbook protests.  "We haven't yet decided" on whether to boycott Starbucks as a business or to divest its shares from retirement portfolios, said Reverend Mark Tyler, pastor at Mother Bethel AME congregation in Center City Philadelphia.
"We're having a conversation with 20,000 clergy [Monday] afternoon on a phone conference call, to figure out the appropriate response to Starbucks. Everything is on the table," Tyler said. "But we don't want it to hurt employees of color who work at Starbucks. Sometimes a hasty boycott can have unintended consequences."
Marc Lamont Hill, founder of the black-owned Uncle Bobbie's coffee cafe in Germantown, said the culture of coffee houses is that customers often come and wait for friends without purchasing anything.
"That's why so many coffee houses die, because customers buy nothing, or buy a water and stay for hours. It's so foreign to me for police to be called for something so minor," Lamont Hill said. When he saw the video, "I thought 'why would I call the police on my customers'"?
Uncle Bobbie's brews La Colombe coffee, and Lamont Hill said he doesn't frequent Starbucks, although he did attend a rally there on Sunday.
"Part of being a black-owned space or a cafe is the sense of safety. At Uncle Bobbie's we have better coffee — and you don't go to jail."