YOU BETTER WATCH out. You better not pout. Santa's gotta brand-new bag of high-tech goodies to lay on you for the holiday.
SWITCHED ON TV: Looking to get a really good flat panel TV without busting the bank? In plasma sets, our favorite variety for watching movies, be sure to scope out the 42-inch, 720p Panasonic TH-42PX77U ($1,200) and its big brother - the 720p, 50-inch TH-50PX75U ($1,700), both top rated by Consumer Reports. If you sit close to the set, and/or are feeding it the highest of high-def content from a Blu-ray or HD-DVD player, go for a 1080p resolution plasma like the Panasonic TH-50PZ700U ($2,900).
Other plasma makers we like include Pioneer (their Kuro line is the very best but pricey) and Samsung. In LCD, our faves include the Samsung 71 series, Toshiba Regza, LG Opus and Sony's best XBR4 series.
WE STAND CORRECTED: Whatcha gonna rest that new flat panel or rear projection TV set on, come Christmas day?
The Bell'O brand WAVS-320 TV and equipment stand (found at audio-video-furniture.com for $405 with free shipping) is a particularly handsome and practical product at a decent price. This cherry finished, Shaker-style wood cabinet features a top shelf accommodating a set up to 50 inches, two drawers to stash remote controls, plus two lower shelves that can each hold two components. The cabinet's back is fully finished, with cutouts for air flow and cable management. Two wood-framed doors are included for closing in the bottom shelves and come with swapable glass, wood and speaker cloth insert panels. The piece is shipped flat. A veteran assembler of Ikea furniture working with two assistants put a WAVS-320 together in one hour.
Want something more utilitarian? The similarly sized StudioTech PS-3 A/V stand is a good bet. This open-sided, steel frame and composite board unit sells for about $299 with free shipping - available in all black or black and silver finish from www.studiotech.com (1-800-887-8834). A set of screw-on rolling caster feet (a good addition if you ever switch gear and cables or want to dust behind the equipment) costs $14. One elf put this stand together in 45 minutes.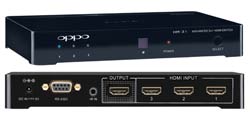 ROOM AT THE INN: The highest resolution video pictures are produced by connecting video products (like cable and satellite TV boxes, game systems and DVD players) to an HDTV using a digital HDMI audio/video cable. But many digital TVs only have one HDMI input. To the rescue comes Oppo Digital with its new HM-31 HDMI Switch, allowing up to three high grade HDMI 1.3 source devices to be connected to a single HDMI input. Supplied with a small remote control, it's $99 at www.oppodigital.com (1-650-961-1118).
Another add-on we like is the handsome, slim component styled Monster Empowered IR Power Center EPIR 2450 ($499 at www.6ave.com or www.datavis.com). It's actually two products in one, first providing advanced power filtering and protection for up to seven plugged in A/V components. Digital voltage and amperage meters and audible alarms warn of power problems, whilea $350,000 connected equipment warranty saves your butt if the product fails. For icing on the cake, this unit also packs IR control and distribution technology that lets users keep A/V gear behind closed doors for a super clean look.

SMILE FOR THE BIRDIE: Digital cameras remain high on many wish lists this season. For the Gen Z crowd, the coolest ultra-portable point and shoot may be the FujiFilm FinePix Z10, a 7.2 MP model available in five brilliant colors (Wave Blue, Wasabi Green, Hot Pink, Sunset Orange and Midnight Black). The exceptional feature set includes 10-person auto face (focus) detection and IrSimple signal trading technology that allows friends with the same camera (or a compatible FujiFilm model) to share captured images. A dandy blog mode automatically resizes an image for easy posting or e-mailing, while the auction mode combines three different views of a sale item as one image, cutting your e-Bay fees. $150-$199.95.
A high definition camcorder is the logical next acquisition after you've bought an HDTV. Hitachi has a nifty new model called the DZ-BD7HA (around $1,200) that records directly to high def Blu-ray disc and/or a 30GB hard drive, for playback on a dedicated Blu-ray player or Sony PlayStation 3. (The camcorder also can record in standard def or convert HD footage to a standard DVD.)
If you don't mind using old-fashioned videotape (MiniDV), the best deal going right now is the Canon HV-20 camcorder, list price $1,099 but spotted online for as little as $750. This small shooter captures superb 1080 line high def images in the most robust, least quirky MPEG-2 format which works with all video editing software. Bonus features - optical image stabilization, a 10x optical zoom, and connections for an external microphone and headphones.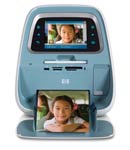 PRINT AND SHOW: Never get around to printing those images you've captured on a digital camera? Maybe that's because sitting down at a computer to do the job seems too much like work. Lots more fun, and suitable for, say, kitchen installation and casual use is HP's Photosmart A826 Home Photo Center. Featuring a seven-inch touch screen to view and edit the images, you can draw on a photo using a finger or the stylus, add captions, and change the look of the picture with special effects. A 4x6-inch color print pops out of this toaster in just 39 seconds. $199-$249, www.hp.com.

GLOBE HOPPING: The magical new Phoenix Wi-Fi Radio from Com-One pulls in hundreds of Internet radio stations and audio blog sites both domestic and international - from Mexico, Africa, Italy, Sweden, the U.K., you name it. Better still, it operates without a hard-wired computer connection - all you need is a wireless Wi-Fi zone at home or the ability to piggyback on a neighbor's unencrypted setup. You will want to log on occasionally to customize the Phoenix - moving stations in and out of its menus and changing the unit's preset buttons. Operating on AC or rechargeable battery power, and with clock radio timer features, you can wake to Brazilian pop and nod off to Danish jazz at night - assuming the sites aren't off line or overloaded with other visitors, which seems to happen a lot. $249 at CompUSA, Amazon, Tiger Direct and www.com-one.biz.
Offering only 150 or so channels but exceedingly reliable, is XM's cool new XPRESSRC by Delphi. It's the pay service's first radio with a full color screen that can display what's playing on four stations simultaneously - the one you're hearing, plus three more waiting in the wings. A built-in memory lets you back up and replay songs, conversation or play-by-play commentary, and save favorite songs. The radio can alert you when favorite artists are playing somewhere on the system. $169.95 with three months' complimentary service, when the radio is registered by Dec. 31.
HEALTH AND WELFARE. Does your honey hate to come home to a dark house? Set her up with a Maestro Wireless dimmer and wireless controller from Lutron Electronics. The Maestro replaces an in-wall switch to turn lights on and off at variable brightness levels. And it can be controlled up to 100 feet away by a supplied, radio frequency remote that's small enough to carry in pocket or purse and easily clipped to a car visor. The controller can actually operate up to three Maestros, if you want to add on to the starter kit, available in multiple colors and finishes for $169.30 at lighting showrooms and electrical distributors. (More info at www.lutron.com.)
While only advertised around Father's Day and Christmas, an electric shaver is a gift that keeps on giving, every morning. This season, Philips Norelco is introducing a significant refinement of the species called Arcitec. It's the first and only electric with "Flex and Pivot Action" - three shaving heads that float independently to maintain maximum skin contact even in the curved contours of the neck and chin. Arcitec's ease of use advantages also include a slimmer body for easy gripping, precision tube trimmer for beards and sideburns, a super fast recharging battery and an LED display which shows shaving minutes remaining. $169.99-$249.99 at Target, Bed, Bath and Beyond and Amazon.com.
COMMUNICATORS: It's about time that somebody (Verizon) picked up on the Juke, a snazzy little Samsung phone that Korean phone-atics have been loving for a couple of years. Opening like a switchblade and especially sharp in a metallic red finish, Juke gets its name for its music playing ability - controlled with an iPod-like wheel. The device holds two gigabytes of tunes (in AAC and AAC+, WMA, WMA Pro and MP3 formats) transferred from a PC using Windows Media Player or V Cast Music Manager and feeding wirelessly to Bluetooth stereo headphones. The gum pack sized Juke also has location-based services (VZ Navigator) and a camera with night shot mode. $99.99 after rebate with a two-year contract.
If there's a music loving Sprint phone user on your holiday list, consider a gift of the Pandora music service. It allows them to set up and enjoy as many as 100 music streams feeding their special taste for an artist or song with compatible ("affinity") programming. The service costs just $2.99 a month, but must be tiered atop a Power Vision data plan starting at $15. Sound quality proved surprisingly good with the Red Motorazr (aka V3m, $59.99 with a two-year contract) which works with both wired and wireless Bluetooth headphones.
Get your text message-loving kid off the PC and the mobile phone by switching him or her to the new, second generation Zipit Wireless Messenger 2. Working anywhere there's an open or free WiFi network, this cute communicator lets 'em connect with any and all their friends via AOL, Yahoo and MSN instant messaging accounts. The color screen and backlit keyboard make it easy to IM in the dark - say, underneath the bed covers. There's no software to load, no concerns about spam, viruses, or unwanted messages from strangers. An MP3 music player and photo viewing features are built in.
And there's no monthly or per message fee. $149.99 at www.zipitwireless.com. *
Send e-mail to takiffj@phillynews.com.