I START THIS year-end column the way I usually do: by proclaiming my dislike of best-of lists, which tend to reduce television criticism to numbers.
Don't worry, though, there'll be a list. Just no numbers.
Taking a page from colleague Gary Thompson, I'm alphabetizing my Top 10 TV shows this year: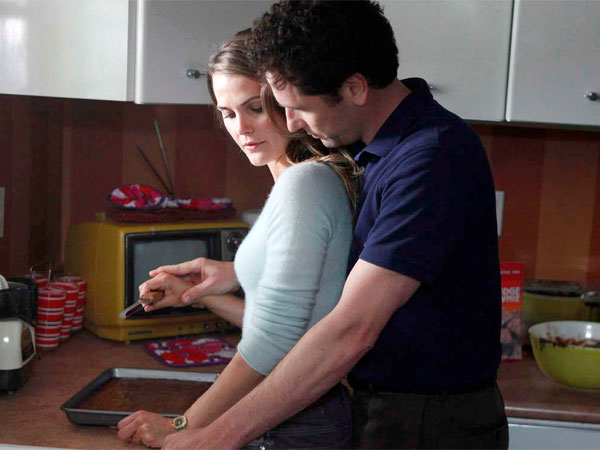 THE AMERICANS. FX, 10 p.m. Weds., returns Jan. 28.
The stakes got higher than ever this past season for undercover Russian spies Philip and Elizabeth Jennings (Matthew Rhys and Keri Russell), as they were forced to confront the danger posed to their children.
FARGO. FX, expected back next fall.
Anthology series were all the rage in 2014, and the form worked well for Noah Hawley's inspired adaptation of the Coen brothers' movie, which put Martin Freeman ("The Hobbit") and Billy Bob Thornton on-screen together and introduced us to the extraordinary Allison Tolman.
GAME OF THRONES. HBO, expected to return in April.
Producers continue to make interesting choices as they work their way through George R.R. Martin's as-yet-unfinished fantasy epic. Still as much a marvel of engineering as its opening credits, it boasts storytelling that transcends genre (though the dragons are pretty cool, too).
THE GOOD WIFE. 9 p.m. Sundays, CBS3.
How many broadcast-network series continue to get better into their sixth seasons? Making smart, meaningful adult television in 22-episode seasons, with commercial breaks and broadcast standards, is hard, hard work, but "The Good Wife" proves it can be done, and that it's worth doing.
THE HONORABLE WOMAN. Miniseries, SundanceTV. Available On Demand and on Netflix.
Maggie Gyllenhaal gave a breathtaking performance as a munitions heiress trying to transform her company into a force for peace in the Middle East.
JANE THE VIRGIN. 9 p.m. Mondays, CW57.
The happiest surprise of 2014 turned out to be this telenovela adaptation, starring Gina Rodriguez as a young woman who's accidentally impregnated during a doctor's visit. Go figure.
OLIVE KITTERIDGE. Miniseries, HBO. Still available On Demand or at HBO Go.
Frances McDormand brings new dimensions to the title character in Elizabeth Strout's Pulitzer Prize-winning story collection without in any way spoiling the book.
ORANGE IS THE NEW BLACK, Netflix.
Jenji Kohan's women-in-prison dramedy just got deeper and funnier in its second season.
SHERLOCK. PBS. First three seasons available on Netflix, season 4 begins filming next month.
Yes, I love CBS' "Elementary," and Jonny Lee Miller and Lucy Liu, but the ubiquitous Benedict Cumberbatch and Martin Freeman (see "Fargo") are the right Holmes and Watson for this twistier adaptation, whose third season ended in sheer insanity.
TRUE DETECTIVE. HBO. Available On Demand or at HBO Go.
I'm still not sure this is as good as many of us say it is. But it dazzled for a while, and it got us talking. And if I'm less impressed by Matthew McConaughey here than I was in "Dallas Buyers Club," I'm more impressed with Woody Harrelson than I've been in a long time.
Honorable mentions: HBO's ever-more-hilarious political comedy "Veep," which got bumped from an earlier list for "Olive Kitteridge" (though just writing that underlines how absurd lists can be); Amazon's transgender dramedy, "Transparent"; Starz's "The Missing," an achingly well-acted miniseries starring James Nesbitt and Frances O'Connor as a British couple whose son disappears during a vacation in France; Comedy Central's "Broad City," in which Wayne's Abbi Jacobson and her partner-in-comedy, Ilana Glazer, show what a funny version of HBO's "Girls" might look like; HBO's nerds-rule comedy "Silicon Valley"; ABC's fresh new "black-ish"; and FX's twisted rom-com "You're the Worst," which lit up my summer.
Last-minute addition: Squeaking in just under the wire for an honorable mention with a Dec. 23 release on Amazon Prime is "Mozart in the Jungle," a dramedy set in the rock 'n' roll world of classical music that stars Lola Kirke ("Gone Girl") as an ingenue oboe player who's drawn into the charismatic sphere of a flamboyant new conductor (show-stealer Gael Garcia Bernal, "Rosewater").
Phone: 215-854-5950
On Twitter: @elgray
Blog: ph.ly/EllenGray