If you're not yet familiar with Philadelphia colorist Jane Piper (1916-91), a mini-retrospective of her paintings at Schmidt/Dean Gallery offers an easy introduction. "Jane Piper: Four Decades of Painting" doesn't feature her Matisse- and Cézanne-influenced paintings from the 1930s or '40s, and it isn't gilded with the ephemera that typically attends such survey shows - you'll find no glass-covered cases of letters or photographs - but it does give a solid overview of her work from 1957 (when she began to develop her signature style) to the last year of her life.
Piper, who attended the Pennsylvania Academy of the Fine Arts, studied under a veritable Who's Who of painters. Pennsylvania impressionist Daniel Garber was her drawing instructor at PAFA. After leaving the academy, she went on to study with Philadelphia modernist painter Earl Horter in his studio on Delancey Street. She also studied with Philadelphia colorist Arthur B. Carles at his studio on Chestnut Street (she eventually shared his studio with him and paid the rent when he suffered a stroke and wasn't able to work), and with German-born abstract expressionist Hans Hofmann at his school in Provincetown, Mass. Except for Garber, all of Piper's teachers left lasting influences on her art, especially Carles. Matisse and Cézanne remained "mentors" of hers throughout her career.
The rhythmic collisions of colorful geometric shapes in Yellow Abstraction, begun in 1957 and completed in 1958, suggest a synthesis of cubism, Horter's geometric renderings of cityscapes, and Carles' distinctive palette of yellows, reds, blues, and greens.
By 1965, Piper had moved back to the quasirealism of her paintings of the 1930s and '40s (unfortunately not represented in this show), in paintings such as Poppies by Victorian Mirror, a deliberately fragmented view of a casual still-life arrangement in which the room's objects are defined by their colors against large areas of white.
More than anything, this show is an opportunity to see Piper's paintings from the 1970s on in close proximity, and to see how, in the last decades of her career, Piper developed a style that was obviously her own but that also paid homage to Carles and Matisse. Her final painting from 1991, her elegant and celebratory Still Life with Vegetable Platter, would seem to capture the essence of a summer day, with its clear-glass vase of white cosmos and pale violet poppies, white bone china bowls of fruits, and vegetables on a white stoneware platter. But you're also made aware that this scene is not about an imminent studio lunch. It's a careful, premeditated, and deeply informed study of color set off by white.
Through Jan. 21 at Schmidt/Dean Gallery, 1719 Chestnut St. Hours: 10:30 a.m. to 6 p.m. Tuesdays to Saturdays. Information: 215-569-9433 or www.schmidtdean.com.
Almost all of the works in Fleisher/Ollman Gallery's 10-artist group show, "Person, Place, or Thing," are figurative, and all but one of its artists are in Philadelphia, but this effort was clearly not intended to capture the diversity of Philadelphia's contemporary art scene. Rather, it's a look at some Philadelphia artists of all ages and persuasions whom you might want to know, or to know better than you already do.
Anne Minich is known here, but her mysterious oil-on-wood paintings incorporating found objects such as shells and antique hardware (often gifts from her friends with personal meanings) haven't had the broader exposure they deserve. They're standouts here.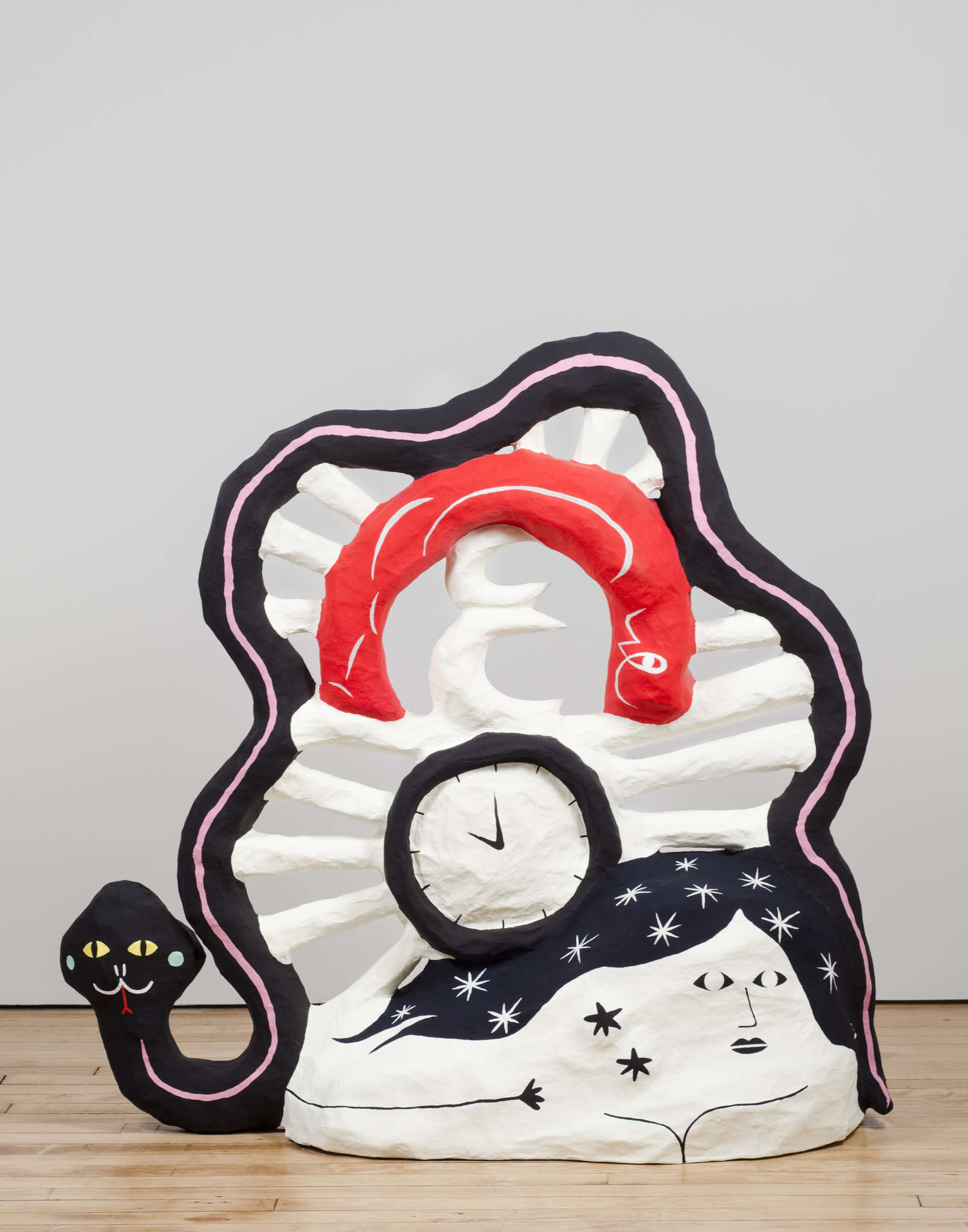 Caracol, Emilia Brintnall's papier-mâché sculpture of a snail painted in red, white, and blue, was made in collaboration with New York artist Jayson Musson, and it is the star here. It's friendly, accessible, quirky, and reminiscent of Calder and Miró.
Lisi Raskin, who recently left Philadelphia and a teaching job at Temple's Tyler School of Art for one at the Rhode Island School of Design, makes small, minimal geometric paintings in the vein of Ellsworth Kelly and Myron Stout, but with eccentrically exaggerated emblematic shapes.
Working in clay, Nick Lenker has made some of this show's most arresting pieces, among them a standing triangle assembled from ceramic cards (House of Cards, 2016) and a ceramic dartboard, Close to Home (also 2016).
"Person, Place, or Thing" also features works by Jonathan Lyndon Chase, Michael Ryan Handley, Morgan Hobbs, James Maurelle, Jaither West, and Ashley Wick.
Through Jan. 28 at Fleisher/Ollman Gallery, 1216 Arch St. Hours: 10:30 a.m. to 5:30 p.m. Tuesdays to Fridays. Information: 215-545-7562 or www.fleisher-ollmangallery.com.