Skip to content
8 great whiskies Craig LaBan recommends for the holidays
Each year, I take a quiet moment in December to imagine an inspiring hypothetical scenario: A loved one decides to splurge on a fantastic bottle of booze. Just. For. Me. Thank you!!! But what would I really want that bottle to be? The answer is simple.
Each year, I take a quiet moment in December to imagine an inspiring hypothetical scenario: A loved one decides to splurge on a fantastic bottle of booze. Just. For. Me. Thank you!!! But what would I really want that bottle to be? The answer is simple.
Whisky, whiskey, bourbon, and rye.
Yes, I'm well aware those last two are whiskies in their own right.
But the world of aged grain spirits has so many wonderful variations, and now a suddenly wide world of surprising new sources, the possibilities are vast.
Bourbon from Texas? Whisky (spelled the Scottish way) from Taiwan and Japan? Or what about rye from Bristol that just keeps getting better and better? Yup. I've got a few ideas.
Here are eight great possibilities from $28 to $85 that would make any whisk(e)y lover feel lucky.
Redemption Rye, $27.99 (code 1239): One of the many rye brands that have originated from Indiana's mega MGP distillery, this affordable bottle leaves no question as to its featured ingredient: Spicy rye washes the palate with caramel and mint, and then a surprisingly creamy finish. Not subtle, but good for cocktails.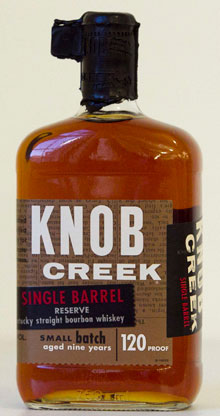 Knob Creek Single-Barrel Reserve 9-year-old bourbon, 120 proof, $46.99 (code 3276): Fans of this early brand in the small-batch trend from Jim Beam (interestingly, now owned by Suntory) will be pleased. This 120-proof version, $14 more than the standard, is a relatively good bargain in the barrel-strength bourbon class, and the higher octane brings a more concentrated blast of its classic woody, maple, caramel richness, with a cinnamon-tinged heat on the finish.
The Macallan Double-Cask 12-year-old Scotch, $52.99 (code 1638): Purists love the Macallan for the distinctive honey and dried-fruit notes of its typical sherry cask aging. This variation blends in whisky aged in charred American oak barrels, too, which lightens the nose with more citrus and vivid vanilla. I don't prefer it to the original, but for a collector, it is a fine complement to sip and contrast.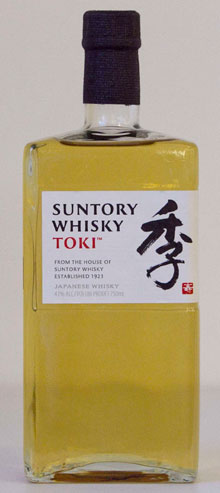 Suntory Whisky Toki, $39.99 (code 1330): Japanese whisky (the Scottish influence evident in spelling and style) is hot. And also typically very pricey. This offering from distilling giant Suntory is a notably accessible exception. Light in color but full in flavor, this three-distillery blend (Hakushu, Yamazaki, Chita) has the delicate sweetness of lychee, vanilla, and coconut lingering on a surprisingly rich texture that ends in a soft puff of florals and smoke. A smooth-drinking, affordable intro to Japanese whisky.
Dad's Hat Straight Rye Whiskey, $59.95: Bristol's Mountain Laurel Spirits has rightfully won national awards for its elegant revival of Pennsylvania-style rye (with rye, rye malt, and barley - no corn), a bit more rounded and less spice-forward than other styles. As its aging stock matures, so does its product line. And this new three-year-old "straight" rye is one of its best yet. It's similar in basic characteristics to the standard, but more concentrated, complex, and intense, with a nose like a frosted Danish and dark-chocolate-covered fruit and nuts, and a creamy finish where the rye's spice shines through. Currently in Pennsylvania, it's available only at the distiller (925 Canal St., Bristol), but it's on shelves in New Jersey at Canal's Bottleshop in Marlton and Williamstown Buy-Rite.
Stranahan's Colorado Whiskey, $59.99 (code 49020): Capped with a tin cup, this high-altitude "Colorado" whiskey is made Scotch-style in Denver from all malt barley, then aged bourbon-style in charred American oak barrels. The fresh-cut lumber taste is evident in this still relatively young spirit, but it gets a deep amber hue nonetheless that conveys a candied sweetness, fruit, and mint notes, and even some chocolate. It's a unique craft spirit, but a little pricey for the payoff.
Kavalan Single-Malt Whisky, $82.99 (code 49055): Japan isn't Asia's only whisky star. The single malt from this 11-year-old Taiwanese distillery is one of the best I've sipped recently from any locale. This deep amber spirit evokes sweet exotic fruits on the nose - juicy mango and persimmon - but segues into a sweet and savory umami finish that's reminiscent of red miso.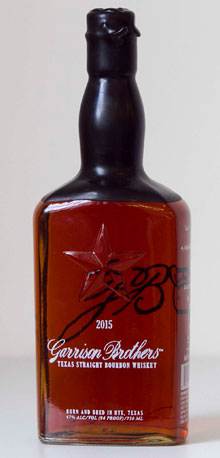 Garrison Bros. 2015 $84.99 (code 36966): Everything's bigger in Texas, including the whiskey. This three-year-old bourbon is made from organic Panhandle corn, grain grown by the distiller, and blended with Hill Country rainwater. And the flavors are bold and balanced, with sweet caramel and dusky sandalwood spice, a quenching aftertaste that's vegetal, like cucumber juice, and a final sweetness that rides with pepper and boozy heat. Very pricey, but I'm not surprised it was named Whiskey Bible's 2014 American micro-whiskey of the year.