A guy can eat a lot in a year.
But I'm lucky I get to cherry-pick the best plates from one of the greatest restaurant cities in America. Of course, that makes it all the more difficult to choose my favorites. But when I close my eyes to remember the highlights from a year of restaurant reviews, Good Taste features, Crumb Tracker clues, and other stories, the most flavorful dishes return to my mind's table as vivid, hot, and fresh as the moment I first devoured them. And so here are my 15 best bites (in no particular order) from 2015 - a feast as diverse and flavorful as the region itself.
1. Pie and mash with parsley liquor
Stargazy (1838 E. Passyunk Ave.)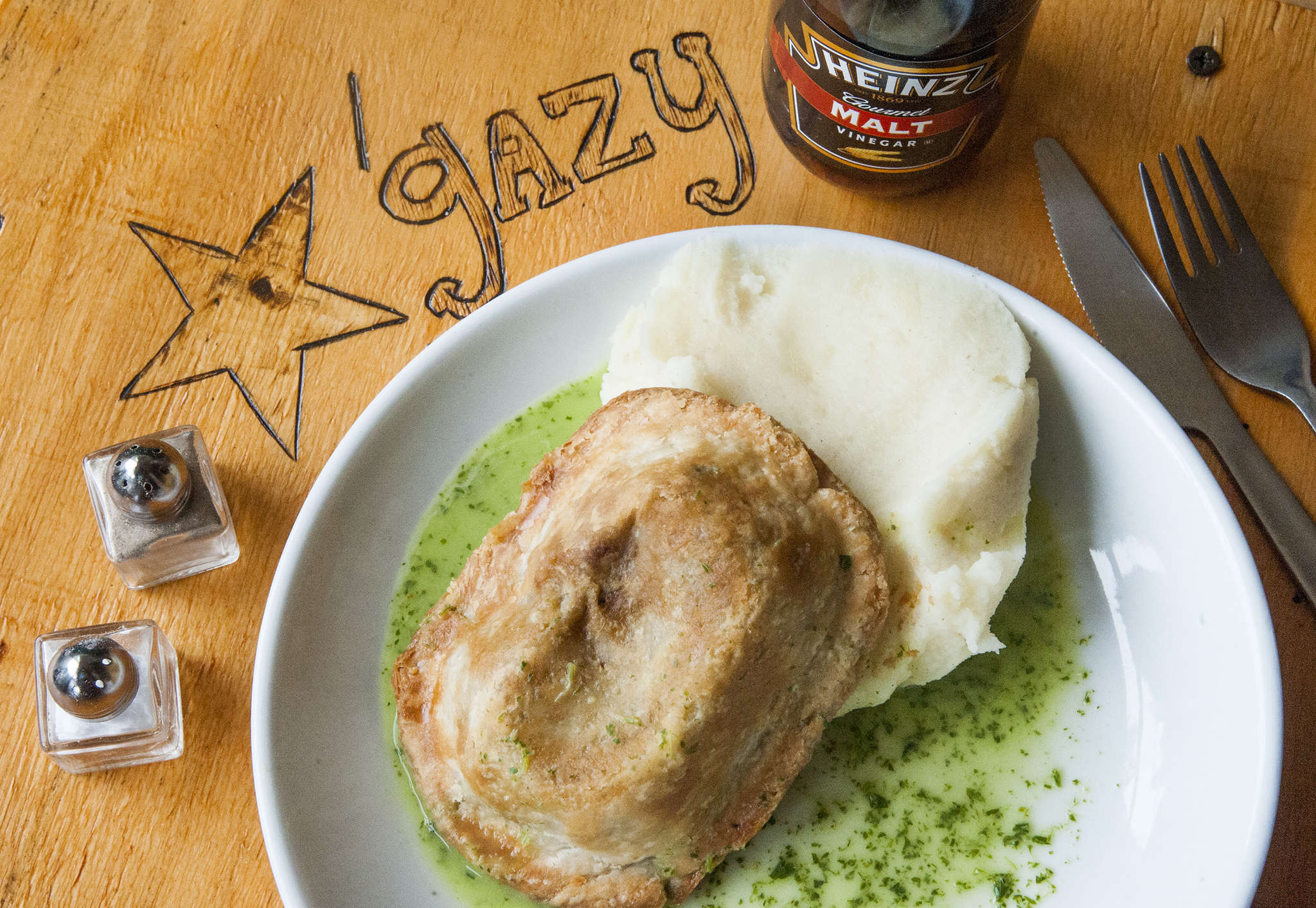 This was the year of pie in Philadelphia. But the one I still most desire is savory, not sweet. These rectangular pastries stuffed with ground beef and onions are Sam Jacobson's ode to the classic East London staple he grew up with. So simple. But when they're made right by a talented chef, from the butter-flaky crust to the peppery meat filling, lumpy mashed potatoes and subtle parsley broth splashed over top, every forkful hums with deep comfort. I can't think of $9 better spent on a more satisfying meal this year.
2. Guinea fowl bastilla
Kanella South (757 S. Front St.)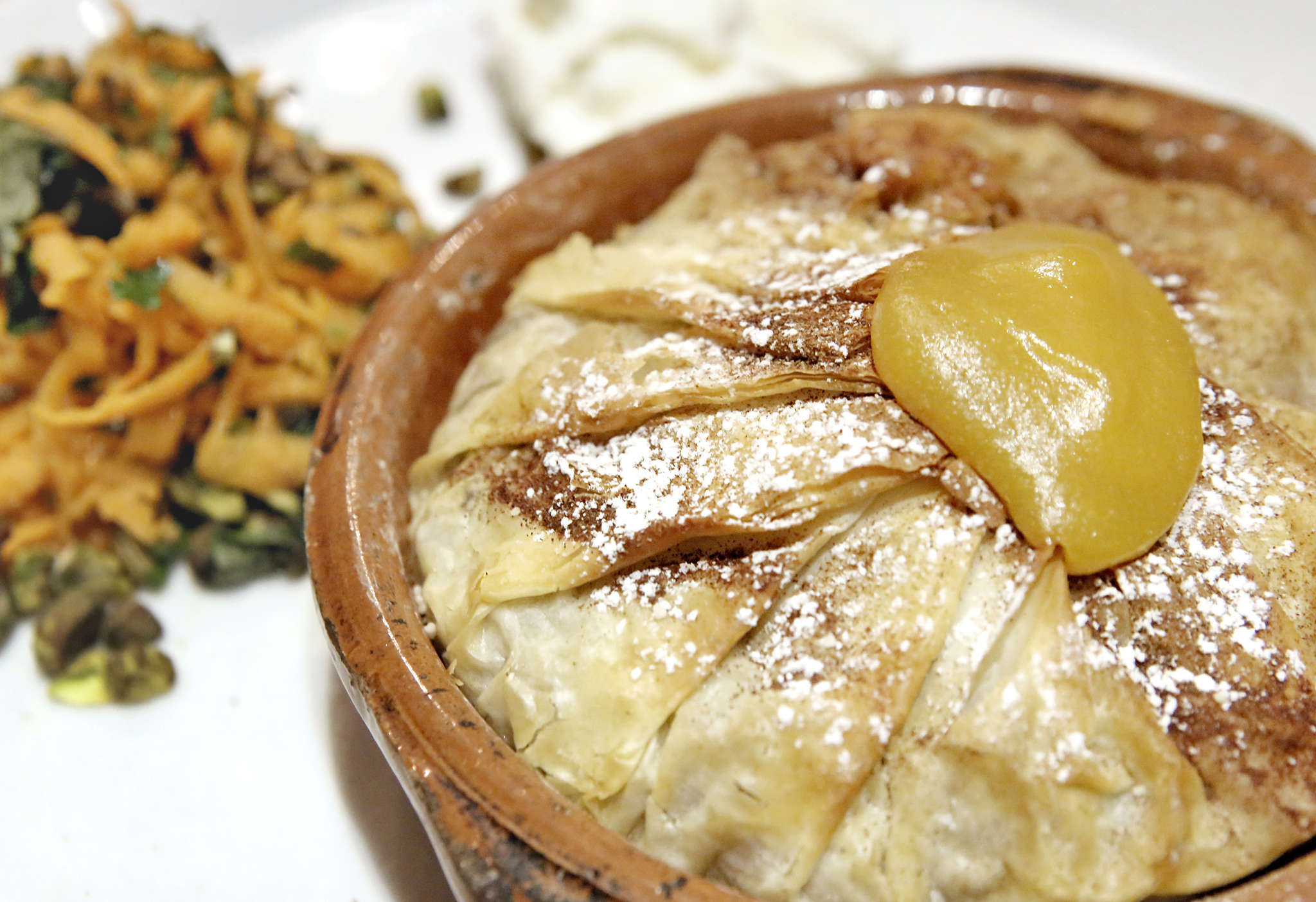 This elaborate bastilla pie with guinea fowl reflects all that is exciting - game, smoke, and exotic spice - about chef Konstantinos Pitsillides' new home on South Front Street. A whiff of charcoal from the grill lends a rustic note to the game birds' flesh, but then comes a slow braise in wine with orange peels, then a dusting of ras el hanout spice as the meat is blended for stuffing. Gift-wrapped in phyllo, then baked in terra cotta inside the wood-fired oven, a spoonful of apricot jam is the final grace note: sweet, tart, and haunting.
3. Burrata
Helm (1305 N. Fifth St.)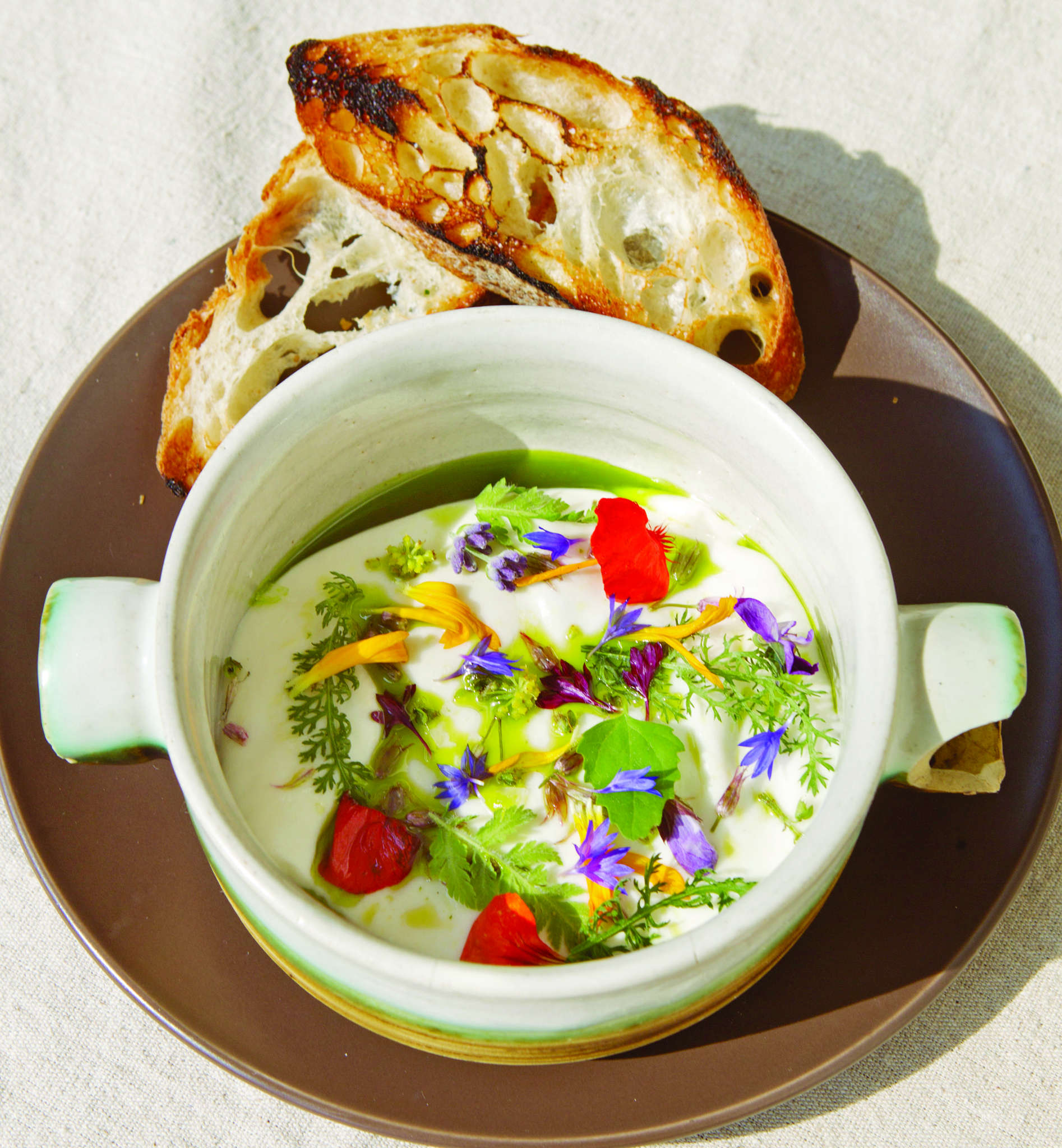 Valley Shepherd Creamery made major contributions to the local pantry this year with stellar halloumi and feta from local sheep's milk. But its mozzarella curds were also a highlight once transformed by chefs Mike Griffiths and Kevin D'Egidio into a sublime burrata at Helm. A surprising filling of fresh buttermilk added a delicate tang. But the addition of more intense ingredients really spoke to this Kenzo BYOB's exploration of local terroir, from charred ramps and stinging nettles to just-picked yarrow and so many foraged flowers scattered over top it was almost too pretty to eat. Almost.
4. Oysters en gelee
Aldine (1901 Chestnut St., 2d floor)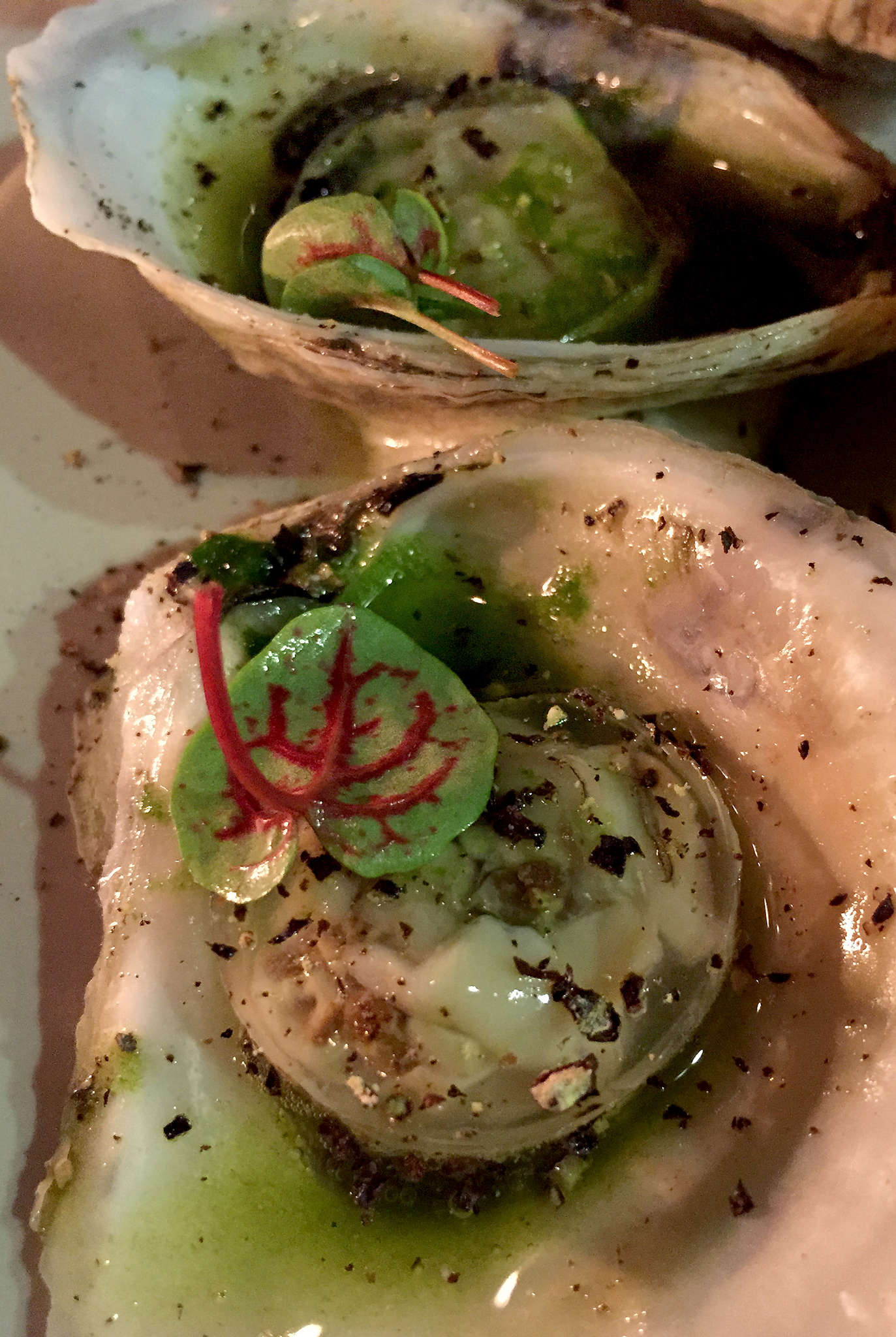 Oysters are among the world's perfect simple foods. Leave it to George Sabatino to complicate them as much as possible, in a good way. Sabatino sets his oysters inside a gelee made from their natural liquor, then tucks them back into their shells beneath a green mound of shaved tarragon ice. The effect is startling as layers melt away and flavors are revealed - herbal ice puddles into a wash of sea, then, at last, the delicate mollusk slides right down.
5. Clams with bing bread
Bing Bing (1648 E. Passyunk Ave.)
The buzz here is understandably focused on the dumplings. But my favorite delicacy was the "bing bread" that inspired the name. Typically a disk-shape bread made of flattened coils, bing bread here is more a slice of Texas toast swirled with sesame and scallions. And it's completely addictive for sopping up a bowl of tender clams steamed with black beans in dashi and Sapporo beer.
6. Goi ga salad
Same Same (614 N. 2nd St.)
The goi ga at Same Same doesn't look like much more than a heap of chicken and cabbage. But it's one of the best warm-weather salads I've ever had. Its grace is in the details of contrasting textures - shaved cabbage, velvety chicken, crunchy onions, crushed peanuts. Its power, meanwhile, is electrified by the dressing's sweet-and-sour fish sauce funk, amped even higher by a blast of fresh herbs like Vietnamese rau ram that left an aromatic imprint on my brain.
7. Daikon-radish-stuffed paratha
Dana Mandi (4211 Chestnut St.)
A knowing homey touch distinguishes the Punjabi fare at humble Dana Mandi above many competitors. There's just something about the way cooks like Balvil Kaur hand work the dough for the tandoor-roasted breads that results in extra finesse and flavor. The stuffed parathas, at once rustic and paper-thin, are especially fantastic. My favorite, stuffed with thin shreds of daikon radish (mulli), is a variation I've not tasted anywhere else.
8. Khao poon
Stock (308 E. Girard Ave.)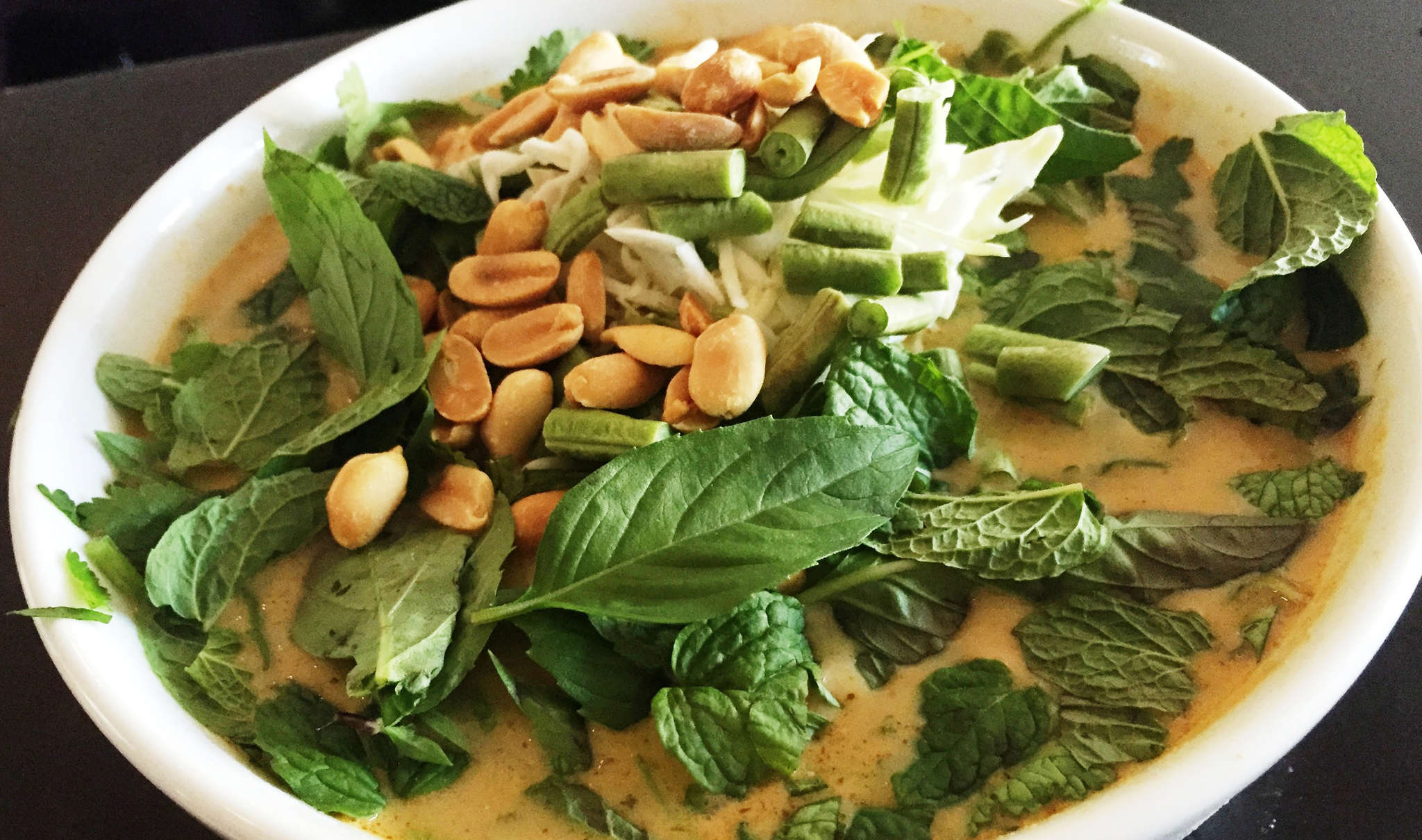 No soup lit my fuse in 2015 quite like this Lao khao poon from Tyler Akin. Akin, who worked in Thai-influenced kitchens in D.C., grinds his own curries before simmering them with rich coconut milk. With fistfuls of herbs blooming atop the bowl of rice noodles laced with snappy peanuts and crunchy long beans, plus tender chicken, the textures are almost as exciting as the broth. Hopefully, this bowl portends a fresh Thai project from Akin in the near future.
9. Eggplant vadouvan
elements (66 Witherspoon St., Princeton)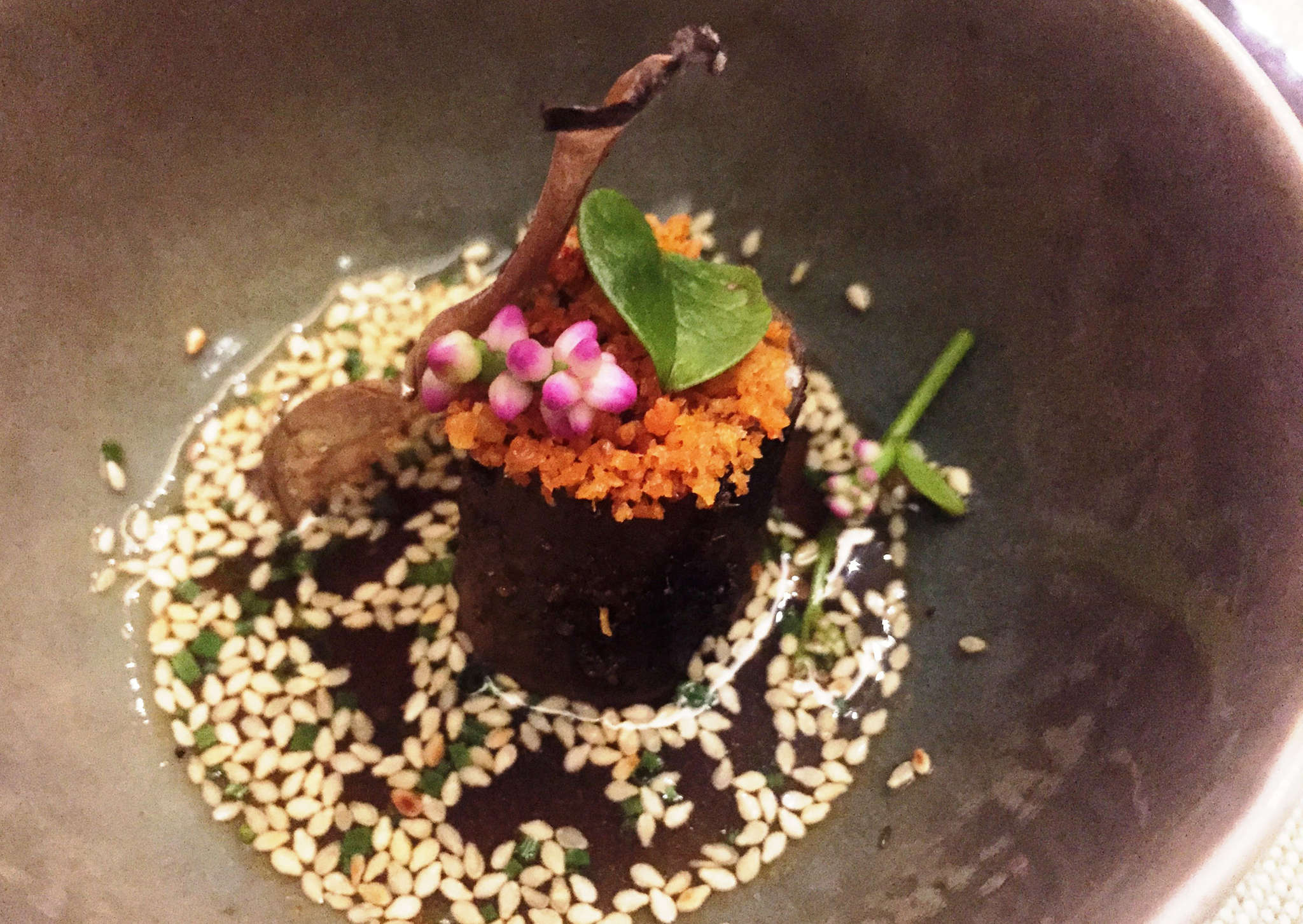 Vegetables got serious respect in 2015, from V Street (carrots asado) to Lo Spiedo (celery root Milanese). But Scott Anderson's haute cuisine atelier in Princeton was at its best when cooking with plants. A slice of Asian eggplant got so much love and attention - cooked sous-vide with an oregano marinade, plancha-charred, then stood on end over a pool of vadouvan curry broth, with crunchy chickpeas and a malabar spinach flower on top - eating it was like discovering a new food group altogether.
10. Dry pot fish
DanDan (126 S. 16th St.)
The name implies an affinity for noodles. But this stylish Chinese newcomer near Rittenhouse Square showed its best side with Sichuan fire - literally, with an open flame flickering beneath a "dry pot" of spice-dusted flounder, bamboo shoots, and mushrooms bubbling inside a mini-wok with lip-numbing orange sauce. It was a wonder something so bold could also be so delicate.
11. Black chickpea pappardelle with whey-braised lamb
Brigantessa (1520 E. Passyunk Ave.)
I ate so many amazing pastas this year, from the corn plin at Vetri to the parsnip ravioli at Kensington Quarters. But Brigantessa's black chickpea pappardelle topped with whey-braised lamb - its roasty, sheer noodle ribbons tangled with amazingly tender shreds of ragu infused with fennel - spoke to me of southern Italy's soul.
12. Rabbit "pizzaiola"
Zeppoli (618 Collings Ave., Collingswood)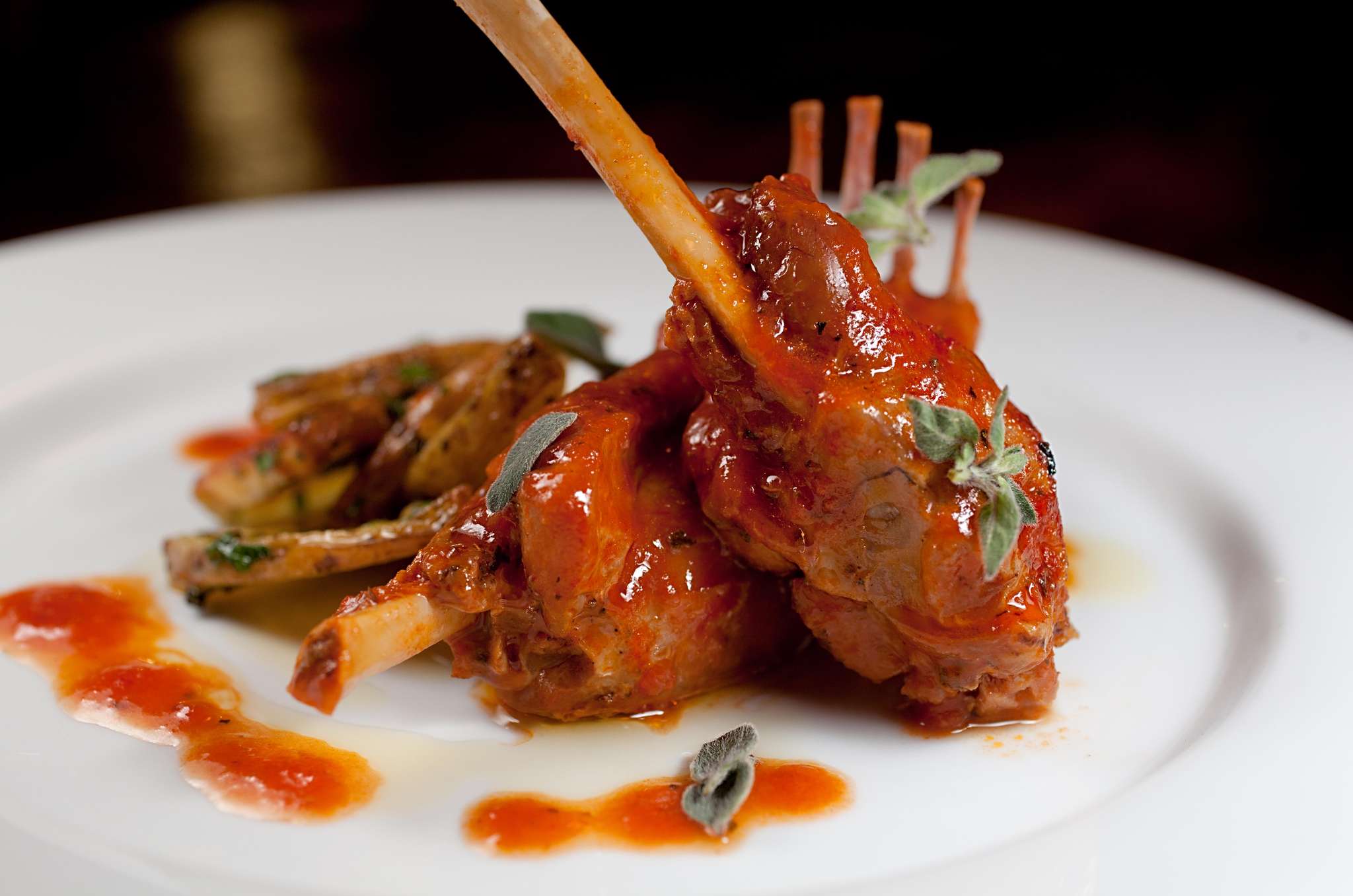 I could have chosen a half-dozen things I ate at Zeppoli for this list. But chef Joey Baldino's take on classic braised coniglio pizzaiola exemplifies his talent for taking a few simple ingredients - rabbit, wine, tomatoes, oregano - and transforming them into something profoundly more flavorful than the sum of their parts.
13. KQ burger
Kensington Quarters (1310 Frankford Ave.)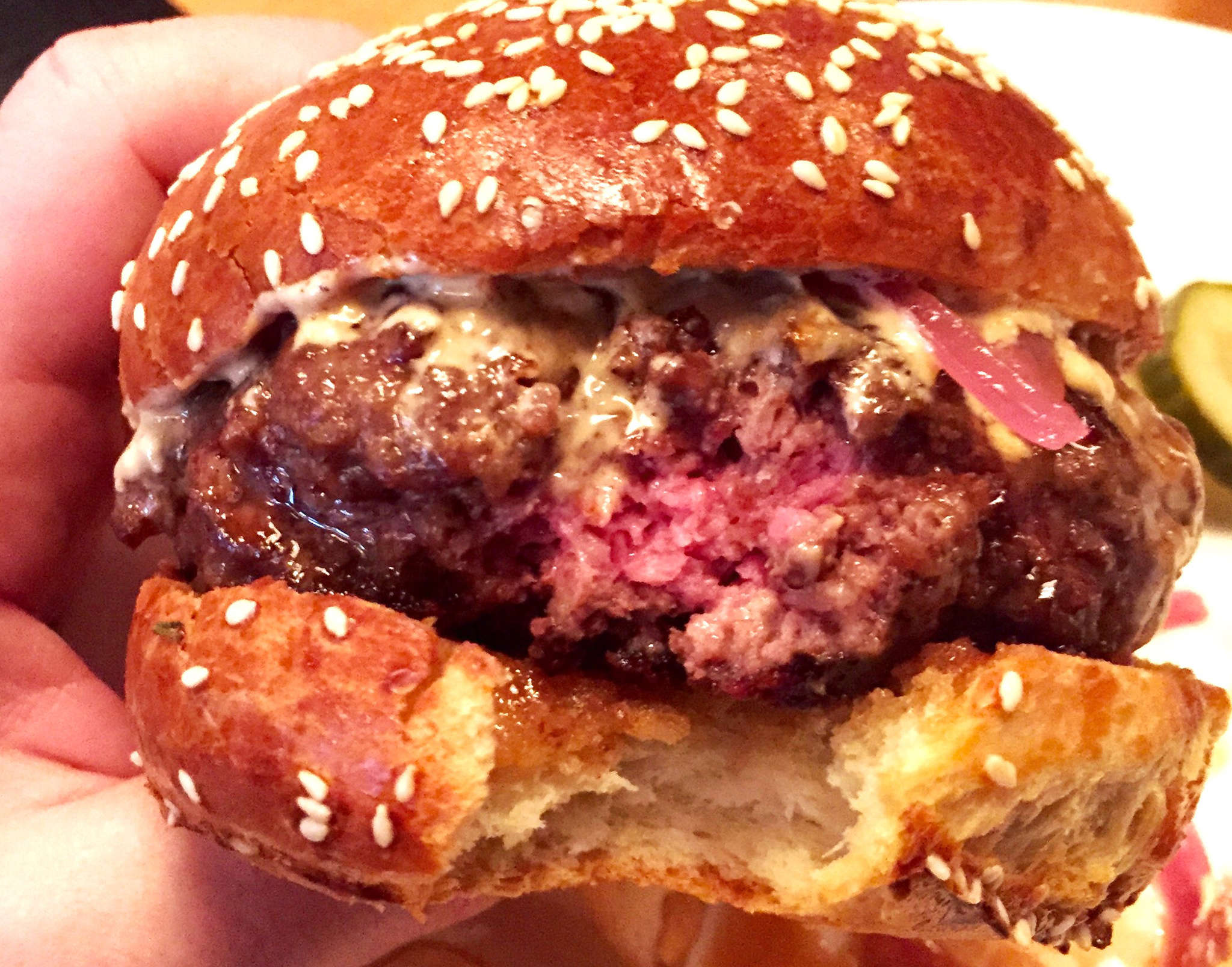 For much of the year, I was grooving on the retro burger thin-patty stacks at the Whetstone and now-closed Meritage. But then Kensington Quarters turned to its in-house butcher for a seriously thick, ground-that-morning, grass-fed patty. Chef Damon Menapace baked the perfect sesame-speckled milk-bread bun. And my favorite new burger in Philly was born.
14. Bistecca Fiorentina
Palladino's (1934 E. Passyunk Ave.)
There are many great steaks to be found beyond the traditional chop house circuit. But none right now are as lust-worthy as this epic bistecca Fiorentina, a two-pound porterhouse marinated in fennel pollen and herbs for a day before it hits the sizzle of an oak-fired grill.
15. Waffle
V Street (126 S. 19th St.)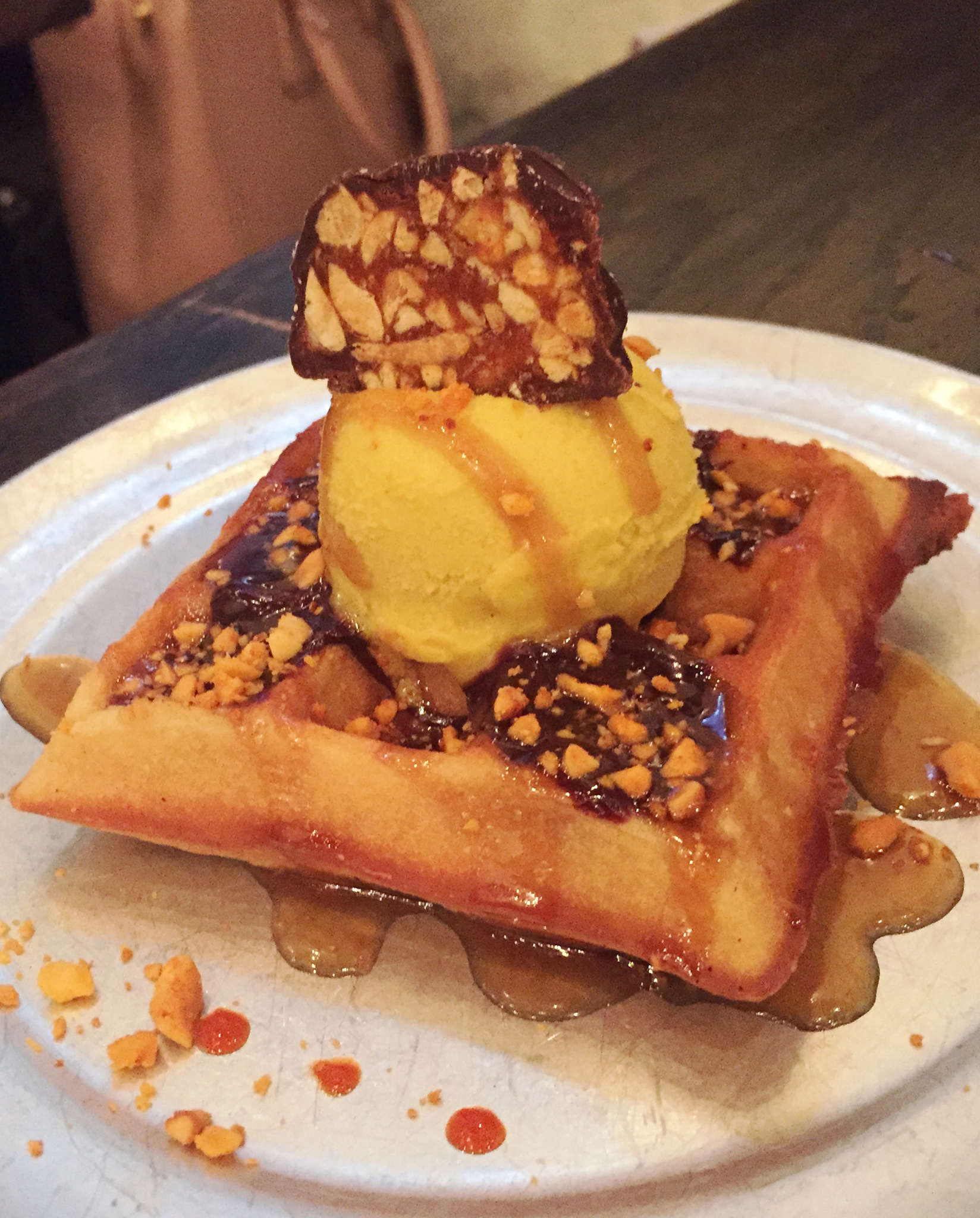 V Street is another place that could have landed several items on this list. But this waffle, inspired by chef Kate Jacoby's trip to Macau, takes the prize as my favorite dessert of the year. Jacoby adds sesame and coconut milk to the batter, smears the waffle with coffee-tinged chocolate ganache, then tops it with cool banana "ice-cream." With a salty-sweet miso caramel drizzle and a few sriracha-glazed peanuts, this dessert has it all - except the dairy, of course. It happens to be vegan.