DESPITE THE city Streets Department's hilarious claim that its "Operation Smooth Streets" is a "heavy attack on roadway street defects," Butt Buster - voice of the pothole-plagued public - finds that too many of Philly's car-nivorous streets drive like "Operation Whack-a-Wallet."
GRAYS FERRY FIASCO: Robert D. Scott, of Grays Ferry, wonders why the Streets Department "repaved many streets in the neighborhood years ago, but skipped the worst one of all. The entire block of Reed Street, between 29th and 30th, is like driving across a minefield of potholes and cracks - a total mess."
Yo, Operation Smooth Streets? Haul your asphalt over to Reed Street and show those residents that they're not flushing their city tax dollars down a pothole.
PUNCHED ON PASSYUNK: In April, PennDOT promised Butt Buster that it would mill (grind down) the 25 potholes that make driving on Passyunk Avenue from 23rd to 28th streets feel like riding a jackhammer.
A month later, no PennDOT.
"It's the road to hell," writes Dolly Guarini, of South Philly, who has to drive Passyunk and similarly broken Oregon Avenue to work. "It's so bad, I have to get alignments every six months."
Yesterday, PennDOT told Butt Buster that, after being stymied by the rain gods for days, it would attack Passyunk today and keep on milling until it's drivable. Rock on, PennDOT!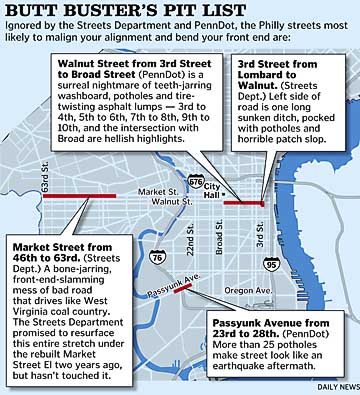 BUTT BUSTER'S PIT LIST: As you see on the map, Butt Buster has identified the city's most sadistic streets with the help of you, the potholed public.
Daily News readers are infuriated by Market Street from 46th to 63rd - West Philly's Misery Mile of bad road and bad attitude as broken as the Street Department's promise to fix it two years ago.
And 3rd Street from Lombard to Walnut, where a sunken trench performs unspeakable acts on your auto's innards.
Yo, Mayor Nutter? Can you give your snoozing Streets Department a wake-up call?
Butt Buster called PennDOT yesterday about Walnut Street from 3rd Street to Broad - a Hellish Half-Mile of washboard wasteland highlighted by the Death-to-Front-Ends Hole between 9th and 10th streets. PennDOT promised to fix the hole now and resurface Walnut in 2012.
Butt Buster notices a stark contrast between PennDOT's can-do attitude and the Streets Department's refusal to get real.
IT'S EATING FRONT & FAIRMOUNT! Half cobblestone! Half asphalt! A massive sinkhole is eating the intersection of Front Street and Fairmount
Avenue!
Liz Kent, of Fairmount, says that it's been there for months and "it's huge!" And growing.
GOT POTHOLE? Send your worst potholes to: