Skip to content
High school rifle teams take aim at scholarships, Olympics
Pennsylvania schools have an estimated 54 shooting teams for boys and 44 for girls, and many of them receive funding from the National Rifle Association. Most teams hail from the great stretch of forest, farmland, and blue-collar towns between Pittsburgh and Philadelphia, where gun ownership is bipartisan and hunting is ingrained.
As the yellow school bus drove off into swirling snow flurries last week in Bedford County, Pa., a dozen teenagers shuffled into a low-slung building, dropped their book bags, and grabbed their rifles.
They'd all skipped caffeine at school and cut back on sugar to keep their heart rates down and their nerves steady. They donned thick canvas uniforms to hold their bodies rigid when they aimed. Some knelt. Some stood. A few lay prone on mats spread out on the cold floor. Just around 3:30 p.m., starting time for the Everett Area High School Rifle Team's practice, the teens loaded .22-caliber bullets into their rifles, $2,000 to $5,000 worth of hardware each, rested their cheeks on the stocks, and held their breath.
In the moment between each heartbeat, they fired. For the next two hours, the indoor range at the Everett Sportsman's Club filled with pops, like muffled firecrackers. The best shooters can hit a bull's-eye not much bigger than a grain of sand, and the teens who do it consistently can get scholarships to compete on the collegiate level and earn spots on Olympic teams.
"I'm working on my applications now," said Laurel Kuhne, a top Everett shooter. "I'm looking at West Point or the Naval Academy."
Bob Lombardi, executive director of the Pennsylvania Interscholastic Athletic Association, estimates there are 54 shooting teams for boys in the state and 44 for girls, and many receive funding from a division of the National Rifle Association. Most teams hail from the great stretch of forest, farmland, and blue-collar towns between Pittsburgh and Philadelphia, where gun ownership is bipartisan and hunting is ingrained. Lombardi knew of several school teams in the Lehigh County area, but could think of none in Philadelphia or the suburban counties.
It's even harder to get a bead nationally. Data on the total number of U.S. high schools with varsity shooting teams — whether .22 rifles, air guns, or trap — isn't available from any one organization, including the NRA. The  Civilian Marksmanship Program, a national advocate for firearms training and education, counts 2,000 high school rifle teams in 45 states among its affiliates, but suggested "the actual numbers are probably higher."
A 2016 report by the National Shooting Sports Foundation said more Americans engaged in target shooting the previous year than in golf, soccer, baseball, or tackle football. The same report, however, found an up, then down, trend among children ages 7 to 17. In 2010, for instance, 2.7 million children were involved in target shooting with rifles; within five years, that number had fallen to 1.3 million. Target shooting with shotguns hit its highest level of participation in 2004, with 1.8 million kids; in 2015, those ranks dwindled to 945,000.
On the college level, the number of Division I programs appears to be decreasing. In Pennsylvania, the last one – at the University of the Sciences in West Philadelphia, of all places – was dropped in June.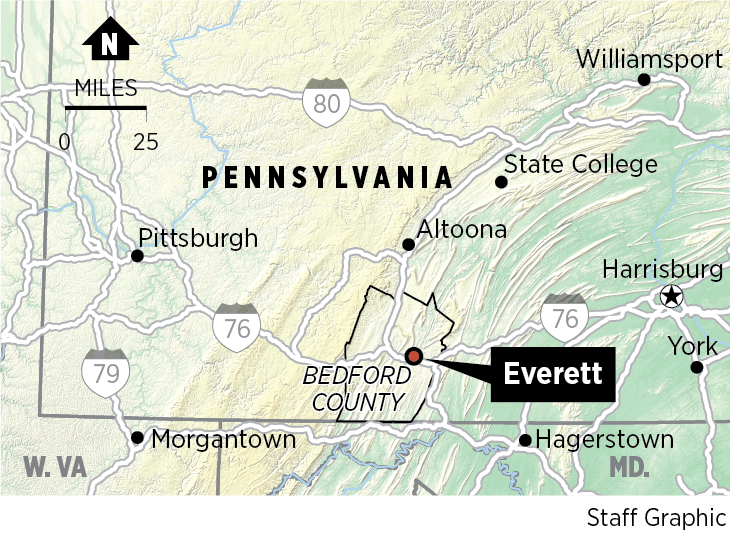 In high school shooting sports, there are no big motivational speeches, no yelling or slamming of clipboards by coaches. They're trying to keep a zen atmosphere in the range.
West Virginia University, a collegiate sports dynasty, nearly lost its program until state lawmakers stepped in.
"You want them as calm and mellow as possible," said Ethan Cessna, Everett's head coach. "I want them to come and get in their zone."
Many teams, like Everett, are coed, with students competing in meets against other high schools, whittling down to individual and team championships toward winter's end.
Kuhne's sister, Kestrel, was a state champion for Everett in 2016 and now shoots for the Naval Academy. Laurel took second place in the 3-P Smallbore State Rifle Championships in February, finishing one point behind teammate Luke Brambley. Often in rifle shooting, the difference between the top spot and second is less than a millimeter on the target sheet.
Across the state to the north, in Sullivan County, Josh Richmond started shooting competitively at 11, "as a hobby," and earned spots on the U.S. Olympic team. Richmond finished 16th in the 2012 Summer Games in London in "double trap" shooting and improved to eighth at the 2016 Olympics in Rio. (In the biathlon, a Winter Olympics sport, athletes cross-country ski with rifles on their backs, stopping to shoot targets. The U.S. has never medaled.)
Today, at 32, Richmond is a shooting instructor for the Army Marksmanship Unit and still shoots competitively all over the world.
Sullivan County High School didn't have a trap shooting team when Richmond went there, but Morgan Craft of Muncy Valley earned a varsity letter on the team when she graduated in 2011. Sullivan does not have an official team again "for a variety of reasons," its principal said, but students still compete at sporting and 4-H Club events.
Craft went on to shoot at Lindenwood University in Missouri and placed fifth in the 2016 Olympics. That's the college Micah Fmura, 16, hopes to attend after graduation from Bedford High. Bedford allows its students to shoot for Everett's rifle team, but Fmura prefers shotguns over rifles.
"With shotguns, you don't have to be as still," he said.
The NRA Foundation is a major supporter of youth shooting programs. Large checks written to the Everett Sportsmen Junior Rifle Club hang on the walls there, one for $3,632. The East Stroudsburg High School South rifle team, competing in the 10-team Northeastern Pennsylvania Interscholastic Rifle League, got $5,000 in 2016.
The foundation, according to its website, has given "$335 million in grant funding in support of the shooting sports."
But proponents say competitive shooting is arguably the safest sport in high school. Injury rates for the sport, according to the Civilian Marksmanship Program, are "far below the injury rates for all other youth sports where statistics are kept." All students on the Everett team must take an NRA safety class, and the rifles they use are stored in locked cases, in locked rooms, at the gun clubs where they practice and compete. The guns are not taken to school.
In the collegiate world, dozens of teams compete on the Division I level, with many more operating as club teams. West Virginia, currently No. 1 in the country, is one of the dynasties, along with the University of Alaska-Fairbanks.
Last summer, as it stared down a $4.5 million deficit, the University of the Sciences in West Philly announced it would no longer sponsor the 82-year-old rifle program, its only Division I sport.  Spokesman Brian Kirschner said the school was making investments in athletics, but the rifle team "didn't fit in the direction we were moving in."
Peter "Pistol" Dalidowicz, the coach, said he offered to give up his "small, small paycheck" and even found a way to fund the team without any money from the school. Nearly 2,000 signed the "Save the University of the Sciences Rifle Program" on Change.org. But the season has begun, and the rifles are silent.
Kirschner, in a statement, said the university evaluated Dalidowicz's proposals and found they were not truly "no cost" and therefore not "viable." Dalidowicz said money was likely a "smokescreen," that an "uncomfortableness with guns on campus" may have been the team's demise.
"We've been on campus for almost 83 years and we've never had an injury," Dalidowicz said. "We have had the luxury of having an administration that is pro-gun. The past two presidents were both shooters, but we always feared we were one step away from an anti-gun administration."
There's no anti-gun sentiment in Bedford County. The team's season began Tuesday with a match against Berlin in neighboring Somerset County. Now they're shooting for keeps, with a target in their sights at graduation.
"I just liked doing this more than any other sport," said coach Cessna's son, Stephen, 16. "I'm really hoping to get a scholarship out of this."