Skip to content
Leave Avalon to the wealthy - these folks prefer their trailers and tents
It has all the allure of the Jersey Shore, without the stuffiness of the high-maintenance resort town down the street.
On the fringes of Avalon, a Shore town that glistens with glass-walled condos, marble kitchens, and chardonnay-fueled events, sits a campground of vacation dwellings — mostly trailers — just seven miles from the sea.
Avalon Campground is laid out like a circle. A self-contained area where neighbors can't help but run into one another. It's the kind of place where seasonal folks don't lock their doors. The grassy, sandy landscape is carved into nearly 500 lots, dotted with tent areas, 25 log cabins, and 14 trailers that the campground rents out. At the entrance is a concrete pool, a baseball diamond, and groups of picnic tables worn and comfortable, like a favorite pair of sandals.
Inside a park-model trailer this week, Jules Carcanague collected a few kitchen utensils to put in a cardboard box for a yard sale. His partner, Vicki O'Connell, lay on the polyester couch inside, reading an e-book in the central air-conditioning.
"I just got up from a nap," Jules said proudly.
They are seasonal residents. Right around the time New Jersey people are heading down to Florida for summer vacation, they are making the reverse trip — leaving their Florida home to vacation at the Jersey Shore.
It's very hot and humid in Florida, they say.
"We're not snowbirds, as our friends in Florida say," Vicki said. "No, we're heat birds."
When they bought the trailer, Vicki's daughter teased: "My mother's camping. Her style of camping is central air-conditioning."
"But I said, 'Yeah, but I don't have a dishwasher.' "
"But she does have a dishwasher," Jules interjected, his eyebrows raised and his hand gesturing toward the kitchen.
They have had their place at the campground for 20 years. For a time, Jules even worked as a guard at the welcome booth. All these years, he said, the campground has remained family-oriented and safe.  It has all the allure of the Jersey Shore, without the stuffiness of the high-maintenance resort town down the street.
Avalon Campground is familiar. Avalon proper is formal.
Avalon is a town of larger-than-necessary homes, drawing area elites such as Ed Stefanski and Paul Holmgren. It's a resort town with mansions for the wealthy and comfortable getaways for the middle class.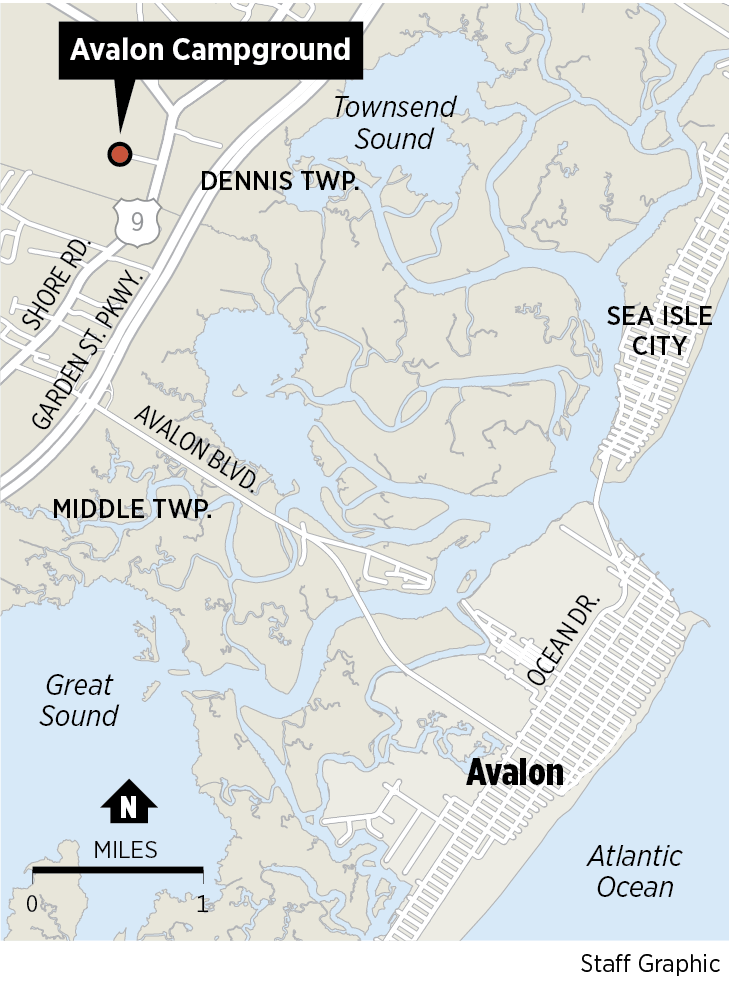 Then there's Avalon Campground, which anchors a row of trailer parks and campsites lining two-lane Route 9. They're a low-cost option for a vacation spot close to a clean beach. Campers — including a large number of Canadians — nod when they pass one another on the dirt paths, and neighbors invite one another over for cookouts.
Vicki is originally from Pennsauken Township, and Jules is from Moorestown. They met on the dance floor of a Parents Without Partners event in Jersey.
She was an executive assistant at a health-management company in New Jersey. He owned a pest-control business for 40 years. After they retired, they moved to an over-50 community in north-central Florida.
"And here we are," he said, nodding proudly at the life they built. "We worked hard for it, we got this, and we're happy with it."
She added: "But now we're ready to move on."
Jules said: "It's time."
They recently decided to sell the trailer. Jules is 77 and had a hip replacement in August. He uses oxygen, and he can't fly with it. So they drive two cars to get here, 17 hours through six states, staying with friends in other towns along the way.
Between them, they have 17 grandchildren. They used to visit every summer. Vicki would write the lot address, J43, on the back of the kids' hands and let them ride their bikes around the complex.
Now they're all grown, in college, graduated, or working full time, spread out across the country.
"They're like fly crap," Jules said. "They're all over."
Did they ever want to have a house in Avalon?  Not at those prices, Vicki said.
"We only use it for three months," Jules said.
Besides, the Shore as they knew it was all small Cape Cod-style homes and bungalows on poles, peeking out of the water — until people bought them all up and started building monster palaces.
"Not anymore," she said.
"It's called progress," he said.
In the 1990s, the town started to change even more, with corporations buying homes and renting them out for weddings and events.  But Avalon put a stop to that, and it has evolved into a playground for some of the wealthiest shoobies among the Shore points.
"The average person, you know the middle-class people, they can't go to Avalon and rent," Vicki said.
"Here, we're right in the middle of things," Jules said.
"And," Vicki said, "we're seven minutes from the Avalon beach."
About this series:
Shore is about everyday people and their meaningful times spent down the Shore. Find each installment — and be sure to leave a comment — at Philly.com/Shore.