Skip to content
Falcons give Eagles, Nick Foles bulletin board material - in a good way | Bob Brookover
Doubters abound about Nick Foles' ability to lead the Eagles to a playoff victory in the NFC divisional round of the playoffs, but the Atlanta Falcons still have a ton of respect for the quarterback.
FLOWERY BRANCH, Ga. — If the Atlanta Falcons' goal ahead of Saturday's NFC divisional playoff game against the Eagles was not to provide the opponent with any bulletin-board material, they have failed. Most peculiar about this entirely innocent failure was the manner in which it occurred.
Falcons head coach Dan Quinn and defensive coordinator Marquand Manuel clearly drilled it into the minds of their defensive players this week that Nick Foles should not be taken lightly as a starting quarterback no matter how much angst the situation has created back in Philadelphia.
"He's an athlete now, so let's not forget that," Manuel said after a recent practice. "If you go back and look, this was a guy who was offered a basketball scholarship. He played in Chip Kelly's system, which was a zone read, so you don't worry about him pulling it every play and running, but you know he has those capabilities and you're preparing for that as well."
Quinn was equally as complimentary when asked about the respect his players have shown for Foles.
"Yeah, we all do," the head coach said. "I think it's because when you've played for a while and done it at a high level, which he has, that leads to a high level of respect. He has done it at a high level, takes care of the ball and looks really equipped in that kind of system with the shot gun and doing all the things that they do. He has been a part of that system at Philadelphia and Kansas City.
"You can see he has a real knowledge for everything they're doing. Sometimes when a quarterback goes in [as a replacement], he may only have part of the plan, but that's certainly not the case here. He has a full complement of the entire system."
Eagles coach Doug Pederson, offensive coordinator Frank Reich and quarterbacks coach John DeFilippo should take everything Manuel and Quinn said and post it right above Foles' locker at the NovaCare Complex. Remind him how other NFL teams still view him at a time when the doubt about his ability to win a single playoff game has grown enormously both locally and among the Las Vegas oddsmakers.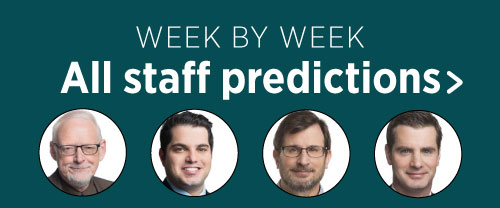 Sure, the Falcons do not want their players overconfident because they are going against Foles rather than Carson Wentz, the leading candidate to win the NFL MVP award before going down with a season-ending knee injury in Week 14 against the Los Angeles Rams. On the other hand, what Manuel and Quinn said about Foles is mostly true.
He is a good athlete who had scholarship offers to play Division I basketball before he decided to go to Michigan State on a football scholarship out of Westlake High School in Austin, Texas.
"If you watch film on me, I'm an athlete," a highly confident Foles said after the Eagles took him in the third round of the 2012 draft. "I'm a basketball player, too."
Wentz, of course, provided a conundrum unlike most other quarterbacks in the league during his second season. He had an innate feel in the pocket that allowed him to escape pressure before completions downfield or long runs. Manuel, however, made an interesting point about Foles' running ability.
In his two seasons with Chip Kelly as coach, Foles ran the football 73 times for 289 yards, an average of nearly 4 yards per carry. He also scored three rushing touchdowns. He was by no means a gazelle, but Foles showed his ability to run enough to keep opponents honest. Since 2015, Foles has run just 32 times for 19 yards and in his last three games this season he looked like he'd wait for the next ferry even if the Red Sea parted and Moses invited him untouched into the end zone. Foles' only positive run since taking over for Wentz was a 9-yard gain on first down on his very first play against the Rams.
Manuel said when he watched the tape of the Eagles with Foles, he does not see much change in how they operate on offense.
"To say it changed much, not at all," Manuel said. "Things they asked Wentz to do, they don't ask Foles to do all the exact same things, but the offense hasn't really changed. The first thing you have to sit back and look at, even when we played them last year, is that they are a running team even when Wentz was at quarterback. He threw it around, but they are a running team."
The Eagles beat a high-powered Falcons team 24-15 last season at Lincoln Financial Field. Wentz completed 25 of 36 passes that day for 231 yards without throwing a touchdown. There was nothing special about his performance. He was efficient. That's what the Eagles need Foles to be Saturday at the Linc and the Atlanta Falcons know that's possible.
It's worth reminding Nick Foles that his opponent feels that way.