Skip to content
7 back, 17 to play: The day the Phillies started a championship era
An oral history from the manager, the players, and the broadcasters who were there that day in 2007.
They were the team to beat, Jimmy Rollins said, then they were beaten. Ten years ago, the Phillies trailed the New York Mets by seven games with 17 to play. They lost, 12-0, to Colorado on Sept. 12, 2007. They sent J.D. Durbin to the mound on the next night for Game 146. He lasted one inning. And the Phillies won. They won 11 of their next 15, including three straight at Shea Stadium, and entered the final day of the season, Sept. 30, with an 88-73 record. A dead tie with the Mets. When the Phillies came to Citizens Bank Park to play Washington on a Sunday afternoon in September, no one knew it was the beginning of an era.
The scoreboard
HARRY KALAS: Good afternoon, everyone. From Citizens Bank Park, welcome to Phillies baseball. The fans are flocking in. Another sold-out crowd. Standing-room only this morning was sold out in 20 minutes. Yes, the fans have been very loyal. And this is the final game of the regular season. Perhaps.
It's a glorious afternoon for baseball.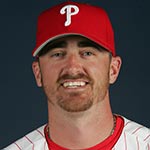 BRETT MYERS, righthanded reliever: I hate the Mets. I do. I can't stand them. I've had buddies that played for them but I don't care. If you play for the Phillies for so long and you don't hate the Mets, then they didn't train you right.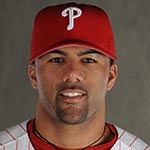 J.C. ROMERO, lefthanded reliever: When we started seeing the Mets crumble a little bit, then we felt like we had nothing to lose. The pressure's on them. They're the veterans supposed to run away with this division. It became fun to us.
CHASE UTLEY, second baseman: The intensity, the adrenaline, the amount of attention we were getting — it all played a major factor in us being more comfortable in those situations.
JAMIE MOYER, Game 162 starter: We were battling the Mets that whole year. Knowing Tom Glavine was pitching that day, you think you're probably going to get a pretty good outing out of him.
PAT BURRELL, outfielder: You just assume all of the day games in the same time zone are at the same time.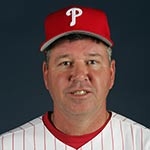 RICH DUBEE, pitching coach: The Mets had started earlier. We were starting at 1:35 and the Mets started at 1:05. You could hear it in the stadium when Jamie was warming up.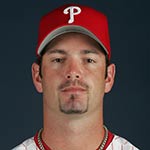 AARON ROWAND, outfielder: Going through pregame workouts, knowing what was at stake and the excitement with it, it was awesome. As much as we didn't want to look at it, everybody had their eyes on the scoreboard on the right-field wall.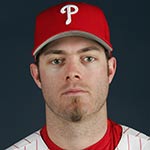 JAYSON WERTH, outfielder: I'm in the tunnel and I'm walking down to the dugout. The place is rattling. It's like 20 minutes before the game. I'm like, 'What the hell is going on?'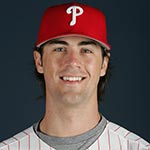 COLE HAMELS, lefthanded starter: It's something that's hard to explain because you really don't have that in sports. They're not loud before you go out there. They're loud the moment they see you. We weren't even visible yet.
CHRIS WHEELER, broadcaster: The Marlins just explode on them in the first inning — off Glavine! The Mets made an error. Everything that could go wrong went wrong for them in that inning. Now they're starting to post it out there on the board.
MYERS: The Marlins were just lighting him up.
DUBEE: All of a sudden, somebody came into the bullpen and said, 'It's 3-0.' It was [bullpen coach] Mick Billmeyer. He could always peek over and see the scoreboard. Without Jamie knowing or anything.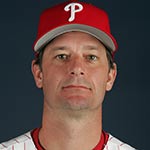 MOYER: I tried to block that stuff out. If I let that in, it becomes a distraction. Mick's a great guy. He's excited, too. He has his job. I have my job. If I get caught up in that, maybe I don't do my job as well.
WERTH: I'm like tingly. I'm fired up. This is crazy. I go out to run one of my sprints. All of a sudden, it went from rattling to erupting, like the loudest thing you've ever heard. I mean, this is like 20 or 30 minutes before the game. Like, never do you experience this. I look over and it pops — 7-0. I don't think that was the loudest Citizens Bank Park has ever gotten, but it definitely was the loudest before a game that it'll ever get.
DUBEE: By the time we walked out of the bullpen and headed toward the dugout, it was 7-0. The place was going wild already.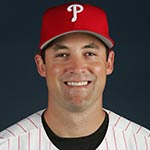 BURRELL: I'm thinking, 'There's no way that's possible. Tom Glavine is pitching. Somebody up there is messing with us.' I just couldn't believe it. I ran inside. It was on inside somewhere, one of the video rooms. Oh my God.
WERTH: To this day, I can remember that feeling of coming out of that dugout and my feet not even touching the ground. You're just floating.
WHEELER: We had gotten into the perfect situation. If you win the game, you win the division. It wasn't like you needed help anymore.
BURRELL: It was almost like we were starting the game with a lead.
Early confidence
KALAS: Jamie Moyer, the hometown guy, is going to pitch this season finale. All the Phillies have to do is — nevermind what's going on at Shea — just win this game. Win this game. That's what Jamie Moyer will try to do.
JOSE REYES, Mets shortstop: When we had that lead, we felt too comfortable about that. The Phillies, they came into the final stretch playing very good baseball. We didn't.
MOYER: Unless it went into a long, extra-inning game, we would know the outcome before our game was over. I don't want to say it takes off pressure. You still have to play the game. But I remember it being a very exciting time. For me, personally, it was great to pitch in a game of that caliber.
BURRELL: He was so phenomenal down the stretch. He had been there and done that before. We were always confident with him on the mound.
CHARLIE MANUEL, manager: I played [Greg] Dobbs at third base because I wanted to get more offense in there. After I put Dobber at third base, I thought to myself, 'I have Jamie Moyer pitching.' But I put it down and didn't want to change it. Nobody knows that. Except Pat Gillick. He asked me after the game, 'What were you thinking when you put Dobber at third base with Moyer pitching?'
I wasn't going to tell him that I made a mistake.
DUBEE: We were just kind of freewheeling. And Charlie could create that atmosphere. Once you were in the clubhouse, it was just baseball. The game was the only important thing for three hours. Once we started chiseling away, the Mets gave a few back to us. All of a sudden you're looking around thinking, 'Hell, this could happen.'
BURRELL: At the beginning, people looked at one another and gave each other a wink. But once our game started, it was all business.
KALAS: He starts it off with a base hit. How about Jimmy Rollins? Does he set the table or what? Leads the league in runs scored and another thing J-Roll has done is set an all-time National League record for most extra-base hits by a shortstop.
MANUEL: He stole second.
KALAS: There goes J-Roll. It's a called strike. The throw will not be in time. Stolen base No. 40 for Jimmy Rollins.
MANUEL: And third.
KALAS: There goes J-Roll. The pitch down and in. No throw by Flores. It's a stolen base for Jimmy Rollins, who steals second and third. Now has 41 steals. A fly ball or infield ground ball can bring him home now.
UTLEY: I just remember a lot of adrenaline flowing. For sure.
MANUEL: I was thinking, 'We have to get out to an early lead.'
KALAS: Line drive to right field, it's caught by Kearns. Here comes J-Roll. Jimmy Rollins gets the Phillies on the board. He did that himself. Single. Stole second. Stole third. Scores on a sac fly. J-Roll has set the table for the Phillies all year. What a job he has done. MVP they say? Yes, sir.
The triple
The 2007 Phillies used 46 different players that season, with an important supporting cast that contributed. The reserves helped extend a 3-1 lead in the sixth inning. Burrell walked. Michael Bourn pinch-ran. Chris Coste was hit by a pitch. Abraham Nunez bunted the runners to second and third. Tadahito Iguchi smacked a sacrifice fly to deep center. It was 4-1. Then, Rollins came to the plate.
He worked a full count. The crowd waved white towels. Rollins lashed one down the right-field line that one-hopped the wall. The fifth run scored. Burrell turned to celebrate in the dugout, then Rowand tapped him on the chest and pointed toward third base.
BURRELL: We had the lead. You usually don't stretch doubles into triples.
ROWAND: Oh, there's no doubt he was going for it.
KALAS: J-Roll with yet another milestone. It's amazing what he has done. Jimmy Rollins becoming only the fourth player in major-league history to get 20-20-20-20 doubles, triples, homers, and stolen bases. Wildfire Schulte did it back in 1911. Willie Howard Mays in '57 and Curtis Granderson last year.
ROWAND: You know, Jimmy is one of those guys you wanted at the plate in crunch time. When he needed to get something done, he got it done. You talk about the great ones who played the game and were good in pressure situations. The game slows down for them.
WERTH: That hit solidified his MVP. I remember we were all like, 'That's it. That did it. He has to get it now.'
Three more outs
KALAS: We are headed to the ninth. It's Brett Myers time. Phillies looking to clinch the National League East. They need three more outs. It's 6-1 Phils.
MYERS: I was pacing the bullpen down there and saying, 'It better be me.' I wanted it. 'It better be me.' I wanted the ball. When the call came, I didn't even need to warm up. I was ready to go.
MANUEL: Down the stretch, Myers did some of the best pitching in his whole career. Those three guys — Romero, Flash, and Myers — were very good.
DUBEE: Those guys were not only durable, but they were willing to do it. And able to do it. So they played a big part.
ROMERO: I pitched in the seventh inning. That's one of the few times my heart was really pounding. It was just the energy. This place was amazing. I had to calm down. I went to the little room behind the dugout. I put a towel on the floor. I closed my eyes and laid down. I swear, I felt my heart going, 'Boom boom boom.' Dubee came down the stairs and said, 'Are you alright?' I said, 'I got you.' I closed my eyes. We got three outs and I went back to the mound. Then Myers closed the game.
KALAS: You hear the cheer? You hear the cheer? You know what that is? That's the final out at Shea Stadium. The Florida Marlins have beaten the New York Mets, 8-1. The Phillies are three outs away from becoming National League East champions on this amazing run.
REYES: That was painful. Not just for me, but for the whole team. The whole organization. It happened so fast.
MYERS: They were yelling so damn loud after that Mets loss that it scared me. Not scared, but like, 'Man!' It's like when someone walks by you and yells in your ear. That's what it felt like. The place erupted. I was looking around. Nothing happened on the field. Is somebody streaking? You know, that's what I thought happened. I turned around and saw the scoreboard. I said, 'I'm going to throw it 100 right here.'
The party
KALAS: One more out. One more. Wily Mo Peña steps to the plate. Brett Myers has retired two of them.
UTLEY: I remember a sense of calmness in that last at-bat that I'll never forget.
MYERS: I definitely wanted to strike out the guy because it looks really good when you strike the last guy out. I knew what to throw him.
KALAS: The fans are on their feet. I'm going to be on my feet. This is truly exciting. Myers has this sign from Chris Coste. Curveball, struck him out. The Phillies are National League East champions. Look at the scene on the field. Look at the scene in the stands. This is incredible. The Phillies are National League champions and will go to the postseason for the first time since 1993. Wow.
MYERS: I think I threw my glove into the air, my hat, everything. I wanted to strip naked. I didn't know what I was doing. I was just so excited.
MANUEL: Big time. It was absolutely amazing.
HAMELS: It was something special. Because everybody fought for the last out and that's kind of right there, in itself, pure joy.
MYERS: I took the ball and threw it 30 rows into the stands. I was like, 'I should've kept that.'
UTLEY: It's a little blurry for me after that last pitch.
BURRELL: For the majority of us who had been there a long time, we had waited so long to get to that point. Always coming in behind the Braves and the Mets, then finally being able to take over and win it. That really gave us a lot of confidence for the years to come.
ROWAND: Everybody is popping champagne and dumping beers on each other.
WHEELER: When I'm interviewing Charlie, he drops an f-bomb. I'm trying to think who comes over and absolutely crushes him with stuff. Who was that? Rowand?
ROWAND: I gave Charlie a hug and just dumped an entire full beer over his head. He was just ear-to-ear smiles. He gave me a hug back. I told him, 'Thank you.' To this day, I am very close with him. He's a father figure for me and somebody I love dearly. To be able to get him to the playoffs managing the Philadelphia Phillies was a huge accomplishment for all of us.
ROMERO: After we won, I looked to their dugout. I played with Wily Mo Peña and Christian Guzman in Minnesota. They were in awe. They were looking at us like, 'I can't believe these guys did this.'
BURRELL: We jogged around the field with the fans. Obviously, all the fans stayed.
MYERS: I jumped into the stands. I poured beer all over me, and I don't like wasting beer. I was a crazy idiot. Yeah, we went a little crazy. But it wasn't for me. It was for the fans.
HAMELS: That, right there, was such a positive moment. I think it's what propelled us that next year.
MYERS: We partied like we won the World Series, and we just made the playoffs. We had a long road to go still. The next year, everyone was hungry to go back and we had the team to do it.
BURRELL: That's kind of what kick-started that whole span of a couple years when the Phillies were really good.
ROMERO: That bond that we created there was the reason we did what we did in '08. I'm a firm believer that that's the reason. What we did in '07 was the reason why I came back in '08. I didn't want to go anywhere else. People don't realize. People, to this day, they still talk about the World Series. It was an amazing thing we did. But that run in September was the most amazing thing that I was a part of in my entire career. By far.
WERTH: We don't come into spring training in '08 if we didn't go through what we did in '07. Getting steamrolled by the Rockies was … whatever. When we went into '08, we had the same feeling in September as we did the year before. We had been there. We had done it. Once we won that, we weren't going to lose. Once we came back and beat the Mets, we weren't going to lose.