Skip to content
Las Vegas Massacre latest: Toll rises to 59 dead, 527 injured
With more than 50 slain, it is the deadliest mass shooting by an individual in modern U.S. history.
A gunman armed with rapid-fire weapons sprayed bullets from a 32nd floor hotel room in Las Vegas on a crowd of 22,000 attending an outdoor country music concert in the plaza below, leaving at least 59 people dead and 527 others wounded by gunfire or injured in the stampede seeking safety. The toll makes it the deadliest mass shooting by an individual in modern U.S. history. Here's the latest of what we know.
• In an address to the nation, President Trump called the massacre an "act of pure evil," spoke of how the nation unifies in times of tragedy, praised police and first responders for their quick response, promised prayers for the victims and their families and announced he would go to Las Vegas on Wednesday.
• The gunman, identified as Stephen Paddock, 64, of Mesquite, Nev., was found dead of an apparent self-inflicted gunshot wound by police who made entry to his room in the Mandalay Bay hotel, said Sheriff Joseph Lombardo.
• Investigators have not disclosed if they have established a motive for the mass shooting but believe he acted alone. Speaking from Florida, Paddock's brother Eric Paddock told the Las Vegas Review Journal he had no idea why  his brother would commit such a horrible crime. "It's like an asteroid just fell on top of our family," he said.
• The FBI said there is nothing to support a reported ISIS claim that Paddock was inspired by Islamic extremism.
• Officials on Monday night announced that 23 firearms were recovered from Paddock's room, which he checked into on Thursday. Also found in the room were thousands of rounds, and several pounds of ammonium nitrate, a material used to make explosives.
• Officials say there is 'no information or evidence' there was more than one shooter; Paddock acted alone.
• There are unconfirmed reports that Paddock had sued another Las Vegas casino and settled the case in arbitration.
• Officials said they had found two cars registered to Paddock that they had been seeking and Lombardo said they located Marilou Danley, 62, a woman described as Paddock's companion and who had been sought in the aftermath of the shooting. She was in Tokyo. Lombardo says says she will be interviewed when she returns.
• After being briefed on the mass shooting at the White House, President Trump, in his first comment on the massacre, tweeted condolences to the victims and their families. He was scheduled to address the nation at 10:30 a.m.
• A hotline — 1-866-535-5654 — has been set up for anyone seeking information about loved ones in Las Vegas.
• The shooting occurred about 10:08 p.m. Sunday (1:08 a.m. Monday Philadelphia time) while performer Jason Aldean was on stage at the close of three-day county music festival.
Deadliest Mass Shootings
In the U.S.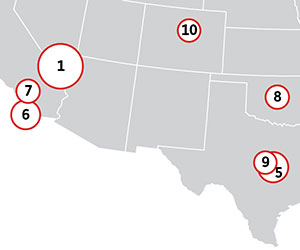 Click here
 for a graphic with details on the deadliest mass shootings in modern U.S. history.
• The previous deadliest mass shooting by an individual in the United States occurred June 12, 2016, when Omar Saddiqui Mateen, 29, opened fire inside Pulse, a gay nightclub, in Orlando, killing 49 people and wounding more than 50 others. Police shoot and kill Mateen during an operation to free people trapped in the club.