Skip to content
BuzzFeed apologizes to Philly for 'Ultimate Cheesesteak Skewers' Tasty video
A Tasty video for "ultimate cheesesteak skewers" is drawing some adverse attention from Philadelphians on social media.
White bread, green peppers and provolone?
BuzzFeed, what were you thinking?
The media giant's video recipe for "ultimate cheesesteak skewers" is attracting a not-so-favorable reaction from Philadelphians on social media. At least there's no sauce.
BuzzFeed's recipe engine, Tasty, is known for producing minutes-long viral food clips.  The only part it may have gotten right this time is the video's description: "You've never had a cheesesteak like this before!"
The video, posted Tuesday evening on Tasty's official Facebook page, now has more than 46,000 shares and 128,000 "reactions." The recipe calls for arranging 10 slices of provolone cheese as well as some flank steak, an onion, red and green bell peppers into half a loaf of hollowed-out white bread.
Some readers remark upon how time-consuming it must be, while others were under the impression that they were about to watch a "cheesecake" recipe.
The error isn't lost on BuzzFeed, which graciously apologized when reached for comment Wednesday.
"Across BuzzFeed, we elevate the voices of creators who represent a diverse collection of ideas and perspectives, some of which may not reflect the views of the company," a BuzzFeed spokesperson said in a statement. "In this instance, we side with the good people of Philadelphia; while this recipe is delicious, this headline is bulls–.  We offer our apologies and these humble words of consolation: GO BIRDS."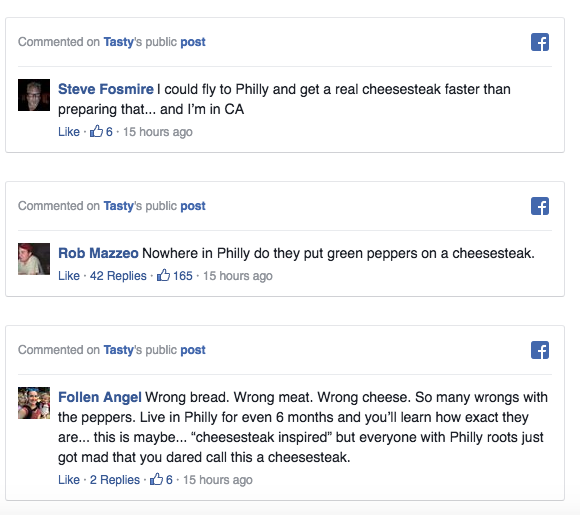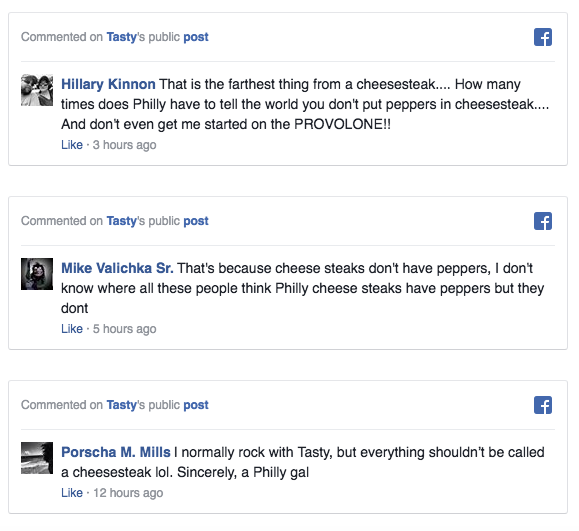 The reaction may not come as a surprise — Philadelphians sure are passionate about their cheesesteaks. So passionate, that one man was even buried with two whiz witouts — whiz cheese, no onion for those who don't speak Philadelphian — from Pat's Steaks late last year.
Another measures his own child's growth with the regional favorite.
Tasty isn't alone, however. ESPN faced a similar response back in October when they called for green peppers in a cheesesteak recipe video they promoted during an Eagles vs. Redskins game.
Luckily, Facebook's Mark Zuckerberg avoided a flub when he properly ordered a "whiz wit" from Pat's in September.
Want a more authentic experience ahead of Sunday's game? Bookmark Inquirer critic Craig Laban's straight-up advice guide on where to get a good Philly cheesesteak as well as some other favorites.