Skip to content
Cosmo DiNardo was known to police, banned from Arcadia U.
Authorities say a February weapons charge against Cosmo DiNardo was dismissed by District Judge Michael W. Gallagher in May because DiNardo's mental health commitment order "was not in a proper format."
As investigators continued to retrieve human remains Thursday from the Bucks County farm where a massive search was set off this week by the disappearance of four men, the spotlight continued to intensify on the one named "person of interest" in the case, Cosmo DiNardo.
DiNardo, 20, was banned from Arcadia University's campus in 2016 after dropping out of school there, and a February gun charge against him in Bensalem was dismissed only because his mental-health commitment paperwork was filed incorrectly, sources told The Inquirer and Daily News on Thursday.
DiNardo was arrested on the gun charge Monday, posted bail Tuesday, and was arrested anew Wednesday on a charge of stealing the car of one of the missing men. He is jailed with bail set at $5 million.
All four of the missing boys appeared to be connected to DiNardo through school or social interactions, based on friends' accounts, school information, and a review of social media. Snapchat text messages provided to The Inquirer showed DiNardo was unconcerned about the whereabouts of one of the men, Dean Finocchiaro; in another, one acquaintance said DiNardo spoke of "killing people."
DiNardo had been known to local law enforcement for years prior, and the dismissal of the gun charge was based only on a paperwork technicality, Bensalem Public Safety Director Fred Harran told The Inquirer and Daily News on Thursday.
"Since 2011, we've had numerous contacts with him," Harran said.
The charge, of possession of a prohibited firearm, was authorized for refiling on June 21 by the Bucks County District Attorney's Office, but DiNardo was not arrested until Monday, after the search had already begun at his family's property for the four missing men.
DiNardo had been involuntarily committed for mental health treatment, making him prohibited under state law from possessing firearms. He was found February 9 with a Savage Arms 20-gauge shotgun and ammunition, according to court filings.
The charge was dismissed by District Judge Michael W. Gallagher at a May 30 hearing in Bensalem because DiNardo's mental health commitment order "was not in a proper format," Harran said.
Authorities went through the normal process to re-authorize the filing of the charge, which included having the paperwork corrected. "Three weeks is not a long time" for that, Harran said. "The judicial system doesn't work overnight."
When the authorization came in, the officer assigned to the case was on vacation, and she had to be the one to re-file the charges, Harran said. She returned from vacation to work midnight shifts, but Harran said she took DiNardo's complaint to a judge as soon as she was able. Weintraub has said the timing was "out of our control."
DiNardo attended Arcadia University for just one semester in the fall of 2015, said Dan Diprinzio, a spokesman for the university.
A source at the school who asked not to be identified said DiNardo returned to Arcadia in the fall of 2016, seeking to re-enroll.
But DiNardo had some "verbal interactions with members of the university community" that made people uncomfortable, the source said.
Campus public safety officials contacted the Cheltenham Township Police, and the university sent a certified letter to the DiNardo family informing them that DiNardo was "persona non grata" on campus.
"If he showed up on campus, he was trespassing," the source said.
The family accepted the letter, and it marked the end of DiNardo's relationship with Arcadia, the source close to the school said.
At the Solebury Township farmland owned by DiNardo's parents, Antonio and Sandra DiNardo, investigators worked Thursday in brutal heat, recovering remains from what was believed to be a common grave. District Attorney Matthew D. Weintraub announced late Wednesday night the discovery of the remains of multiple bodies, one of which was identified as Finocchiaro, 19, of Middletown.
"They're down 12 feet deep in a hole that's getting deeper by the minute," Weintraub said of investigators.
He spoke to reporters Thursday morning, just 11 hours after his midnight announcement of the discovery of remains there. The prosecutor would not give information about the state of the bodies found or whether investigators knew how many bodies were in the makeshift grave they found there.
About 2 p.m., Weintraub cancelled a scheduled 3 p.m. news conference where he had earlier said he would give more information about Finocchiaro's cause and manner of death at the 3 p.m. On Twitter, his spokesperson said it was "unclear whether one will take place later today" and said updates could come via Twitter.
Weintraub said the other remains had not been identified. He encouraged the public to call an FBI tipline, 1-800-CALLFBI, with information that could help the investigation.
While Weintraub did not identify any other remains, he said "I am very, very pleased, paradoxically, with our progress."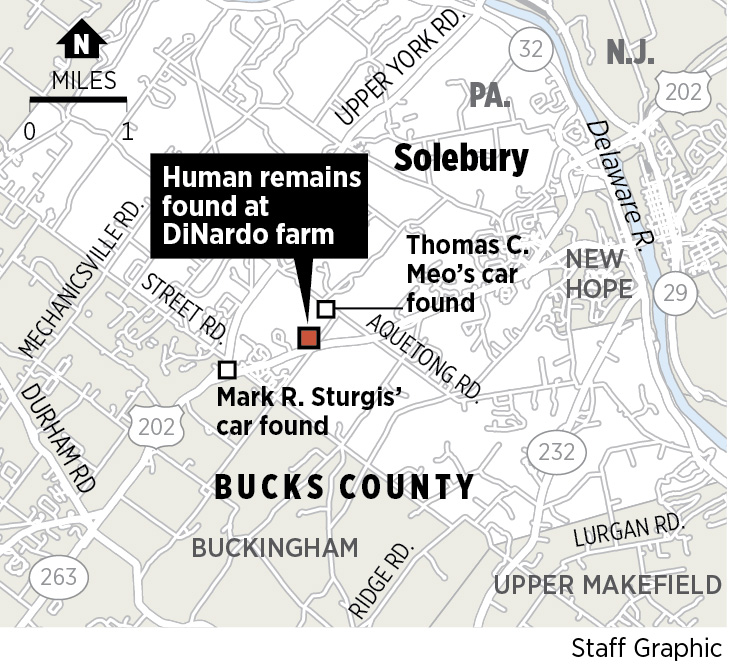 Prosecutors still had not filed charges in connection with what Weintraub has called a homicide. He would not say how many people could have been involved. Cosmo DiNardo, the 20-year-old son of the property owners, remains a person of interest in the case. He was charged Wednesday afternoon with stealing a car belonging to another of the missing men, Thomas C. Meo, 21, and jailed with bail set at $5 million.
Weintraub had said prosecutors were considering murder charges and added that they had "bought ourselves a little bit of time" by jailing DiNardo on the other charge. DiNardo has not been accused of any violent crimes relating to the missing men.
"This is a homicide, make no mistake about it," Weintraub said at the midnight news conference.
Finocchiaro disappeared Friday along with Meo of Plumstead, and Mark R. Sturgis, 22, of Pennsburg. Another young man, Jimi Taro Patrick, 19, of Newtown, went missing two days earlier. All appeared to have some connection to DiNardo.s, Antonio and Sandra DiNardo, have spoken publicly about the case. In response to allegations from prosecutors at his arraignment Wednesday that DiNardo was "a dangerous person," his attorneys said he was being shamed for having had mental-health struggles.
DiNardo was charged with stealing — and trying on Sunday to sell for $500 — a car owned by Meo. The car was spotted in the general area following a DiNardo family vehicle on Friday night, court records indicated.
Weintraub said Thursday that he knows "more than I'm sharing" about the relationships among the five men. He handed out a biography of Patrick to reporters at the family's request, describing his academic honors at Holy Ghost Preparatory School in Bensalem and his years of playing baseball for Little League and the Newtown travel team. Patrick recently completed his freshman year at Loyola University in Maryland.
The discovery of the remains — more than three days after the start of an exhaustive search at the DiNardo farm that involved local and state police, FBI agents and U.S. Marshals and saw the men's families holding vigil in the July heat — was the biggest finding yet in a case that has gripped the region and drawn national attention.
Near an entrance to the DiNardo farm on Lower York Road., family and friends of the victims could be seen through dense trees, gathered together in lawn chairs and under tents in Thursday's heat, keeping somber watch. Some family or friends declined to comment as they walked off the property.
Two bouquets of white flowers had been placed near a mailbox at the end of the driveway leading into the sprawling property. Traffic crawled on Lower York Road, as some passing drivers snapped photos of the scene with their cell phones.
News crews gathered Thursday morning at the Bucks County Courthouse in Doylestown in anticipation of a reported appearance by DiNardo's parents before a grand jury. Fortunato Perri, Jr., the family's lawyer, was seen going into the courthouse without responding to reporters' questions.
DiNardo graduated from Holy Ghost Preparatory School in Bensalem in 2015. Patrick was in the class of 2016.
"The event that has been unfolding these past several days is truly tragic. We are deeply saddened by what has happened," Holy Ghost President Gregory J. Geruson said in a statement to The Inquirer and Daily News on Thursday. "We have been and continue to pray for all of those affected by this tragedy."